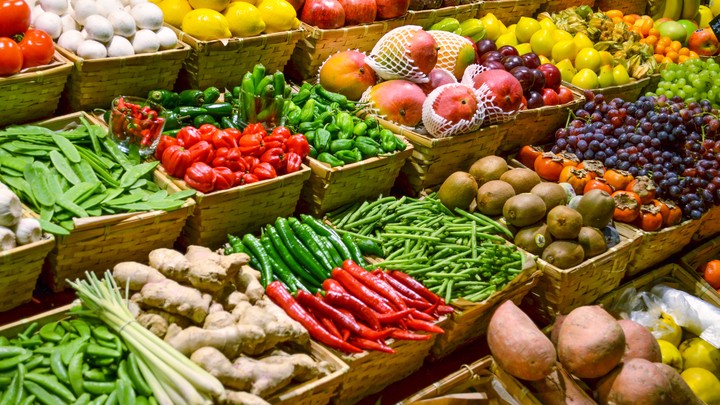 The produce section of most American supermarkets in the 1950s was minimal to a fault, with only a few dozen fruits and vegetables to choose from: perhaps one kind of apple, one kind of lettuce, a yellow onion, a pile of bananas. Today grocery stores routinely offer more than 100 different fruits and vegetables, many of which would be unrecognizable to time travelers from a half century ago. What changed, and how did Americans learn to embrace spaghetti squash, sugar snap peas, and kiwi? This episode, we tell the story of the woman behind this transformation: Frieda Caplan, the queen of kiwi.
In the late 1950s, when Caplan began working as a bookkeeper at a wholesale produce business owned by her husband's aunt and uncle, she had no interest in fruit and vegetables beyond eating them. She also had no real qualifications for the job: She had studied political science at UCLA, and according to her daughter, Karen Caplan, "she got, like, a D in math."
But that political background and love for campaigning ended up coming in handy. When her relatives went out of town on vacation a few weeks after hiring her, she found herself on the Los Angeles Produce Market floor, enthusiastically promoting a pallet of brown mushrooms that had been sitting in the corner, looking neglected. At the time, white button mushrooms were the only kind of fungi found in most grocery stores—but somehow, Karen told us, Frieda "fluff[ed] her hair and put on her lipstick," and she succeeded in charming a supermarket buyer into purchasing the exotic brown mushrooms.
Read: Why fruit has a fake wax coating
Word quickly spread among growers of unusual or foreign fruits and vegetables that Frieda was the secret to getting their underloved produce onto supermarket shelves. Frieda's Specialty Produce, the company Frieda ended up founding in 1962, was the first American wholesale produce business to be owned and operated by a woman. Since then, Frieda and Karen, the company's current CEO, have successfully introduced hundreds of new fruits and vegetables to American supermarkets, including red seedless grapes, radicchio, habanero peppers, delicata squash, shallots, and her first big hit, kiwi.
In this episode, we learn the secrets behind their success, including the innovations in packaging and sales that Frieda introduced to persuade grocery-store buyers and ordinary American customers to try fruits and vegetables that looked and tasted like nothing they'd ever seen before. Then, we meet an entrepreneur who has embarked on the same challenge today, in a slightly different way: Ayr Muir, of the fast-casual chain Clover Food Lab, who persuades his customers to try less familiar local New England produce, such as medlar and rutabaga.
Finally, we ask: Why bother? Why does diversifying our fruit consumption beyond the familiar apple and banana matter? Join us this episode as we tell the stories of the people helping aspiring, underloved fruits and vegetables make it big in America—and reveal how the kiwi got its name!
---
This post appears courtesy of Gastropod.
We want to hear what you think about this article. Submit a letter to the editor or write to letters@theatlantic.com.
Cynthia Graber is a writer and audio journalist based in Somerville, Massachusetts, and
a co-host of the podcast Gastropod. H
er work has appeared in
Scientific American
and
The New Yorker
.
Nicola Twilley is a co-host of the podcast Gastropod and a contributor to The New Yorker.
She is at work on two books: one about refrigeration and the other about quarantine.
Gastropod
is a podcast that covers food through the lens of science and history.