A Fight for the Soul of NOAA
The agency's National Weather Service is one of the most free and reliable parts of the federal government. It must stay that way.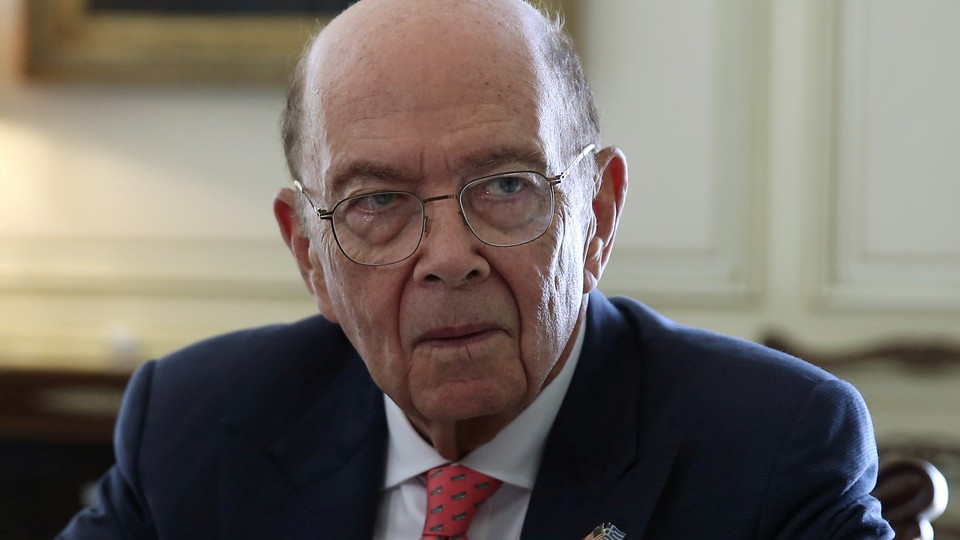 Updated at 9:18 a.m. on September 10, 2019.
Hurricane Dorian did not hit Alabama. It did not come within hundreds of miles. When it came as close as it ever got, it was still more than 200 miles away.
That was on September 5, and in Alaga, Alabama—the town "closest" to Dorian's eye—it was mostly sunny that day, with a gentle breeze, according to the weather almanac Dark Sky.
So: Hurricane Dorian did not hit Alabama.
When the National Weather Service's office in Birmingham tweeted on September 1 that "Alabama will NOT see any impacts from #Dorian," it was correct. Alabama did not see any impacts from Hurricane Dorian.
Yet that accurate weather forecast has sent an ever-growing part of the federal government into convulsions. On Friday, Secretary of Commerce Wilbur Ross threatened to fire senior officials at the National Oceanic and Atmospheric Administration if that (correct) forecast was not adjusted to match President Donald Trump's claim that Dorian was on track to hit Alabama, according to The New York Times.
Neil Jacobs, who directs NOAA, initially resisted Ross's demand, according to the Times. But then he gave in. Late on Friday, NOAA published an unprecedented, unsigned statement that took Trump's side and chided the Birmingham office for speaking "in absolute terms that were inconsistent with probabilities from the best forecast products available at the time." The statement did not bear Jacobs's name.
In other words, NOAA's leadership—under threat from a Cabinet official—discredited its professional employees for correctly forecasting that Hurricane Dorian would not hit Alabama.
The Times report shows that NOAA did so because the Birmingham office's forecast was politically inconvenient to Trump. Kevin Manning, a Commerce Department spokesman disputed the Times's reporting in a statement: "The New York Times story is false. Secretary Ross did not threaten to fire any NOAA staff over forecasting and public statements about Hurricane Dorian." A spokeswoman for the Times told me the paper is confident in its reporting.
According to Louis Uccellini, the director of the National Weather Service, the Birmingham forecasters published their tweet before they even knew that Trump was behind the rumors. On September 1, they got a flurry of calls from journalists and Alabamians asking whether Dorian was on track for their state. They rushed to shut down those fears.
"They did that with one thing in mind: public safety," Uccellini said today, according to The Washington Post. "And they responded not knowing where this information was coming from. Only later, [when] the retweets and the politically based comments came into their office, did they learn the source of this information."
The debacle shows that Ross now poses a grave threat to NOAA's ability to uphold its mission. NOAA and the NWS are two of the most open, free, and publicly accessible departments of the federal government. NWS employees publish hundreds of forecasts every day without any Washington politician bothering them. Anyone and everyone can access those forecasts for free. And any American can call their local NWS office and get a question answered.
The system is designed to work this way. The thinking goes that in a free society, everyone will benefit if everyone can know about the weather. According to federal data, accurate weather forecasts produce more than $31 billion in value across the U.S. economy every year. They cost about a 10th of that figure. Under NOAA's leadership, weather science has leapt forward: Today, a five-day forecast is as accurate and reliable as a one-day forecast was in 1980, according to a recent study.
Ross's interference, and the acquiescence of NOAA's political leadership, threaten to change all that. If forecasters cannot confidently talk to the public about the weather without some political official getting in the way, then American life will get worse. Hurricane forecasts are some of the highest-stakes work done by NOAA, and the consequences of getting them wrong can be costly. If the White House can intervene in their production—or can mess with the record after the fact—then Americans will slowly stop trusting them. Some Americans will fail to prepare for storms when they should; others will make useless preparations. It will be pointlessly costly. For some people, it will be deadly.
The political leadership of NOAA has a duty to the agency's mission and its professional staff. When they sided against both, Ross and Jacobs failed that duty and endangered the public trust in the forecast.
Not every leader has acted as recklessly. Today, Uccellini, the NWS director, spoke with a large conference of meteorologists in Alabama, of all places. He asked the members of the Birmingham office to stand. They got a standing ovation. We owe them, and all public employees now striving to uphold the integrity of the weather forecast, the same.