SpaceX Has Starry-Eyed Ambitions for Its Starship
Elon Musk has laid out an ambitious future for his spaceship project, the effort to deliver people to the moon and Mars.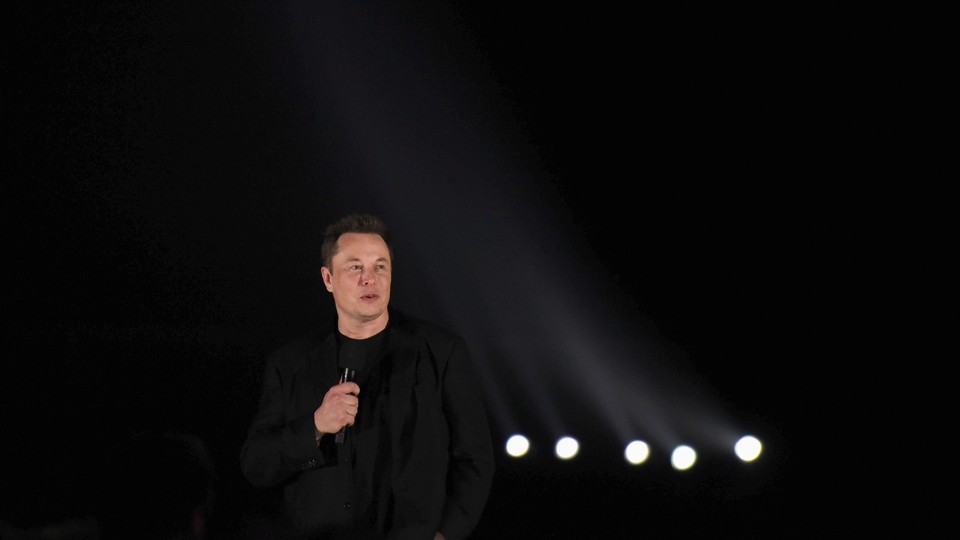 The whole thing felt like an Apple event.
The weeks of anticipation and breathless guesses from fans and critics. Onstage, the greatest-hits reel highlighting the company's beloved products over the years. A grand walk-through of the next product's features: the sleek design, the impressive specs, simulations of how it's going to work. A man with a mic, both salesman and visionary, looking out at the crowd.
It is strange to compare the unveiling of a spaceship to the annual release of a smartphone, but this is the reality Elon Musk has conjured with SpaceX, and in a relatively short amount of time.
Musk gave a talk about SpaceX's prototype spaceship, Starship, on Saturday night in Boca Chica, Texas, a small coastal town not far from the U.S.-Mexico border, which SpaceX picked to house this ambitious project just a few years ago. The vessel, roomy enough to fit 100 passengers, will be shot into orbit by a massive, reusable rocket, which the company is also building and which could be as powerful as the Saturn V rocket that launched Apollo astronauts. Starship has multiple missions; it is supposed to shuttle people on swift journeys to different cities on Earth, as well as carry them on long-haul flights to the moon and Mars.
The event came 11 years after SpaceX reached orbit for the first time with the earliest version of its Falcon rockets. Since then, the company has flown rockets to orbit over and over again, then landed the accompanying boosters upright on the ground and reused them, an industry first for orbital missions. The company has launched commercial satellites, government spy missions, and cargo to the International Space Station. It shot a Tesla toward Mars and sprinkled internet satellites around Earth.
Musk founded SpaceX to someday send people to Mars, and he has said for years that he will make space travel as easy as hopping on a plane. As he stood in front of a gleaming steel spaceship, it was tempting to start believing him. "It's really gonna be pretty epic to see that thing take off and come back," Musk said.
But that is the hypnotic nature of such showcases. The flashiness of the affair, the giddy confidence of the host—these can almost elide the unspoken hitch here, that building an interplanetary spaceship is far more difficult than hardwiring a smartphone.
The specifics of the spaceship project have fluctuated over the years, with Musk introducing and then scrapping several designs and names. The latest—and, it seems, final—iteration is a stainless-steel behemoth bookended by sharp fins. Musk envisions a rather unprecedented landing process; the vessel would return to Earth like a skydiver falling belly first, before righting itself and landing upright, as Falcon 9 rockets do.
Last month, another Starship prototype levitated about 500 feet (150 meters) into the sky and then glided down. The next test will aim higher. Musk said this prototype, which measures 164 feet (50 meters) high and 30 feet (9 meters) in diameter, would fly to 65,000 feet (19,812 meters) within one to two months.
"This is gonna sound totally nuts, but I think we want to try to reach orbit in less than six months," Musk said. "I think we could potentially see people flying next year, if we get to orbit in about six months." The passengers could depart from Boca Chica or Cape Canaveral, the vaunted site of the Apollo and space-shuttle launches, where SpaceX operates a pair of launchpads.
Don't mark your calendars just yet. Musk is known for his optimistic deadlines, and SpaceX projects, as is true of virtually all space-exploration efforts, tend to launch several years later than predicted. Musk himself recognized that last night as he described a future in which Starship flies several times a day. "I'm giving you literally just stream of consciousness here," Musk said.
There is also the small matter of the complicated nature of Starship's payload. Aside from a pair of fiery mishaps a few years ago, SpaceX has shown that it can reliably deploy satellites and cargo to space. But it has never launched people.
It's trying to, though. Under a contract with NASA, SpaceX and Boeing are each building their own transportation systems to carry NASA astronauts to and from the International Space Station. SpaceX completed a significant milestone earlier this year when it sent an uncrewed capsule to the station and returned it in one piece, but the company experienced a setback not long afterward, when the same capsule exploded during a ground test and was destroyed.
SpaceX and Boeing are both behind schedule on the effort, known as Commercial Crew. Any hope of launching people before the end of the year has faded. Boeing is late on another NASA project, the Space Launch System, which the agency wants to use to send astronauts to the moon and back in the early 2020s. But the NASA administrator singled out SpaceX the night before the Starship event:
It was a spicy moment in a professional relationship that seems sturdy at times and uncomfortable at others; Jim Bridenstine and Musk have worn hard hats and big grins in selfies at launchpads, and solemnly discussed Musk's "inappropriate" behavior on a popular podcast. Beneath that camaraderie is the lurking possibility that SpaceX's capabilities could leapfrog NASA's, and a start-up less than 20 years old might beat the world's best space agency to the moon.
When asked about Bridenstine's tweet last night, Musk estimated that only 5 percent of SpaceX resources are devoted to Starship. Later, in a one-on-one interview with CNN, Musk got snarky: "Did he say Commercial Crew or SLS?" Then he cracked up.
That was Musk the entire night: silly, overflowing with laughter, perhaps the happiest I've seen him at a SpaceX event in recent years. As I watched him, it felt as if the only thing that existed in this little Texas town was Elon Musk on a stage and the gleaming spaceship behind him. But there is more to Boca Chica than the SpaceX facility, and that has presented challenges that can't be neatly engineered away.
SpaceX recently sent residents of nearby Boca Chica Village letters offering to buy their properties, because the company thinks it will become more difficult to comply with safety regulations for the small population of about 30. In the five years since SpaceX has moved in, the village has seen frequent road closures, warnings of broken windows from potential explosions during testing, and a wildfire sparked by last month's flight test, Business Insider reports. Some residents have rebuked the offers, saying that the bids are too low or that they simply don't want to leave.
But SpaceX is not done sprawling. "It will definitely be fancier than it currently is," Musk said last night when asked how the facility might look in a decade. "A lot more buildings, a lot more stuff. Way more stuff than is currently here."
The residents, Musk seemed to suggest, have little choice. "Not very comforting to Boca Chica Village," he said. "I think the actual danger to Boca Chica Village is low, but it's not tiny, and we want super-tiny risk. So probably over time, better to buy out the villagers."
The map of this little slice of Texas has already been redrawn. It is now the home of quiet, idyllic beaches and a colossal, futuristic-looking spaceship. The worlds couldn't seem further apart, but if Musk's vision becomes reality, they will both feel ordinary. A trip into the sky might seem as routine as a drive to the beach.