The Plan to Fix Climate Change in the Senate
Democrats are trying to do their prep work now so they can hit the ground running if they win a majority in 2021.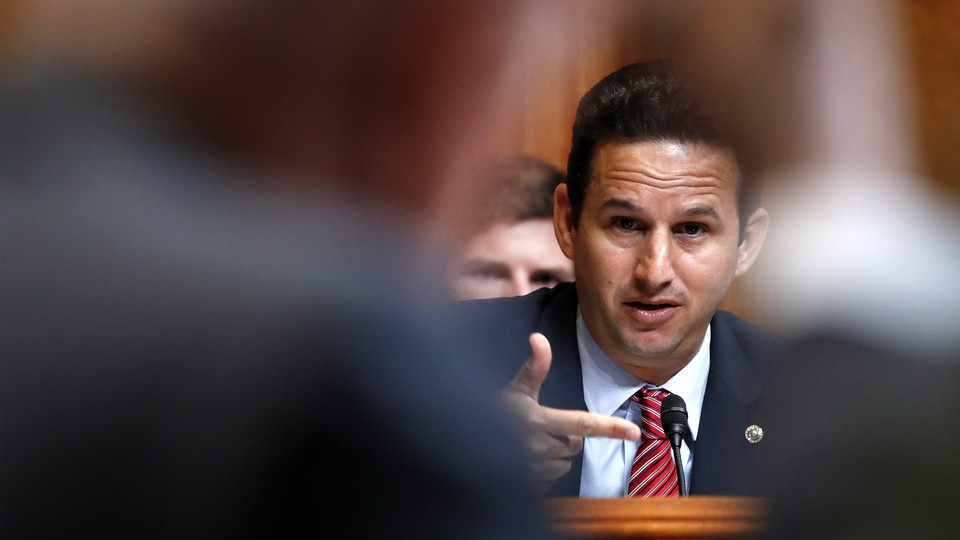 It will be almost another 18 months until Democrats can even think of passing climate legislation.
In the 2020 election, they must defeat President Donald Trump, reclaim the Senate, and retain a majority in the House of Representatives. And then they have to find something to pass before members of Congress start getting cold feet about the 2022 election. Even in a best-case scenario, the moment will be a nerve-racking, high-stakes one for climate advocates. So Senate Democrats are trying to front-load as much of that work as possible.
Ten of them have formed the Senate Democrats' Special Committee on the Climate Crisis. Chaired by Senator Brian Schatz of Hawaii, the committee aims to get as much of the preliminary work out of the way as possible—the research and investigating and coalition-building—so that Democrats can start passing climate legislation as soon as they regain the upper chamber.
"The goal is to lay down the factual basis for taking action, so that if we are in charge in 2021, we don't have to go through 18 months of investigatory hearings," Schatz told me during a wide-ranging interview in his office last month.
The committee will hold its first public hearing next Wednesday, when it will host mayors from five major cities, including St. Paul and Pittsburgh, that have set or already met ambitious climate goals. (Both of those cities specifically aim to cut their carbon emissions 80 percent or more by 2050.)* Last month, Schatz and other committee members met with electric-utility executives behind closed doors.
Schatz's near-term goal, beyond elevating climate policy into headlines, is to lay out the menu of climate-policy options. He also hopes the committee will describe, in confidently political language, what climate change is already doing across the United States. To that end, Senator Tammy Duckworth of Illinois, a committee member and an Iraq War veteran, will lead a hearing on climate and national security. ("I fought one war for foreign oil. Let's not do that again," Duckworth said when the group launched.) And Senators Tina Smith of Minnesota and Tammy Baldwin of Wisconsin might look into how climate change is hurting farmers.
The point, Schatz said, is to push climate change beyond just "the electrical-generation folks and the birds-and-butterflies advocates."
"Part of what we're trying to do is diversify the kind of politician that concerns themselves with climate, beyond your typical coastal, liberal male," he said. "And I say that as a coastal, liberal male."
Schatz was not in the Senate when the upper chamber last considered serious climate legislation. In 2009, Barack Obama entered the White House promising to take action on two issues: climate change and health care. The president sometimes ranked global-warming policy over altering the health-insurance system. "Energy we have to deal with today," Obama said in a 2008 debate with John McCain, according to The New Yorker. "Health care is priority Number Two."
Once in office, Obama asked Congress to pursue the two issues at the same time. The result of that gamble has shaped American politics since: After an agonizing 13-month drafting process, the Democratic-controlled Congress coughed up the Affordable Care Act, and Obama signed it in March 2010. But a few months later, and after an even lengthier process, the Senate dropped any attempt at passing significant climate legislation. That fall, Democrats lost their majority in the House; they would not recapture the chamber until 2018. Schatz entered the Senate in 2012. He soon established himself as one of the caucus's most forceful climate advocates. In 2014, when Democrats held an all-night Senate session to demand climate legislation, Schatz spoke for five of the nearly 15 hours. ("He brought Hawaiian Kona coffee and macadamia-nut chocolates to help fuel his colleagues' overnight slog," The New York Times reported.) He also represents Hawaii, which aims to go completely carbon-neutral by 2045, one of the strictest state-level climate goals in the country.
The Senate is an inauspicious place for a climate advocate. Over the past three decades, it has proved adept at murdering climate policy. It didn't just kill a 2009 bill, which passed the House, and which would have let companies buy and sell the right to emit carbon pollution. In 1994, President Bill Clinton pushed for a revenue-raising energy tax that would have also reduced greenhouse-gas emissions. It, too, passed the House and died in the Senate.
Schatz's political judgment is shaped by this history. When assessing presidential candidates on climate, he said, he tries to look past policy proposals and focus more on how candidates talk and think about the issue. "I think everyone running is going to [range] from good-enough to excellent, in terms of what they're officially for," he said. "The real question is, should they become president, will they move, and move aggressively? Or will [climate] be the fourth issue they get to in the third year?"
Above all, he hoped to understand why candidates cared about climate change. "That would give me some insight into whether or not, when push comes to shove, and there's a need to prioritize among competing issues, whether they're going to put climate action at the top of their list," he said.
For now, his sense of what form a future climate bill might take is mostly broad strokes. Any Democratic-led climate effort must simultaneously strengthen labor unions, he said. "We just can't do this and say some pablum about a just transition," he said. "That's offensive, honestly. If you work in power generation, or pipeline laying, or electricity transmission, you want to know, how is this going to impact your ability to provide for your family?" His first phone call after taking over the special committee was to Richard Trumka, the president of the AFL-CIO.
Other ideas are still taking shape. Along with several other Democrats, including Senator Kirsten Gillibrand of New York, he has co-sponsored a bill to tax carbon pollution.
The type of policy that's emerged from the committee so far is more nuts-and-bolts than a total transformation of the economy. So far, power-utility executives are most interested in federal incentives for battery storage, he said. The committee will encourage more federal financial regulators to push companies to disclose their climate risk, whether from stranded assets or extreme weather. The U.S. Commodities Futures Trading Commission recently voted to assess climate-related risk. Eventually, it could force companies to calculate how rising seas, extreme weather, and climate-associated productivity losses might threaten their investments. "You create an incentive to take down that risk," Schatz said.
Of course, this is the plan for now. Events have a funny way of shifting opinions. I talked with Schatz a few hours before the first Democratic primary debate. While we spoke, dozens of climate activists protested nearby at the DNC's headquarters to demand that the party schedule a climate-change-focused debate. Schatz was skeptical of the idea. "Let's say they had a health-care-only debate," he told me. "I don't think that, for your average viewer … that's as interesting as an actual debate. So what I want is for climate to be covered extensively in every debate, not for it to be siloed."
Then the debate unfolded—and the candidates spent less than 10 minutes talking about climate change. Five of the 10 candidates onstage weren't asked about it at all. This despite the fact that Democratic primary voters identified climate policy as one of the most important issues in the election.
Schatz wasn't happy. "Two hours is long enough to give maybe 20-30 minutes to climate change. At least long enough to let every candidate answer a climate question or two," he tweeted before the debate ended. When the remaining time elapsed without any further discussion of climate, he seemed to reconsider his opposition to siloing the issue. "Maybe the next debate," he said, "can have a climate focus."
---
* This article originally misstated that the mayor of Minneapolis would attend the committee's first public hearing.