Living in California Is Living on the Edge
For residents, the recent earthquakes are a reminder that the state is always poised on the brink of disaster.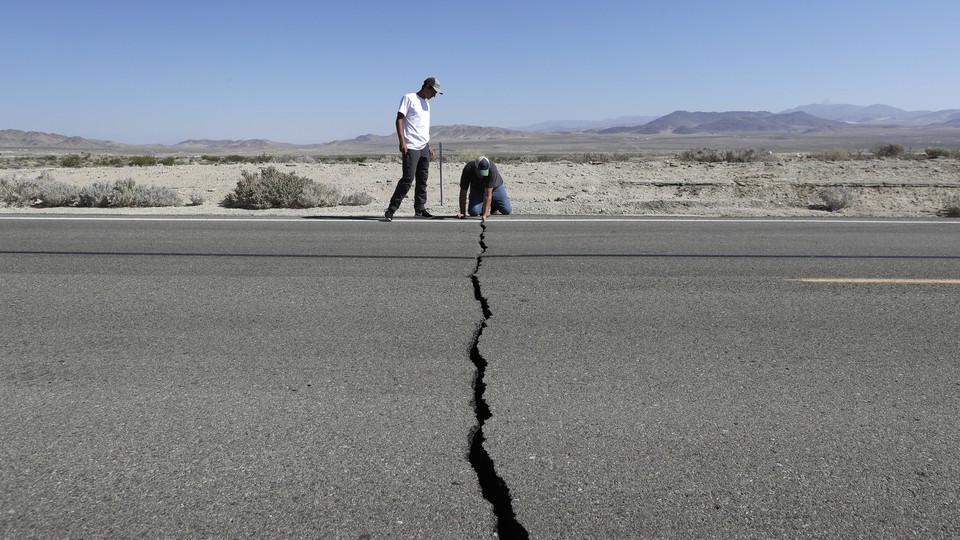 To live in California is to make a wary peace with an existential dichotomy: breathtaking weather, astounding natural beauty, bounteous food and wine, stimulating multiculturalism and … the possibility of imminent, unpredictable disaster. Depending on where we live, Californians are just one spark, one mudslide, or, yes, one earthquake away from severe destruction—a reality that can be met with fatalism, fear, or some combination of both, but one that is omnipresent, if surprisingly easy to forget.
I can't pretend it's quite like living in Israel in the midst of an intifada, or in Northern Ireland during the Troubles, but there is nevertheless a low-grade febrile uncertainty amid the routines of daily life here. When your 100-year-old house shifts and groans with a sound like the straining timbers of a wooden vessel under sail—as ours did the other day—it's hard not to feel a certain nauseated intimation of mortality.
Twenty years ago, when I first lived in Southern California as the Los Angeles bureau chief of The New York Times, I took the prospect of an earthquake very seriously indeed. The paper's planning assumed that, in the event of "The Big One," either the L.A. or San Francisco bureau might be leveled or incapacitated, so I had to be prepared to go to work on a moment's notice, and perhaps a long way away. I'd been equipped with a satellite phone the size of a suitcase, which I was to power from a car battery using an electric inverter, and then aim skyward at just the right trajectory to establish communications with New York. (I was sure I'd never be able to make it work.) We were urged to keep rolls of quarters on hand because pay telephones would be the first restored to service. (Now, of course, finding a payphone would be next to impossible.)
I prepared a fat, three-ring binder of emergency phone numbers and instructions for our staff. I kept hard-soled shoes and a high-beam flashlight under the bed, and a 30-gallon garbage can outside the house, filled with bottled water, canned tuna, granola bars, extra batteries, wet wipes, a tiny portable television, and other supplies that I'm sure expired—unused—long after we returned to Washington, D.C., in 2001 and left the "Earthquake Kit" for our house's new owner. Since returning to California five years ago—this time with two children in tow—I've made no such preparations, taken no such precautions, envisioned no such worst-case scenarios.
Now, I suppose, that will have to change.
The recent back-to-back temblors near Ridgecrest, California, have brought the immutable actuarial realities of our state's seismic activity close to home once more. The latest quakes struck about 100 miles east of the San Andreas fault, the state's biggest seismic threat, and in their wake, the United States Geological Survey reaffirmed its forecast of a 70 percent chance of a major earthquake (7.0 or greater on the Richter magnitude scale) before 2030. That would be very bad news.
Two decades ago, memories of the 6.7 magnitude Northridge earthquake of 1994, which killed at least 57 people, were fresh in the public imagination. Some of my wife's friends, living in the San Fernando Valley, awoke to find themselves, stunned but unharmed, atop their mattress on the roof of their car in the garage below their bedroom, the building's floor having pancaked down as they slept. They promptly decamped for New York. Assuring that one's house was properly bolted to its foundation became all the rage, though the effectiveness of such buttressing apparently varies based on the shape and duration of any quake. The Northridge quake produced a kind of vertical jackhammer motion; the most recent ones, more of an undulating wave.
About 90 percent of Californians have no earthquake insurance. Unlike homeowners' insurance (which doesn't cover earthquakes), it is not required to obtain a mortgage, and having the coverage roughly doubles the standard cost of insuring a home. Our current policy is underwritten by the California State Earthquake Authority, a privately financed, publicly managed entity that offers coverage on behalf of about two dozen insurers and has about $17 billion on hand to pay claims—a figure that would be grossly inadequate in the event of a real catastrophe. Our current deductible is well in the mid-six figures. We hold less than 70 percent equity in our house, and thus we might be just as well-off without the coverage because the bank, not us, would be left holding a good part of the burden, so why does the thought of giving it up (as we had been thinking of doing) make me blanch in light of the latest news?
Risk is built into life, and the most dangerous thing I do every day is doubtless just getting into my car to drive a few blocks to the supermarket or gas station. (By the way, the experts urge Californians to keep their tanks three-quarters full at all times, in the event of a power failure.) But the worst damage in a big quake would be grim, and would include destroyed freeways, since Interstate 10 crosses the San Andreas in a dozen places; fires from broken gas lines; damage to the vital aqueducts that transport nearly 90 percent of L.A.'s water supply; and such a disruption in interstate high-voltage power lines through the Cajon Pass—the main route to Las Vegas—that electricity in Southern California could be out for days or longer.
Yet a sort of willful denial persists. More than 75 years ago, the journalist Carey McWilliams noted that "while taking elaborate precautions against earthquakes (such as ordinances limiting the height of buildings), Southern California amusingly minimizes the actual dangers involved. In a Santa Barbara booster book written in 1919, Leila Weekes Wilson wrote that 'a real earthquake has not been felt here for over a hundred years, so the danger from seismic disturbances need cause little worry.''' Six years later, a major quake there killed a dozen people and destroyed or damaged virtually every brick, concrete, or stone building in the city, forcing the rebuilding of the entire downtown.
As it happened, the first Ridgecrest quake—6.4 magnitude—struck on the morning of July 4, just as we were preparing to leave Los Angeles for a long weekend in Santa Barbara, to celebrate my in-laws' 61st wedding anniversary. My father-in-law, a onetime Navy pilot and 25-year veteran of life in California, knew instantly what had happened. My mother-in-law, standing in our newly renovated kitchen (with its freshly reinforced and solidly bolted foundation), felt nothing. I was standing in the frame of our open front door. That's one of the safest places to be, apparently. And I still felt the house go off plumb and saw the hanging light fixtures in our hallway swing from three to four inches, side to side.
The second quake, 7.1 magnitude, hit the next night, as we were having a celebratory dinner in a crowded restaurant in Montecito. It lasted for about three-quarters of a minute, and time seemed to stand still. When the swaying stopped, the decibel level in the room, already buzzing, rose sharply at once, and one sensed the nervous diners reaching as one for another glass of wine. The Ridgecrest temblor produced scattered fires, cracked foundations, broken bottles in stores, and other property damage. That second quake packed a power equal to 45 atomic bombs of the type dropped on Hiroshima, and a comparable one in a city as dense as Los Angeles would have produced serious harm to life and limb. Denial in the face of such a prospect is not a rational strategy—which is why I suspect I'll be headed to Home Depot this week, checklist and credit card in hand.