The Think Tank Struggling to Write the Green New Deal
New Consensus, the group charged with fleshing out the plan, doesn't aim to publish policy specifics until early next year.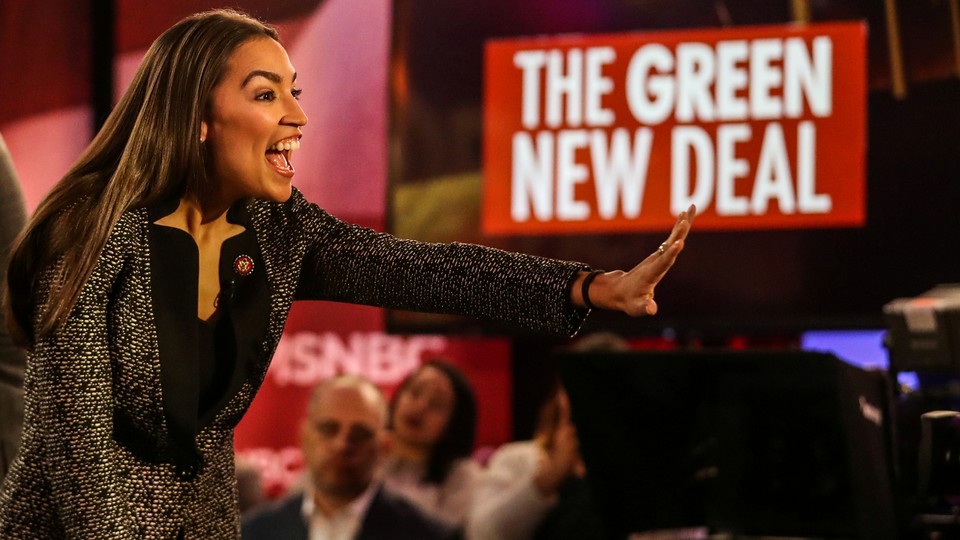 Almost seven months have passed since the November day when a few hundred young people, associated with a new climate-activism group called the Sunrise Movement, crammed into Nancy Pelosi's office. America's youngest congresswoman-elect ever joined them. "This is not about me," said Alexandria Ocasio-Cortez, who was effectively leading a protest on her first day on Capitol Hill. "This is about uplifting the voice and the message of the fact that we need a Green New Deal."
Ocasio-Cortez is still a star. Presidential candidates are courting the Sunrise Movement's favor. And the Green New Deal has transformed the climate fight both in the United States and around the world.
Yet it remains unclear what would actually be in a Green New Deal. While a handful of candidates have released their own attempts at a Green New Deal, the tight network of progressives most closely linked to the plan have offered little new detail. In particular, the think tank known as New Consensus—ostensibly in charge of turning the Green New Deal into real policy—has published almost nothing substantial about it.
"I think they've done a pretty good job of compiling the scope, the scale, and the goals of the Green New Deal," Corbin Trent, a spokesman for Ocasio-Cortez, told me. "I think we're still in the process of getting people to imagine what we're talking about." But in the current informational vacuum, the plan's supporters have sometimes faltered, allowing pundits, lobbyists, and other politicians to rush in and define the Green New Deal's terms. "One reasonable summary of what has happened is that everybody except the people who say they are doing the Green New Deal are doing the Green New Deal," said an activist who asked not to be named to avoid damaging relationships with New Consensus.
New Consensus aims to be the policy quarterback for the Green New Deal. It wants to combine ideas from dozens of fields—including economics, sociology, ecology, and climate science—to write a new, all-encompassing domestic agenda. It promotes industrial policy, a school of thought that says a country should invest public dollars in its high-tech manufacturing capacity to flourish. (Elizabeth Warren, who has proposed something similar, calls this idea "economic patriotism.")
But for a quarterback, New Consensus is inexperienced on the field. Founded last fall, its only public work to date consists of an industrial-policy reading list and a 14-page white paper that briefly elaborates on a congressional Green New Deal resolution championed by Ocasio-Cortez.
That white paper was published on February 9, two days after the resolution itself. It says that the Green New Deal will eventually consist of "specific projects" that will come together into one "coherent whole," but it does not name the projects or say what they will do.
"Don't worry," read New Consensus's Twitter account on the day the white paper was published. "Policy deets are coming!"
Four months later, policy details have yet to arrive. New Consensus now aims to have a playbook for the Green New Deal described "at an appropriate level of detail" in January 2020, according to Demond Drummer, its executive director.
Why are policy specifics important? For now, the most detailed form of the Green New Deal can be found in the February resolution. Released by Ocasio-Cortez and Senator Edward Markey, it sticks to broad goals. It says that the United States must repair its infrastructure, upgrade all its existing buildings to be energy efficient, and generate 100 percent of its electricity through clean or renewable sources. But it never says how to get there. In interviews, Ocasio-Cortez has seemed open to a range of approaches. "It's not as though the federal government's going to wave a wand and say, 'We're going to do it all ourselves,'" she told Chuck Todd in February."It could be Tennessee Valley Authority–style public programs, but it could also be public-private partnerships. It can work down on a municipal level. There could be some potential contracting involved."
That level of detail is supposed to be New Consensus's job. While New Consensus and Ocasio-Cortez have no formal relationship, the think tank sprang from the same cadre of left-wing activists (and alums of Bernie Sanders's 2016 campaign) who initially launched Ocasio-Cortez herself.
"I don't want to say that we're deeply coordinating with Alexandria Ocasio-Cortez, because"—as a tax-exempt 501(c)(3) nonprofit—"we can't," Drummer says. But Ocasio-Cortez's chief of staff has identified New Consensus as a direct inspiration for their work, and the Sunrise Movement has invited New Consensus employees to speak at its events.
"It's like any other think tank. They do briefings and that sort of thing," said Trent, the spokesman for Ocasio-Cortez. He described the division of labor among the Green New Deal's allies: The Justice Democrats PAC works on electoral strategy, the Sunrise Movement leads the youth campaign, New Consensus "[creates] some space in the think-tank world," and Ocasio-Cortez herself works on the inside in Congress.
These groups have a claim on the "real" Green New Deal in a way that others don't. That has sometimes led to tense interactions with the already-existing climate and environmental movements. None of the five people who work at New Consensus have worked extensively on energy or environmental policy before. Drummer was a community organizer in Chicago, where he worked on land-use policy and founded a program to teach high schoolers on the South Side how to code. Rhiana Gunn-Wright, a Rhodes Scholar who now leads the think tank's Green New Deal effort, was previously policy director for Abdul El-Sayed's 2018 progressive gubernatorial campaign in Michigan.
Many of the difficulties came to a head in March, when New Consensus held an initial meeting on the Green New Deal. Its leaders invited more than 80 participants, including legal scholars and environmental-justice activists, to the trendy Line Hotel in Washington, D.C.'s Adams Morgan neighborhood.
As Drummer understood it, the meeting was a "research-planning meeting," a getting-to-know-you with the field. New Consensus had four big questions for people already working on climate policy, Drummer told me: "What are the questions we should be asking? What are the debates we should be aware of? Who are the people we should be talking to? … And also, what are your thoughts on how we as an organization can get this done?"
The invite list, he said, "was a sampling" of groups who might ultimately advise New Consensus. But in the delicate world of environmental politics—where coalitions are carefully managed and the most technical phrases can carry huge rhetorical weight—news of the meeting reverberated. It seemed as if Ocasio-Cortez's favorite think tank was developing the official Green New Deal. It mattered who was invited and who wasn't. Many activists still say that the 2009 climate bill failed in part because legislators ignored the environmental-justice movement while drafting it.
The meeting was bumpy from the first hour, when two environmental-justice activists interrupted proceedings to protest the absence of the Climate Justice Alliance, a national network of urban, rural, and indigenous groups. The alliance had been asked to endorse the Green New Deal, but it had not been asked to help write it, the activists charged.
There were other odd gaps, too. Todd Vachon, a labor-studies researcher at Rutgers University who attended the meeting, told me he was surprised that no union officials were present. "We were kind of there, looking around and saying, Where are the labor people?" he said. "There weren't really any active presidents of unions—people who have the authority to speak on behalf of an organization. It was academics and researchers on one side, and grassroots organizations on the other." Other participants told me they were surprised at the broad lack of climate-policy knowledge among the assembled.
Angela Adrar, the executive director of the Climate Justice Alliance, told me her group is now communicating with New Consensus. But one of the major demands the environmental-justice activists raised at the meeting has gone publicly unanswered. They asked a simple question: Who's funding New Consensus? Months later, Drummer still has said nothing about the group's financial backers and, in a recent conversation, declined to tell me who funds his think tank.
The March meeting wasn't the only time that Green New Deal advocates have unknowingly stumbled into divisive fights in the climate movement.
This past winter, both during the protest at Pelosi's office and in a much-discussed letter co-signed by Friends of the Earth, Ocasio-Cortez and the Sunrise Movement said the U.S. electricity grid should be powered by 100 percent renewable energy. But this turned out to be a more divisive claim than some realized—it was one of those technical-sounding phrases with a controversial history. Many energy experts, even those desperate to fight climate change through policy, believe that an all-renewable grid would be prohibitively expensive and subject the United States to rolling brownouts. Instead, they propose a 100 percent clean-energy requirement, which could include nuclear power and other technologies.
The final Green New Deal resolution says the country should aim for 100 percent "clean, renewable, and zero-emission energy sources," a stress-tested phrase in which the meaning of and is left carefully ambiguous.
Another fight concerns carbon-capture technology. Environmental-justice groups are skeptical of the still-notional technology that could suck carbon dioxide directly from smokestacks or the ambient air. Approving carbon-capture technology is akin to acceding to another 20 years of toxic pollution in poor communities, Adrar told me. They want to remove carbon from the atmosphere through lower-tech means, such as by planting more trees.
Unions tend to endorse the need for carbon capture, in part because it could preserve some fossil-fuel jobs for longer. And the scientific community leans to their side: In its report last year, the Intergovernmental Panel on Climate Change warned that "negative-emissions technologies," including atmospheric-carbon removal, must be deployed on a massive scale to keep the Earth's temperature from rising more than 1.5 degrees Celsius.
At first, the Green New Deal seemed to endorse carbon capture. In November, an early version of Ocasio-Cortez's resolution called for "massive investment in the drawdown and capture of greenhouse gases." A month later, that phrase was edited to reference only the "drawdown of greenhouse gases."
By the final version in February, the snub was explicit: It demanded that carbon dioxide should be reduced "through proven low-tech solutions … such as land preservation and afforestation."
Yet despite this haggling over policy, the Green New Deal has triumphed politically. The Service Employees International Union backed the plan last week, joining earlier endorsements by the flight attendants' and communication workers' unions. And the Sunrise Movement has emerged as a powerful force within the Democratic coalition. Last month, it ended a nationwide tour in support of the Green New Deal with a three-hour, 1,200-person rally at Howard University in Washington. Markey, Ocasio-Cortez, Sanders, and Gunn-Wright of New Consensus all spoke. Sunrise now plans to hold another major rally in July at the Democratic primary debate in Detroit.
Much of that excitement around the Green New Deal tracks back to Sunrise's activism—and Ocasio-Cortez's initial endorsement. So it's notable that the Sunrise Movement adopted the idea of a Green New Deal because of one well-timed conversation. Only a few days before the group was to occupy Pelosi's office, as it hammered out the particulars of the protest with Ocasio-Cortez, a few members of Sunrise's leadership had a conversation with Drummer. It finalized their commitment to the Green New Deal.
"We were considering various focuses within the frame of the Green New Deal, and it crystallized through conversations with New Consensus and others in the days leading up to the action," said Varshini Prakash, the executive director of the Sunrise Movement, in a statement. (That said, Sunrise endorsed candidates who backed a Green New Deal as early as last June.)
Since then, a handful of presidential candidates—including Joe Biden and Elizabeth Warren—have called for more than $1 trillion in climate investment. But with so little specificity, it's hard to say how these proposals actually resemble what Sunrise, Ocasio-Cortez, and New Consensus have in mind.
Since February, Ocasio-Cortez has offered relatively few new details about the idea. She has narrated a video describing what the world will look like after the Green New Deal and spoken at Sunrise events. Last week, she told a reporter for The Hill that a Green New Deal must cost at least $10 trillion to be effective. "It's just the fact of the scenario," she said. Corbin Trent, Ocasio-Cortez's spokesman, told me that if the United States spent as much fighting climate change today as it did at the peak of World War II—when federal spending came to 40 percent of U.S. GDP—then a Green New Deal could cost as much as $8 trillion per year. "None of [the candidates] have quite got there yet," he said.
Meanwhile, New Consensus is dreaming bigger even as it plans the next six months of research. Drummer ultimately conceives of the Green New Deal as far more than a climate policy. It is a governing domestic agenda, he said, a chance to "see the elephant whole."
Yet it's still climate policy. And climate policy is hard. Paul Getsos, the national director of the Peoples Climate Movement, told me that it took his coalition eight months to write a consensus policy platform in 2017.
So for now, New Consensus is confident in its deliberate pace. "We've spent our time organizing and planning our approach," Drummer told me. "The Green New Deal is an enormous proposal of epic scale. We are new to the space, and we're well aware of that, and we're building an army of expertise," he said. "We could rush this and do it poorly, or we can be intentional."