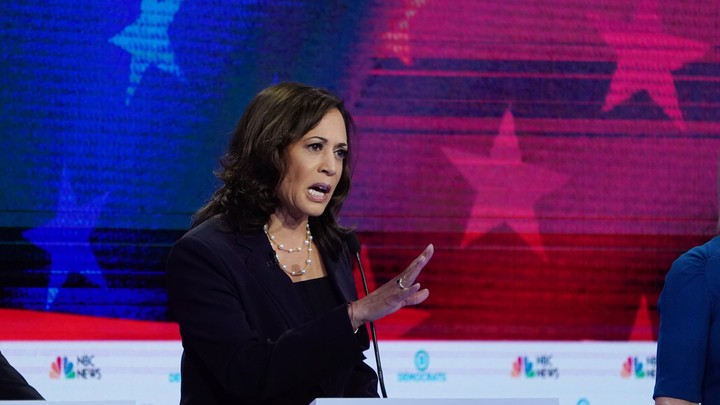 A number of Democratic primary candidates have proclaimed their support for the Green New Deal or something like it. But the first person to actually endorse it on the debate stage either Wednesday or Thursday night was Senator Kamala Harris of California. (Former Governor John Hickenlooper was the first to mention the idea, saying that he "admired the sense of urgency" but that "we can't promise every American a government job.") Asked by Chuck Todd to describe her climate-change plan, Harris replied briskly and corrected his terms: The rapid warming of the planet should be called the "climate crisis" because "it's an existential threat to us as a species." She mentioned visiting the site of last year's wildfires in California "while the embers were smoldering."
"That's why I support a Green New Deal," she said. "It's why on day one as president, I will reenter us into the Paris Agreement."
Read: The Green New Deal's big idea
But what kind of Green New Deal would she support? How much federal spending would she want to authorize? Does she, like Elizabeth Warren or Jay Inslee, want to turn the United States into a major exporter of green technology? She didn't say. She quickly pivoted away from climate change as a topic. "You asked what is the greatest national-security threat to the United States. It's Donald Trump," she said. "You want to talk about North Korea, a real threat in terms of its nuclear arsenal. He embraces Kim Jong Un." She mentioned Vladimir Putin before Todd regained control of the conversation.
It was not the strongest of her moments. Asked to describe her climate plan, Harris alluded to two policies—one of them more a brand than a specific agenda—and then started talking about Putin. The moment exemplified the awkwardness that basically all the candidates seem to feel when talking about climate change. As Justin Worland, a writer at Time, tweeted: "There's a marked difference in the fluidity of the way moderators and candidates talk about climate change versus how they talk about other issues." Not many of the folks onstage, journalists included, seem as comfortable with climate policy as they do with Medicare for All. They all know they should care, but they're not sure where to go after that.
Read: Democrats still don't know how to talk about climate change
As far as I'm concerned, the candidate across the two nights who seemed most capable talking about climate policy was Warren, who described her green-manufacturing scheme ably last night. High marks also go to Inslee, who can describe the scope of the problem without falling back on cliché; and Pete Buttigieg and John Delaney, who offered cogent explanations of their carbon-tax proposals.
We want to hear what you think about this article. Submit a letter to the editor or write to letters@theatlantic.com.
Robinson Meyer
is a staff writer at
The Atlantic.
He is the author of the newsletter
The Weekly Planet
, and the co-founder of the COVID Tracking Project at
The Atlantic
.