The Trouble With Fathering 114 Kids
A suitor on The Bachelorette says he is a sperm donor with 114 kids—is that too many?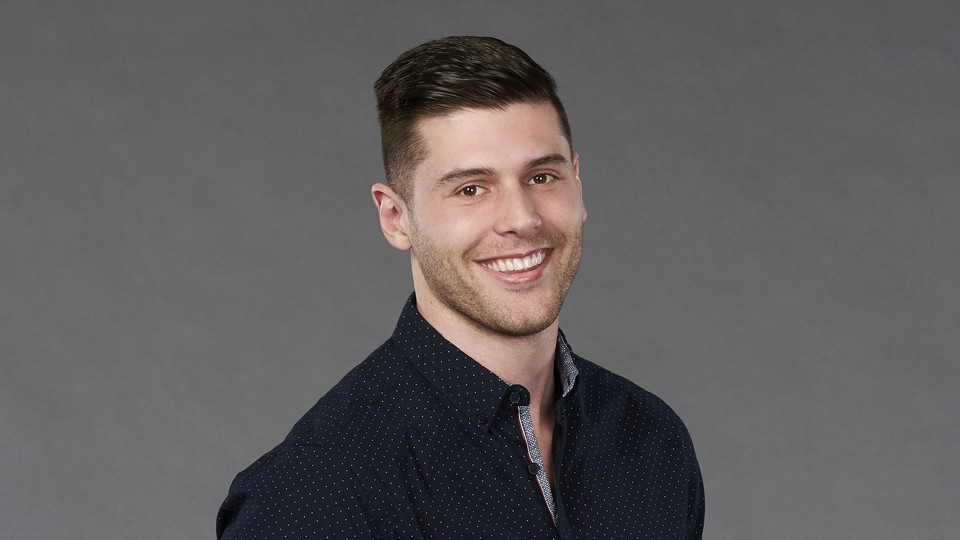 The official suitor bios of The Bachelorette, whose 15th season premieres Monday night, are studied attempts at masculine posturing: Chasen became a pilot to impress the ladies. Garrett once snuck into a football stadium to make out with his girlfriend. Connor's grandmother (but not Connor himself!) says he deserves a "sexy lady" to give her grandkids.
So what should viewers make of Matteo, 25, a management consultant from Atlanta, who says he has fathered 114 children as a sperm donor? If true, the claim—or is it a boast? or an admission?—is startling, a fact The Bachelorette's producers were surely aware of when they released the contestant bios ahead of the season premiere. As once-secret sperm donations have become discussed more openly, DNA tests and online registries have also revealed cases in which single donors have produced 50, 100, even 189 biological children. These stories provoke an obvious question: How many children is too many for a single donor?
The U.S. has never considered this issue a necessary one to regulate. While countries such as the U.K., Germany, and the Netherlands limit how many children a single donor can have, the U.S. only has voluntary guidelines from the American Society for Reproductive Medicine, a professional group for fertility specialists. "It's concerning to have single donors used too much," says ASRM's president, Peter Schlegel, adding that more than 100 times is indeed too many. ASRM guidelines suggest no more than 25 births per sperm donor in a population of 800,000 people, to prevent accidental incest. Several prominent sperm banks, which ship material all over the country and even the world, have set their own limits now—sometimes, only in response to news reports uncovering large sibling groups.
The limits—voluntary, self-imposed—come up against an even more basic problem: No one knows exactly how many donor-conceived children are even born in the U.S. every year. A woman might buy sperm from a bank, get inseminated at her fertility clinic, and then have her baby with her ob-gyn. The sperm bank relies on customers to report back, but it has no way of compelling them to do so. Anecdotally, at least, parents and kids curious about their donors have found these records fairly incomplete.
"You really can't do anything until you have accurate records," says Wendy Kramer, the founder of the Donor Sibling Registry, a website that connects donors and donor-conceived people. In 2017, Kramer submitted a citizen petition asking the Food and Drug Administration to regulate sperm donation, including the number of offspring per donor. The agency declined, saying those matters were outside its scope.
Given the lack of official records, it's unclear exactly how Matteo knows that he has 114 biological children. He is only 25, so any biological children would be too young to take DNA tests on their own. He does not appear to be on the Donor Sibling Registry either, according to Kramer. ABC, which airs The Bachelorette, declined to clarify when asked for comment. And yet, given what is known about the sperm-donation industry, 114 is certainly within the realm of possibility.
---
Cynthia Daily used a sperm donor to conceive her son in the 2000s, and she now runs a private Facebook group for his half siblings and their families. The total number of children from that donor is, so far, 189. The group has been fairly healthy, but Daily pointed to examples of other donors who have passed on genetic conditions. "What if you have a donor who's passing on something they don't test for? Or it's a later-in-life potential issue?" Daily asks. "We don't have any clue what happened in his later life. All we know is what went on when he was a freshman, sophomore, junior in college." Sperm banks could at least mitigate some of the risk by limiting offspring from a single donor.
It's also just hard to imagine what it means to be one of more than 100 children. What are the psychological effects, Kramer asks, "for a child to be part of a herd of children?" Or for a donor, who might have donated for spending money in college, to find out he has 100 offspring? One donor has taken to keeping track in an Excel spreadsheet. "It's kind of overwhelming to think about," says Naomi Cahn, a law professor at George Washington University and the author of The New Kinship: Constructing Donor-Conceived Families. But, she adds, finding so many half siblings could also be welcome for some people.
For Daily and her now-teenage son, who grew up as an only child, meeting dozens of half siblings all over the country has indeed been welcome in many ways. They have gone on annual vacations with donor siblings. When he travels for ice-hockey games, they meet up with whoever is nearby for lunch. (They have not been in touch with the donor, and Daily says her son is not particularly interested.) The number of siblings in Daily's case is unusual, but such stories are not. As donor-conceived people have found their donors and their siblings, they have created new types of family bonds.
[ Read: The changing norms around donor-sibling networks ]
This openness to relationships created by donor sperm is relatively new. For decades, doctors told their patients—usually married, usually heterosexual—to keep the use of donor sperm secret even from the children they conceived. "The child might feel rejected, the sterile husband might feel humiliated, and the wife might be condemned as an adultress," Kara Swanson, a professor at the Northeastern University School of Law, recounts in her book, Banking on the Body. But as sperm donation became available to single mothers and lesbian couples, these new patients bristled against the secrecy. To them, it wasn't embarrassing; it was a simple fact of conception. An egg and a sperm might still be the only way to have a baby, but a mother and a father are not the only way to have a family.
That is, of course, why it's so interesting to see sperm donation addressed on The Bachelorette, a show about the spectacle and promise of heterosexual coupling. In this context, is conceiving 114 children a masculine boast? Or fodder for jokes and queasy references to incest? Or will it be just another semi-interesting fact—like Matteo's VR start-up or milk-chugging skills—that is briefly noted before we move along, accepting that families can now come in all sizes and forms? As I'm sure ABC would like me to say, we'll just have to tune in to see.