A Natural-History Museum Is Under Fire for Hosting Brazil's New President
Critics say that a planned event at the American Museum of Natural History honoring Jair Bolsonaro is antithetical to the institute's mission and values.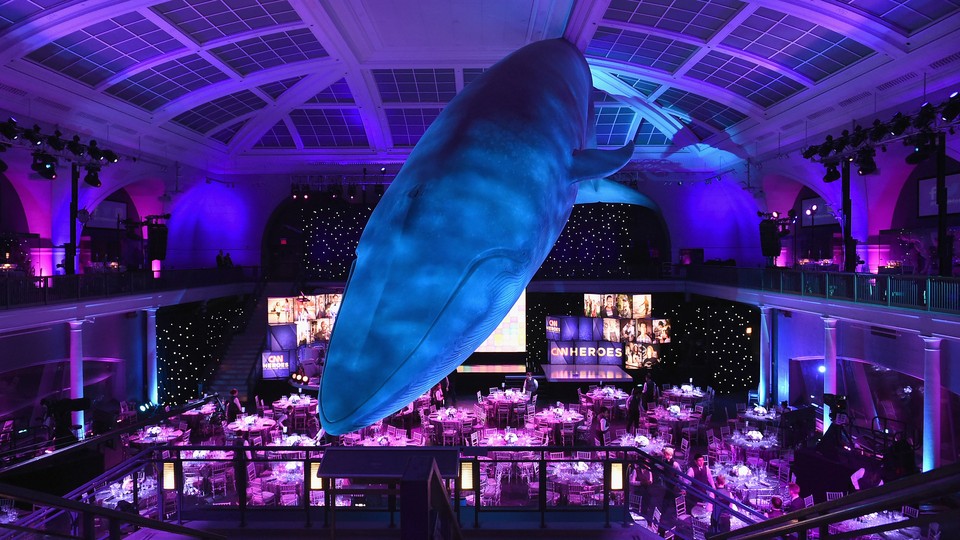 Updated at 5:06 p.m.
Natural-history museums are research centers, public attractions, and stores of natural treasures. But many of them are also event spaces that command a hefty price for weddings, award ceremonies, gala dinners, and conferences. These two roles can seem like Janus's faces: inseparable, but looking away from each other. Often, that's not a problem. Sometimes, it very much is.
The American Museum of Natural History came under fire this Thursday, when news emerged that on May 14 it would serve as the venue for a black-tie gala dinner honoring Jair Bolsonaro, Brazil's newly elected, ultranationalist president. Since 1970, the Brazilian-American Chamber of Commerce has bestowed a person-of-the-year award upon two people—one Brazilian and one American—for being "particularly instrumental in forging closer ties between the two nations." For at least the past two years, the honorees have picked up their accolades beneath the gaze of the AMNH's blue whale. And this year's planned event would have attracted little notice outside the international business community, had it not involved Bolsonaro.
Elected in October 2018 and in office since January, Bolsonaro quickly moved to undermine protections for the Amazon rainforest, open it up for agriculture and mining, and wrest control of land from indigenous communities. He has compared those communities to chicken-pox spots, promised to forcibly integrate them, and praised America's historical extermination of native peoples. He recently froze almost half of Brazil's science spending. His statements have frequently been racist, misogynistic, and homophobic.
According to the Brazilian newspaper Folha de São Paolo, tickets for a table of 10 cost $30,000, and sold out quickly. Brazilian scientists such as the herpetologist Henrique Costa and the ecologist Ana Carnaval drew attention to the report last month, but the issue truly heated up on Thursday after a story in Gothamist reached AMNH scientists. Alexandra Walling, a graduate student who studies viruses, said that she was "outraged but not surprised" in a widely shared Twitter thread. "AMNH claims to care about biodiversity and climate change—they certainly employ scientists who study these things—but they'll take the money of people who would see the whole world burn to line their pockets," Walling wrote.
Other AMNH scientists were similarly appalled. "It was a jaw-dropping shock when I saw the Gothamist piece," adds Susan Perkins, the museum's curator of microbial genomics. "Bolsonaro is the opposite of what I care about. To have someone like that being in our space makes my skin crawl." Several graduate students (and other signatories) have written an open letter to the administration, and some of the museum's research associates have threatened to resign. There's some talk of protests at upcoming events, including a big anniversary party and the Earth Day celebration this weekend. "As a Brazilian scientist working at the museum I'm embarrassed that this event is happening here," says the evolutionary biologist Marcelo Gehara.
The controversy also comes as others are calling on the AMNH to confront its own colonial legacy. Since 2016, the activist group Decolonize This Space has organized annual protests to highlight the white-supremacist views of Teddy Roosevelt (who is memorialized in a key hall), the museum's historical support of eugenics, and its "deeply colonial and faulty representations of culture."
Anne Canty, an AMNH spokesperson, sent a statement saying: "The external, private event at which the current President of Brazil is to be honored, was booked at the Museum before the honoree was secured. We are deeply concerned, and the event does not in any way reflect the Museum's position that there is an urgent need to conserve the Amazon Rainforest, which has such profound implications for biological diversity, indigenous communities, climate change, and the future health of our planet. We are exploring our options."
The AMNH has come under similar fire before. Like many other museums, it has been criticized for taking money from the Sackler family, whose fortunes were built on sales of the highly addictive painkillers behind the current opioid crisis; the Sackler name graces the AMNH's institute of comparative genomics. In 2015, scientists protested the museum's ties with the billionaire oil magnate David Koch and urged it to "cut all ties with the fossil fuel industry and funders of climate science obfuscation." Koch later resigned from the museum's board for reasons allegedly unrelated to the protest; his name still graces the museum's dinosaur wing. In 2018, protesters levied similar objections about the conservative heiress Rebekah Mercer, who has also funded groups that deny climate science, and who also sits on the museum's board.
Critics have cast some of these protests as attempts to exclude people with conservative political views from scientific spaces. But that would be an unfair portrayal of the objections to the Bolsonaro gala: His views on the environment and indigenous communities are not merely right-wing, but diametrically opposed to the museum's goals. As the wildlife photographer Lee Jaszlics noted on Twitter, the museum's collections include tens of thousands of specimens and fossils from Brazil—"objects that represent an investment in the country's biodiversity and cultural wealth." "This is why you cancel the event," she added. "Bolsonaro's policies are utterly antithetical to the trust the museum holds."
"I think it's very important to engage with people even when they have firm opposition to things we believe in, but this is strongly off the charts," says Emilio Bruna, an ecologist from the University of Florida who works in Brazil. "I simply cannot imagine a person who is more antithetical to what my colleagues at the museum or my Brazilian collaborators are working towards."
The decision to host Bolsonaro also contravenes the code of ethics of the American Alliance of Museums, says Beka Economopoulos, an activist who directs a traveling pop-up museum called The Natural History Museum. The code states that "it is incumbent on museums to ... foster an informed appreciation of the rich and diverse world we have inherited [and] preserve that inheritance for posterity." Given that mission, "it is wrong to offer space to a right-wing dictator who wants to mow down the Amazon and kill indigenous peoples," Economopoulos says.
In the wake of similar controversies, other museums have played up the separation between their roles as institutions and their roles as spaces for events. After the murder of the journalist Jamal Khashoggi, London's Natural History Museum was criticized for hosting a reception by the Saudi embassy. The museum noted that the event had been booked months before, and such commercial events were "an important source of external funding." In a statement, they added: "We hold a wide variety of commercial events and it is made clear to any host that doing so is not an endorsement of their product, service or views."
That delineation might exist in the minds of decision makers, but it doesn't actually exist, Economopoulos says. "The department involved in rentals is a part of the museum," she says. "There are parameters for which entities you confer legitimacy upon by offering your venue and your name. If you are going to host something, you are tacitly in support of that thing."
"These are complicated questions for museums," she acknowledges, "but this one for the AMNH is not complicated."