The 3 Democrats Who Voted Against the Green New Deal
They contributed to its decisive defeat in the Senate on Tuesday, 57–0.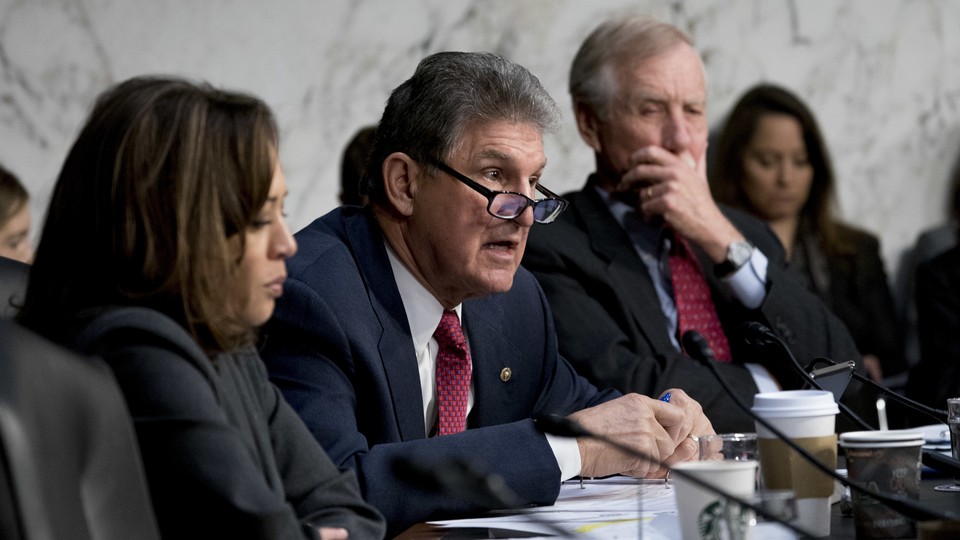 The Senate rejected the Green New Deal on Tuesday, in a decisive 57–0 vote that Democrats decried as a political stunt meant to divide their caucus.
All the Republican senators opposed the measure. They were joined by four senators who caucus with the Democrats—Senator Joe Manchin, from the coal-heavy state of West Virginia, along with Senators Kyrsten Sinema of Arizona, Doug Jones of Alabama, and Angus King of Maine.
Uniting the four dissenters: a sense that the Green New Deal, in its current form, is neither practical nor attainable.
"I agree with proponents of the Green New Deal that we need decisive action and ambitious goals to protect our planet for future generations," said King, an independent who usually votes with Democrats, in a statement. "But at the same time, I believe that the best way to fully address this challenge is to set realistic goals."
Very little of the drama on Tuesday mattered in a lasting way. The Green New Deal resolution was always doomed to fail, since Republicans hold a majority in the upper chamber. And even its successful passage may not have meant much. The Green New Deal, as it stands today, is a nonbinding plan to make a plan. While its supporters envision a Herculean effort to remake the economy while fighting climate change, its current text is extremely vague, authorizing no new programs in any useful detail.
Nor was Senate Majority Leader Mitch McConnell, who orchestrated the vote, interested in furnishing any of those specifics. The details were never the point: McConnell sought to force individual Democrats into taking a stand on the expansive proposal, which remains controversial in the caucus.
In protest, 43 Democrats declined to oblige him, abstaining from the roll call and voting only "present." All six Senate Democrats openly running for president—that is, Bernie Sanders, Kamala Harris, Elizabeth Warren, Cory Booker, Amy Klobuchar, and Kirsten Gillibrand—co-sponsored the resolution but still voted present on it. Yet because of its four dissensions, the caucus still failed to mount a unified front.
Not that Republicans perfectly executed their strategy either. Polling on the Green New Deal has not nearly been as catastrophic as GOP leaders initially hoped. Sixty-three percent of Americans believe the Republican position on climate change is "outside the mainstream," according to a recent NBC/Wall Street Journal poll.
McConnell originally meant to hold the test vote in February, but he delayed it by four weeks after Democrats threatened a boycott. And while Republicans have shot down Democratic climate proposals, they have offered no consensus alternatives of their own. "It's clear why we're opposed to the Green New Deal," Senator Lamar Alexander told Politico on Monday, "but it's not as clear what we're for."
While Democrats agree on the danger of climate change, they have their own problems. As a counter to McConnell's gambit, Senate Democrats have offered a resolution that does little more than say that climate change is real and caused by humans, and that someone with power in the federal government should do something about it. Here is its full text:
That it is the sense of Congress that—

(1) climate change is real;

(2) human activity during the last century is the dominant cause of the climate crisis; and

(3) the United States and Congress should take immediate action to address the challenge of climate change.
The resolution has so far attracted the support of only one Republican, Senator Susan Collins of Maine. McConnell has not yet scheduled it for a vote. And even if he did, it seems to miss the underlying critique guiding the Sunrise Movement, the youth-led activist group that supports the Green New Deal: that Democrats, despite agreeing on the danger of climate change, do not have a consensus plan to do anything about it (though The Atlantic has learned that House Democratic leaders are set to announce on Wednesday a climate plan meant to unite their caucus).
After the vote on Tuesday evening, the senators who opposed the Green New Deal explained their break with party unity while emphasizing the need for some action on climate change.
"I firmly believe that as a country, we need to act decisively to mitigate the effects of climate change," said Jones, who faces reelection in Alabama next year. Sinema, of Arizona, called for a "realistic, achievable solution." Manchin, a longtime ally of the coal industry and the ranking member of the Senate Committee on Energy and Natural Resources, said in a statement, "We need to focus on real solutions that recognize the role that fossil fuels will continue to play."
He then affirmed: "Manmade climate change is real and it's a serious threat."
King, the independent of Maine, explained his no vote in a statement that ran more than 500 words. "As someone who has spent a significant amount of his life working in renewable energy and is well-versed in the technology, I am concerned that the overly aggressive goals in the resolution I voted against today are unrealistic and far too broad," he said, alluding to his experience founding an energy-efficiency company in the early 1990s.
"I want to emphasize that my skepticism surrounding the current resolution should not be misconstrued as being uninterested in pursuing the most ambitious and realistic action on climate change; I simply differ with the most effective way to accomplish that goal," King added. He also decried that "the Senate Majority Leader's first vote on climate change mitigation isn't a serious attempt to solve the problem facing our future generations, but rather a cynical act of political theater."
King, who has co-sponsored other renewable-energy bills, does not face reelection until 2024.
There is some precedent for a split on these types of votes in the Democratic caucus. In July 2017, McConnell held a vote on a doomed Medicare-for-all proposal. While most Democrats voted present, a few of the caucus's red-state senators opposed it. The final whip count was the same: 57 nay, 0 yea, 43 present. The episode is now mostly forgotten.