Cashing In on a Warming Arctic
In Maine, some see the melting ice to the north as an opportunity.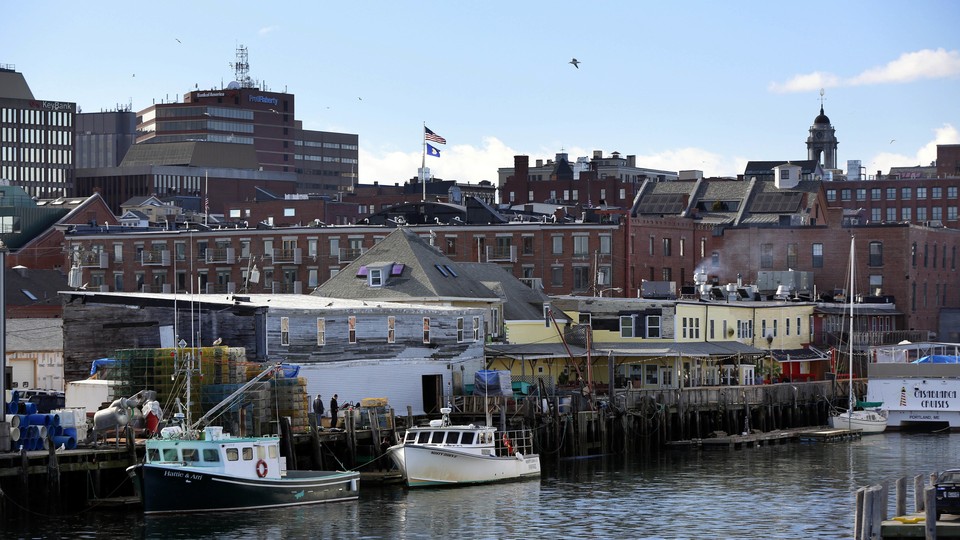 PORTLAND, Maine—A less icy Arctic is coming, and generally speaking, that's not a good thing. Climate change is warming this region twice as fast as the global average, threatening wildlife and indigenous communities. Melting permafrost in Greenland and the Arctic tundra is releasing vast amounts of methane, a potent climate-altering gas.
But some see an Arctic with navigable seas in the summer and newly accessible fossil fuels as an irresistible opportunity. Cargo shipping, cruising, mining, oil drilling, fishing—all these industrial activities could expand to the Arctic, one of the last remaining wild places, and with potentially devastating consequences.
The people of Maine want in. Public and private interests in the state are working to build trading relationships with other Arctic (and Arctic-ish) nations and communities. Though there is not a tremendous appetite for Arctic mining and fossil-fuel exploration in Maine, these commercial connections could serve to establish the state as an Arctic player for decades to come.
Maine is not, strictly speaking, in the Arctic, but a few things have happened to reorient the state's compass north. First, in 2013, the state successfully persuaded Eimskip, a major Icelandic shipping company, to move its North American headquarters to Portland from Norfolk, Virginia. Within four years, Eimskip went from biweekly journeys between Portland; Reykjavik, Iceland; and parts of Canada to making them every week, taking Maine cranberries, wood pulp, candles, and more abroad and bringing back goods like frozen fish and sparkling water. From Reykjavik, Maine goods can head to any of the ports that Eimskip services in Norway, Denmark, the Faroe Islands, Greenland, and elsewhere.
Next, Angus King, the junior senator from Maine, made some significant moves. With Senator Lisa Murkowski, Republican of Alaska, he founded and co-chairs the Senate's Arctic Caucus. And, in 2016, when the United States took its turn as the rotating chair of the Arctic Council, an intergovernmental forum for Arctic governance made up of the United States, Canada, Denmark, Finland, Iceland, Norway, Sweden, and Russia as members and indigenous groups as permanent participants, Senator King successfully lobbied for Portland to host the Senior Arctic Officials meeting, the first time the United States had hosted outside Alaska or Washington, D.C. Senator King seems especially keen on the long-term possibilities of an Arctic connection, which he likened to discovering the Mediterranean. After learning about the rapid decline of Arctic sea ice in the past few decades, "it didn't take me long to realize that if you're bringing a shipment of goods from Asia to the U.S., it's a lot shorter to go [through the Northwest Passage, an Arctic route between the Pacific and Atlantic Oceans passing through the Canadian Arctic archipelago] and end up in Maine," he said, adding that he is also a passionate advocate for climate-change mitigation. According to Jon Nass, the CEO of the Maine Port Authority, Portland (and Maine's two other ports, Eastport and Searsport) will likely stay "niche ports," and not destinations for mega cargo ships, such as the ones China might send to New York or Long Beach, California.
In response to these changes, state colleges and universities have created Arctic or North Atlantic institutes and exchanges. The Maine Maritime Academy has begun a polar-operations course with federal funding; in 2017, the Crystal Serenity, a luxury cruise ship, made a stop in Bar Harbor during a journey that traveled the Northwest Passage.
Almost everyone I spoke with in Maine who's involved with the Arctic told me that Mainers have more in common with people from Iceland and Norway than they do with people from New York or California—they all live in relatively small communities with fairly extreme weather, and mainly depend on the ocean and other natural resources. People spoke glowingly with me about their trips to Iceland, how popular Maine craft beer is in the North Atlantic, and how this connection gives the state the chance to be at the beginning of something, rather than the last stop on a line that trails off as it stretches from New York to Boston.
But Arctic sea ice, at least in the summer, has to melt before any of the major industrial developments are realized: before the Northwest Passage sees major cargo-ship or cruise traffic; before Greenland is churned up by mining; before Russia, China, the United States, and others attempt to exploit the massive fossil-fuel reserves up there; before Arctic cod or other species are industrially fished. To be fair, those industrial and commercial developments don't have much to do with Maine, but when dealing with the Arctic, the impacts of industry and commerce don't stay in the Arctic.
Susan Kaplan, an anthropology professor and the director of the Arctic Studies Center at Bowdoin College, says, "We have a long history of Westerners going up to the Arctic and exploiting resources and leaving, having damaged the environment and having negatively affected the local population." She adds, "We know better, and it's time for that to stop. What I keep asking is that people think about that legacy, because we should be doing things differently."
But others, even those who deal with resilience and adaptation, are more optimistic about the pros, such as Joel Clement, a senior fellow at the Harvard Kennedy School and former top climate-policy expert at the Department of the Interior (reassigned to the accounting office by former Secretary Ryan S. Zinke, he became an early whistleblower in the Donald Trump administration), who also happens to be from Maine. When he first heard about Maine's Arctic ambitions, Clement says, "I thought it was a little bit surreal." But in the years since, he's come around: "They're not so much taking advantage of climate change as adapting to coming change that they see."
Maine might also need to explore fishing in the Arctic Ocean, given both the ongoing decline of several species (cod, shrimp, and herring) and the catastrophic warming of the Gulf of Maine, which has warmed faster than 99 percent of the global ocean. The lobster fishery has boomed in the past few years, but it might not last, because warming waters will likely affect the lobsters' habitat and ability to reproduce. (In the meantime, the lobster and fishing industries contribute $1–2 billion to the state's economy annually, according to the Maine International Trade Center.)
Warming and overfishing hit Maine's fish-processing industry hard, so some companies, such as Bristol Seafood, turned north and began importing Norwegian haddock in 1994, when the Georges Bank fishing moratorium took effect. Having Eimskip next door has improved the company's supply chain and brings in more fish, says Peter Handy, Bristol Seafood's president and CEO, who also used the North Atlantic connection to learn about and install Icelandic processing machinery. "The North Atlantic, Iceland, [and] Norway's connection with Maine is the only reason this company still exists," Handy said, adding that sustainable fishing is very important to the company.
But no one knows exactly what will happen to Arctic fish populations, regardless of management. (Currently, there is an international moratorium on commercial fishing in the central Arctic Ocean.) A study that projected migrations for 686 North American fish species under various emissions scenarios anticipates that most species will move poleward, looking for cooler water, confounding management strategies and making sustainable fishing even more difficult. Essentially, Norwegian haddock could leave Norway, leaving Maine without a reliable fishery to source from. Plus, it could be shortsighted or climate-unaware to connect Maine, whose people and economy have suffered from the effects of overfishing, to a similar dynamic in another part of the world. But is it fair, especially for outside observers, to say they shouldn't benefit from this opportunity, even if climate change does make it possible?
Handy thinks those mistakes can be avoided. "I don't view our business in the Arctic as harmful," he says. "We buy and process more haddock from Norway than we get from the entire state of Maine, and in Norway, no one could eat all of the haddock they catch."
"Anything left unmanaged goes to hell," Handy says, "and whether fisheries in the Arctic are growing or shrinking, both those scenarios can result in horrible social and environmental impacts."
To suggest they are doing something wrong now may be unfair, but it's worth noting the risks of Arctic development. If the Arctic becomes an essential part of Maine's economy now, some degree of industrial development (and environmental catastrophe) may be unavoidable later on.
Arctic cruising is one area where that kind of development—with potentially serious environmental consequences—may already be unavoidable. From 2005 to 2015, the number of ships going through the Canadian Arctic alone more than tripled. Over the next two or three years, Arctic cruise companies will build 26 new ships to meet the demand, according to Edda Falk, a spokesperson for the Association of Arctic Expedition Cruise Operators.
The Maine Port Authority and Soli DG, a Portland consulting company, have been trying to encourage Arctic cruise lines —"adventure" cruises with only a few hundred passengers—to call on Maine ports. They have also recruited Hurtigruten, a Norwegian cruise company, to bring some of its North American cruise trips to Maine's most valuable asset, its coast. Hurtigruten's cruises through the Northwest Passage can accommodate somewhere between 300 and 500 passengers; typically boast gyms, saunas, and outdoor hot tubs; and range in cost from about $13,000 per passenger to $26,000, depending on the length of the journey.
If cruising in the Arctic is to continue (and it likely will, especially as navigation becomes easier), Greenland and the Canadian Arctic will need more infrastructure—ports, plumbing, buildings—to accommodate the tourists and the ships themselves. Maine businesses are hoping to build some of that infrastructure: Colby Company, a civil-engineering firm, is working with the Maine North Atlantic Development Office to create relationships in Greenland, while Hancock Lumber has expressed interest in providing building materials for the housing stock that may be needed when the ice sheet melts even more.
That infrastructure could be good for local communities, helping meet the needs of tourists who want to see the Arctic before it's gone. But Kaplan warns that without the adequate involvement of indigenous groups, the arrival of cruise ships in remote communities could destroy their character, reducing them to souvenir-shop versions of themselves: "This is not an exotic playground; this is people's home," she says. "What the rest of the world needs to do is respect them and listen to them." The new infrastructure could also come to support the extractive industries that might arrive and accelerate massive changes in Greenland.
Scientists and environmental advocates also expressed underlying fears for the environment and the survival of Arctic communities. Increased ship activity in the region could disrupt the mating and migration patterns of whales and other marine mammals that still find refuge in the Arctic, and on which indigenous communities depend. Search-and-rescue capabilities are a constant concern: There are no deep-water ports in the Canadian or American Arctic, not to mention that the United States only has one heavy polar-class icebreaker. If there were a disaster in the Northwest Passage or elsewhere in the North American Arctic, such as an oil spill or ship grounding, it could take about four or five days for any kind of cleanup or rescue operation to arrive, some experts say. According to Malte Humpert, the founder of the Arctic Institute, "For a major environmental disaster in the Arctic, it's a question of when, not if," a forecast repeated to me several times.
An environmental disaster in the Arctic doesn't stay in the Arctic: What happens in the Arctic affects everyone, and it affects the Northern Hemisphere directly. The problem for Maine is that establishing trade relationships and developing commercial opportunities in the Arctic and Arctic-adjacent regions aren't necessarily just about Maine and the Arctic. It smacks of elitism to say that Maine shouldn't get to explore this new opportunity—especially because it has a higher poverty rate than any other state in the Northeast except New York—if changes to the Arctic will happen anyway. At the same time, protecting and preserving the Arctic is crucial for planetary survival. Figuring out how best to do that will be a global effort. Maybe if Maine has a say now, that could be good for all of us, so long as those with concerns for the environment and indigenous communities lead the way.
Or, as Joel Clement says, putting a twist on an old saying about Maine, "As goes the Arctic, so goes … a lot of other things."