Neil deGrasse Tyson, #MeToo, and the Celebrity Photo Op
A picture with a famous person can cause uncomfortable misunderstandings or, worse still, encourage predatory behavior.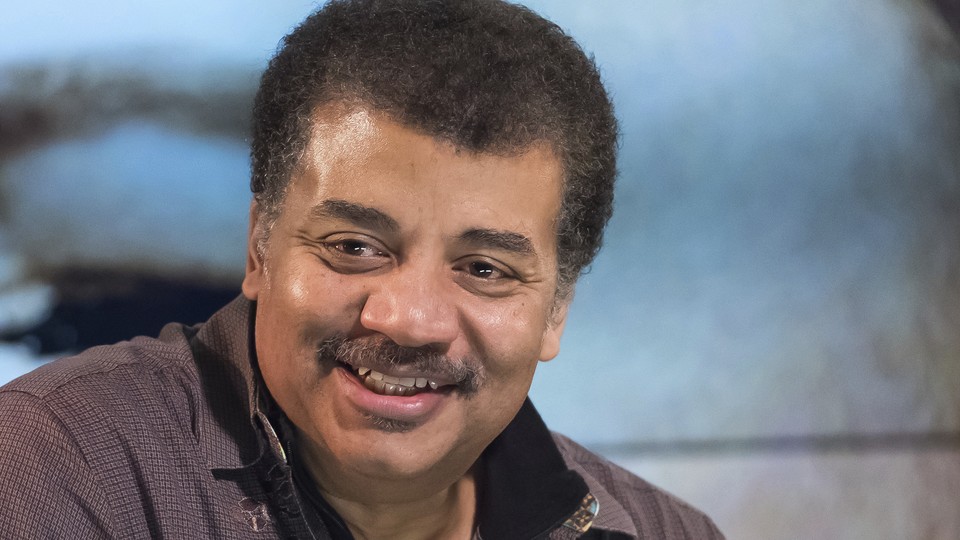 In 2009, hundreds of astronomers gathered in Long Beach, California, for the annual conference of the American Astronomical Society. Attendees participated in workshops during the day and mingled at after-parties at night. At one party, Katelyn Allers, now an astronomy and physics professor at Bucknell University, spotted Neil deGrasse Tyson, the well-known astrophysicist.
Allers approached Tyson and asked him to pose for a photograph. In one, the two are next to each other and smiling, Tyson in a black bolero and jacket, Allers in a plaid dress. In another, Tyson is holding Allers's arm in both hands and examining the tattoo on her shoulder, a depiction of the solar system.
What happened next depends on whom you ask.
Right after the second photo was taken, Allers says Tyson probed her dress in an "uncomfortable and creepy" manner; in an interview with the website Patheos, which published the photos last week, Allers alleges that Tyson's hands followed her tattoo, which extends from her arm to her back, under her dress. "After we had taken the picture, he noticed my tattoo and kind of grabbed me to look at it, and was really obsessed about whether I had Pluto on this tattoo or not … and then he looked for Pluto, and followed the tattoo into my dress," Allers said.
Tyson said he was indeed interested in Allers's tattoo, but he denied touching her inappropriately. "I was reported to have 'groped' her by searching 'up her dress,' when this was simply a search under the covered part of her shoulder of the sleeveless dress," Tyson wrote in a Facebook post on Saturday.
Tyson provided that explanation as part of a larger response to several allegations against him, which have made national headlines in recent days: that of Allers, but also that of a former assistant who claims Tyson made inappropriate sexual advances, and that of a woman who alleges that Tyson raped her while they were graduate students in the 1980s. Fox Broadcasting Company and National Geographic, the producers of Tyson's popular-science show Cosmos, have said they will investigate the allegations.
In his post, Tyson apologized to Allers, saying he didn't know she found their encounter to be "creepy." "I am asked by thousands of people per year to take pictures with them," he wrote. "A flattering, time-consuming, but delightful chore."
Few Tyson admirers would pass up an opportunity to pose for pictures with the astrophysicist, who is one of the best-known popularizers of science since Carl Sagan. Photo ops with famous folks are, generally, quite exciting. You get to chat with someone you admire, tell the celebrity why his or her work matters to you, and then leave with photographic evidence of the whole thing to show your friends.
But in the year since the #MeToo movement took hold, the photo op has become something else. The same circumstances that can produce a cherished keepsake can also facilitate something sinister. The nature of the photo op can, at best, cause uncomfortable misunderstandings and, at worst, encourage predatory behavior.
Take the example of another well-known individual in the scientific field, the theoretical physicist Lawrence Krauss. In November 2016, Krauss was in Melbourne for the Australian Skeptics National Convention, a gathering of scientists who advocate for empirical research of dubious claims. At a dinner, a woman approached Krauss and asked him to take a selfie with her. Melanie Thomson, a friend of the woman, claimed in an interview with BuzzFeed News earlier this year that as her friend held out her phone, Krauss grabbed the woman's right breast.
"As soon as she reacted, which was instantaneously, she body checked him and then she spun around," Thomson said. Two other attendees told BuzzFeed News they also witnessed the incident.
Krauss has denied he grabbed the woman's breast. "That would require an outburst of brash and irrational behavior that isn't consistent with anything else about my behavior … during the tens of thousands of other selfies I have taken with people over the years," he wrote in a lengthy document shared last month, after he announced that he would retire from his position at Arizona State University, which had investigated him.
Krauss included the photo in his explanatory document. The woman leans against Krauss, whose hand, blurred by movement, hovers over her chest. The astrophysicist added a gray circle to block the woman's face; only Krauss's face is visible. "I may have inadvertently touched her breast, but it would have been a complete accident," Krauss said.
In this case, the camera captured a distinct moment—the moving hand—which both sides could use to bolster their very different arguments. The witnesses claimed Krauss was moving it toward the woman; Krauss insists he was moving it away. In other cases, there is little to dispute. The misconduct occurs behind the subjects, where the camera lens can't reach.
In October 2017, just a few weeks after the Harvey Weinstein investigations were published, an actress alleged that in 2014, the late George H. W. Bush, by then in a wheelchair, had groped her while they posed for a photo. Within a month, at least seven more women came forward with similar stories of their own photo ops with the 41st president. Their experiences spanned more than 20 years. Two women said that Bush said "David Cop-a-feel!" as he groped or squeezed their buttocks. One of the accusers said Bush groped her when she was 16 years old. In a flash, Bush's admirers were made to feel like victims.
Bush apologized in response to the allegations, through a spokesperson: "To anyone he has offended, President Bush apologizes most sincerely."
The statement gave this explanation for the disturbing pattern: "To try to put people at ease, the president routinely tells the same joke—and on occasion, he has patted women's rears in what he intended to be a good-natured manner. Some have seen it as innocent; others clearly view it as inappropriate."
If they had not said otherwise, it would be easy to believe that these women weren't bothered by Bush's actions, that they found the gesture, as his spokesperson suggested, innocent. In the photos, the women stand close to the president, almost pressing into him. Everyone is smiling. Looking at the pictures, no one would think there was something wrong.
The roles in a photo op gone wrong—the admirer as alleged victim, the celebrity as alleged predator—can be reversed. Consider the legal battle between the singer Taylor Swift and a former DJ named David Mueller. In 2013, Swift, Mueller, and Mueller's then girlfriend posed for a photograph at a backstage meet and greet after Swift's concert in Denver. Swift said that Mueller groped her buttocks as the photo was taken. Mueller denied the claim.
The legal standoff would likely have followed the standard "he said, she said" narrative that has guided and decided stories of sexual misconduct since time immemorial. But there it was, publicly available and widely shared, the photo of the exact moment in question: Swift stands between the couple, with Mueller's arm behind the singer, positioned well below her waist. At the trial, which took place in the summer, Swift and Mueller offered two very different characterizations of the same image to the jury.
Mueller said he touched Swift's arm and ribs while "jostling" for the photo. Swift said that actually, no, there was no jostling, no contact with her arm or ribs: "He grabbed my bare ass."
Mueller's attorney asked the singer why, if Mueller had inappropriately touched Swift beneath, the front of her skirt doesn't appear ruffled.
"Because my ass is located in the back of my body," Swift responded.
After four hours of deliberation, the jury ruled in Swift's favor. The photograph was no smoking gun—the lengths to which Mueller's attorney went to describe what might have occurred behind Swift and his client make that clear—but it no doubt helped decide the verdict. "Believe women," the axiomatic slogan of the #MeToo movement demands, but the bar remains, as it has for centuries, high, whether in front of a jury or in front of Congress. Photos, when they exist, lower that bar.
In some cases, the contents of a photo op are difficult to dispute, especially when one party couldn't even agree to the photograph in the first place. In 2006, Leeann Tweeden, a radio-show anchor, was headed back to the United States after a USO tour to entertain American troops stationed in Iraq. Al Franken, then a comedian, was part of the group. Tweeden fell asleep on the flight, and Franken took the opportunity to pose with her with his hands outstretched as if grabbing her breasts. Tweeden publicly shared the photo in November 2017, and Franken, by then a U.S. senator, resigned a month later.
The secret photo op was allegedly just one example of Franken's penchant for inappropriate behavior with women in front of camera lenses. Days after Tweeden shared the photo, at least four other women claimed that Franken had grabbed their buttocks or squeezed their waist while taking a photo at political events in the past decade.
In the case of Franken—and, to some extent, Swift—the photograph added another layer to the discussion and to the competing stories that in the end tipped the scales toward the woman. It provided an unsettling twist. For the alleged victims, the portrait of their violation became the proof they needed to convince others that it happened.
While it is difficult to deny allegations of bad behavior when some visual proof exists, it's not impossible. Even with photographic evidence, the public discussions surrounding alleged instances of sexual misconduct have often defaulted to the standard narrative. People view the photos of the #MeToo movement as they do the stories: through the lens of their own preconceived notions. Faced with the exact same image, they may perceive entirely different realities. They will choose to believe what he said over what she said, or vice versa. A picture may be worth a thousand words, but it doesn't tell the same story to everyone.