The Ballot Question That Could Transform U.S. Climate Politics
An initiative in Washington State proposes the country's first carbon fee—and applies the ethos of FDR to a global crisis.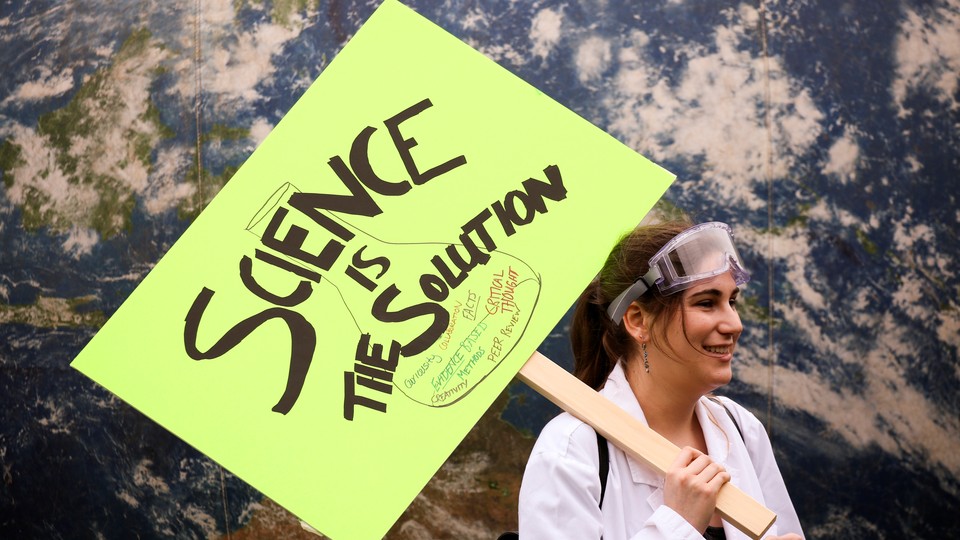 On Tuesday, residents of Washington State will vote on whether to adopt a carbon fee, an ambitious policy that aims to combat climate change by charging oil companies and other polluters for the right to emit greenhouse-gas pollution.
If the measure passes, Washington would immediately have one of the most aggressive climate policies in the country. The proposal—known as Ballot Initiative 1631—takes something of a "Green New Deal" approach, using the money raised by the new fee to build new infrastructure to prepare the state for climate change. It would generate millions to fund new public transit, solar and wind farms, and forest-conservation projects in the state; it would also direct money to a working-class coal community and a coastal indigenous tribe.
Despite its local focus, Initiative 1631 stands to reshape climate politics in places far from Seattle or Spokane. If it passes, Washington would become the first state in the country—and, in fact, the first large government anywhere in the world—to impose a price on carbon by ballot question. Victory might help convince national politicians—both Democrats and Republicans—who systematically underrate enthusiasm for climate policy, that Americans actually are willing to pay to fight climate change.
If Initiative 1631 fails, on the other hand, it would suggest that ambitious climate policy cannot find a winning coalition, even in one of the most outdoorsy states in the union. Its defeat would provide yet another example of how—even as the list of President Donald Trump's unpopular environmental rollbacks grows by the month—blue states cannot actually convert their confessed concern for the natural world into the muscular work of government.
I first wrote about Initiative 1631 in August. Since then, a few factors have changed in the race. Oil money has swamped Washington: A handful of companies and industry lobbyists have given tens of millions of dollars to the "No on 1631" effort, making it the richest ballot-initiative campaign in state history. Meanwhile, local papers disagree on the referendum's merits: The Seattle Times and Tri-City Herald have opposed 1631; The Olympian and Tacoma's News Tribune support it. (A reputable local paper in New York City has also enthusiastically endorsed the referendum.) Public-opinion polls seem to be similarly split.
---
A few years ago, researchers at Yale and George Mason University surveyed the nation and found that most Americans—almost 60 percent of them, in fact—believed "global warming will harm people in the United States." A majority said that climate change was already hurting Americans. But when asked if "global warming will harm me, personally," the numbers plummeted. Sixty percent of Americans swore that climate change would never hurt them.
This more or less mirrors the situation in Washington State, according to the same study. Most Washingtonians say that climate change is already hurting people in the United States. But three out of every five state residents also say that climate change will never affect them.
Washingtonians have many good reasons to conclude they're safe. Secure in the country's northwest corner, the Evergreen State seems far from the deadly hurricanes or oppressive humidity that dominate coverage of the crisis. Yet those Washingtonians are, alas, wrong. 2015 was the warmest year ever recorded in Washington; eight of its 10 warmest years on record have come in the past three decades. Wildfires, which do seem to be worsened by climate change, have poisoned Seattle's air for two summers running. Climate change is even exacerbating declines in the state's wild salmon population.
And climate change is being felt in smaller ways, too. Sheltered by the Cascades and fanned by sea breezes, the state's West coast normally enjoys chilly summer nights. Just ask Karin Bumbaco, who moved to Seattle a decade ago and left behind the air conditioner she had owned in New York. "For nine years, I was fine without it," she told me.
But summertime nightly lows have been soaring in the state, at a rate of half a degree Fahrenheit per decade. This year, she finally gave in and installed a unit in her daughter's bedroom. "I was more concerned, having a toddler, given the dangers of sleep in really warm temperatures," she said. "People on the East Coast will laugh—our nightly temperatures are still in the mid-to-upper 60s—but it's not enough to cool down the inside of houses and apartments." Bumbaco is the assistant state climatologist.
Initiative 1631's success will depend in part on whether Washingtonians realize that they are already paying for climate change in small but costly ways—through the increased power bills incurred by an AC window unit, through the hassle of terrible summer-air quality. It will also force voters to decide whether they're willing to experiment with climate policy for the rest of the country, even if Washington State's carbon emissions are a drop in the overflowing global bucket.
As I wrote last year, the Democratic Party says that it cares about climate change—but it has no law ready to pass if it wins control of Congress and the White House. While a Democratic president would surely attempt to use the powers of the executive branch to fight climate change, the party cannot agree on a national legislative plan to combat it.
It's not hard to explain why. Under the U.S. federalist system, states must function as "laboratories of democracy," testing policies before their debut on the national stage. But only one state, California, has passed aggressive climate policy and attempted to wean its economy off fossil fuels. Washington is trying a different but similarly ambitious approach—something like a "Green New Deal" approach—with 1631.
This century's defining progressive legislative victory—the Affordable Care Act—would have been impossible if Massachusetts had not implemented a similar, state-level program first under Governor Mitt Romney. If Initiative 1631 passes, it will provide national politicians with another model policy, another civic experiment, to consult if they wish to pass a national climate law.
On a more local level, I suspect that 1631 will also be the Evergreen State's last chance to pass an aggressive climate policy. Three strikes and you're out is not an ironclad rule of politics, but it describes the situation here. In 2016, the state first attempted to pass a carbon tax by ballot question. But that measure—which was more libertarian in approach and which lacked the support of some environmental groups—eventually failed. This year, it tried to pass a carbon-pricing scheme through the state legislature. That tactic faltered as well.
If Initiative 1631 fails now, climate activists may not try their luck again. Jay Inslee, the state's governor and a possible 2020 presidential contender, may try to pass a few smaller climate bills that work around the edges of the problem. But neither he nor national environmental groups might attempt a climate-change fight for some time.
You can sense that desperation in the sheer financial scale of the fight.
BP, Chevron, and other members of the oil industry have spent more than $31 million to defeat the referendum. Their donations make up nearly the entire budget of the "No on 1631" campaign; the local Republican party has also given $298 in noncash contributions. Some of these oil donations suggest hypocrisy: BP, for instance, has previously endorsed the policy of putting a price on carbon. Yet BP has donated $13 million to defeat the measure in Washington State—because, it says, 1631 fails to suspend other laws that it dislikes.
The "Yes on 1631" campaign has raised about $15 million. Its largest donors are the Nature Conservancy and the League of Conservation Voters. Bill Gates and Michael Bloomberg have also donated $1 million each. (Disclosure: The Laurene Powell Jobs Trust donated $400,000 to the "Yes" campaign. Powell Jobs is the founder of the Emerson Collective, which is the majority owner of The Atlantic.)
Reading coverage of the referendum, I'm struck by a certain aura of unreality in how seemingly sensible political observers talk about climate change. Climate change, in many pundits' analysis, looks like a mild policy issue and not a difficult and long-running malady that we are not close to addressing.
Take The Seattle Times' editorial against the initiative, for instance. It begins by acknowledging that climate change is a problem, calling it "a crisis needing an aggressive, coordinated response." But then it sighs in resignation at the imperfection of the policy on the table. Initiative 1631 is "larded with special-interest payouts," it says. It chides environmental groups for not supporting a carbon tax in 2016 because that proposal "didn't fund their wishlist." Never once does The Seattle Times mention that it opposed the 2016 carbon tax, too.
Two years ago, at least, The Seattle Times could claim that climate action from an inevitable Hillary Clinton presidency obviated any statewide climate policy. Now it says, more meekly, that Washington should "seek a national carbon tax." But how is that going to happen, exactly? The editorial board never mentions that 97 percent of House Republicans voted against a national carbon tax this summer.
1631's supporters have a tendency to use social-justice lingo that may repel moderates; the policy itself will generate millions of dollars in revenue and then hand the purse strings to a board of mostly unelected experts and officials—albeit a board under the control of the state legislature. Even the most vigorous editorials supporting Initiative 1631 say it will need "strong oversight." Much is misunderstood about the proposal, too: As I wrote in August, 1631 exempts Washington's last remaining coal-burning power plant only because it is already scheduled to shut down, and any change to the law would allow it to remain open.
On Friday, I happened to talk with Bryce Smith, the chief executive of LevelTen Energy, a renewables-financing company in Seattle."1631 is not a perfect bill by any measure, and I'm not sure anyone would agree on what a perfect bill is," he told me. "But from a policy perspective, it is a pretty good bill. It's putting a price on carbon. There are some economic inefficiencies, but I think they are not as important as actually getting a price on carbon, which this would accomplish. It would be a huge milestone in the country, and the precedent-setting would be incredibly valuable." On Tuesday, we'll learn if Washingtonians agree.