The GOP Just Lost Its Most Important Climate Moderates
Almost 20 Republican House members who seemed to care about climate change failed to win reelection.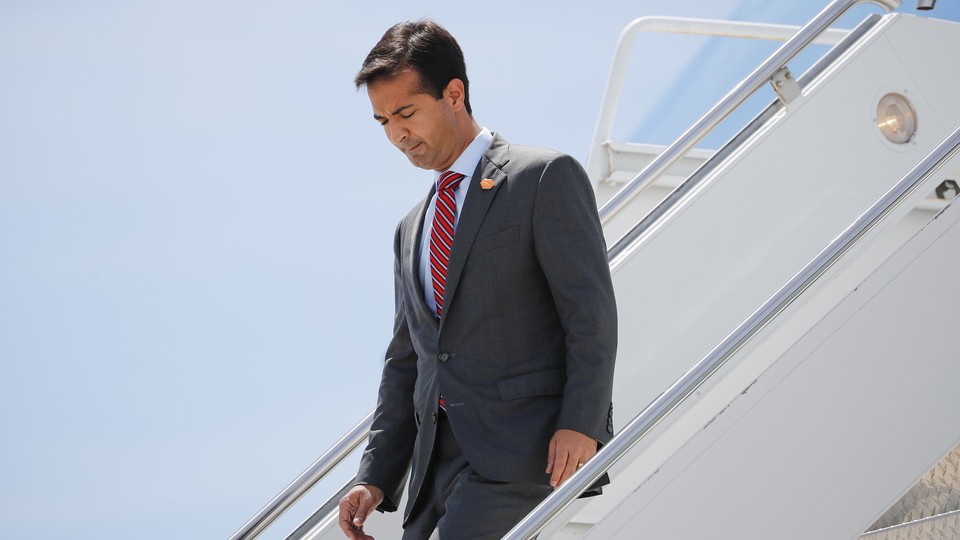 The 2018 midterm election dramatically shrank the small group of House Republicans who have painted themselves as moderates on climate change.
At most, only about two dozen Republicans in the next House of Representatives will have expressed any interest in taking federal action to stop climate change. (Votes are still being tallied in several close races as of this writing.) At least 18 districts formerly controlled by climate-concerned Republicans will be held by Democrats.
Many of the most vocal advocates of climate action in the GOP were defeated on Tuesday. Carlos Curbelo, a moderate who represents the Florida Keys and who introduced a symbolic carbon-tax bill earlier this year, lost a close election to a Democrat, Debbie Mucarsel-Powell.
The members who remain more closely resemble Matt Gaetz, who triumphed by almost 35 points Tuesday in his Florida Panhandle district. While Gaetz has affirmed that climate change is real, one of his first actions as a congressman was to introduce a symbolic bill to "terminate the EPA."
Many of the ousted members were part of the Climate Solutions Caucus, a bipartisan group of House members who explore "our changing climate" but commit to no specific policy to address it. The caucus was co-founded by Curbelo and Ted Deutch, a Democrat who represents another South Florida district. The caucus required one Democrat and one Republican to join at the same time, so that it maintained partisan parity; within the last few months, its membership swelled to include 44 voting Democrats and 43 voting Republicans. Next year, at least 19 of those Republicans will be out of Congress, either because they are retiring or because they lost on Tuesday.
Climate moderates were already a minority among House Republicans. In July, Representative Steve Scalise, who could soon become House minority leader, introduced a symbolic resolution denouncing a carbon tax. A carbon tax is a type of climate policy that charges polluters for every ton of carbon pollution they emit into the atmosphere. Several surviving leaders of the Reagan White House have called for Republicans to endorse such a policy as a conservative answer to climate change. And yet, all but six House Republicans voted for Scalise's symbolic measure. Half of those six dissenters could be gone from the next Congress: Two of them lost their election Tuesday; and a third trails in current results.
Some 222 GOP members supported Scalise's symbolic resolution. Thirty-eight of them are also members of the Climate Solutions Caucus. Seven Democrats also voted for the measure.
The defeats seem to point to problems with the bipartisan approach to fighting climate change, which has been championed by the Climate Solutions Caucus and its associated political organization, the Citizens' Climate Lobby. If the House Republicans most likely to support climate policy also represent the most moderate districts in the country, what's to keep them from getting slowly knocked out of Congress and replaced by Democrats? As my colleague McKay Coppins writes, the House Republicans who remain are getting only more Trumpian. They're unlikely to react to Tuesday's defeats by moderating on climate change.
On Wednesday morning, the Citizens' Climate Lobby said the group would continue pressing ahead with its bipartisan approach. "Curbelo's defeat … does not signal the end of the [Climate Solutions Caucus]," Mark Reynolds, the group's executive director, said in a statement. "We're confident other Republicans will step up to lead, and the existing and potential members are invested in continuing bipartisan work on climate. To paraphrase Mark Twain, reports of the death of the Climate Solutions Caucus are greatly exaggerated."