NASA Administrator on Elon Musk: 'That Was Not Appropriate Behavior'
Jim Bridenstine recently told the SpaceX founder he doesn't want NASA contractors engaging in questionable behavior.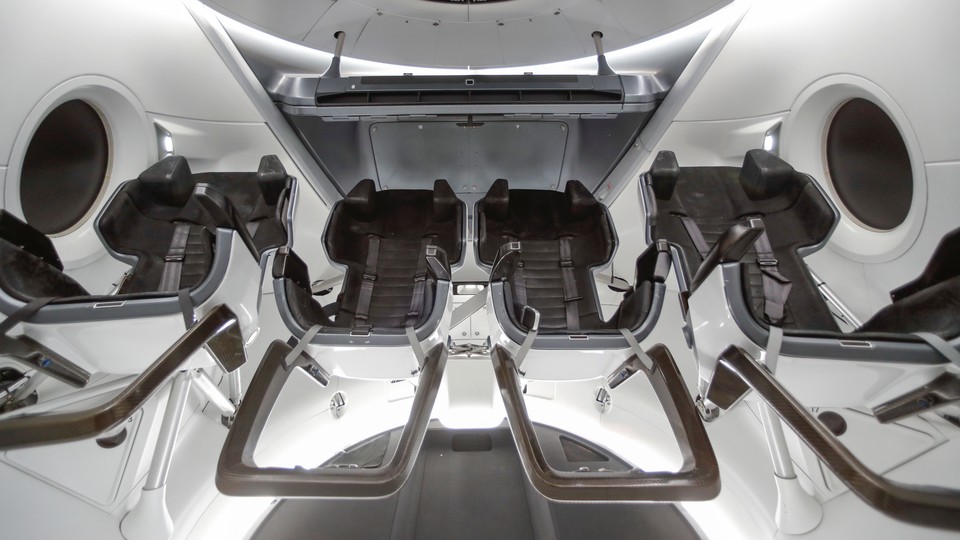 If Elon Musk wants to launch American astronauts into space, he can't smoke weed and drink whiskey on a podcast again.
That's a message from Jim Bridenstine, the NASA administrator, to the founder of SpaceX, which, along with Boeing, is developing transportation systems that would allow the United States to fly NASA astronauts from American soil for the first time since the space shuttle was retired in 2011.
"I will tell you that was not helpful, and that did not inspire confidence, and the leaders of these organizations need to take that as an example of what to do when you lead an organization that's going to launch American astronauts," Bridenstine said Thursday at a meeting of reporters at NASA's headquarters in Washington, D.C.
The warning comes about a week after The Washington Post broke the news that NASA would conduct reviews of workplace culture at both SpaceX and Boeing, reportedly in response to Musk's actions on The Joe Rogan Experience in September. At the time, NASA declined to offer a specific reason for the reviews, but offered a hint in its official statement: "[The agency] will be conducting a cultural assessment study in coordination with our commercial partners to ensure the companies are meeting NASA's requirements for workplace safety, including the adherence to a drug-free environment."
Bridenstine said Thursday that he personally ordered the reviews.
He said his decision was influenced in part by several tragedies in NASA's history. They include the Apollo 1 fire in 1967, when three astronauts were killed during a ground test, and the two space-shuttle disasters (Challenger in 1986 and Columbia in 2003), which together killed 14 people. Bridenstine said he had spent some time between his nomination for the job of NASA chief and his confirmation—a months-long, contentious process that left an unprecedented gap between NASA administrators—reading the investigation reports for these incidents.
"Every single one of those accidents had a number of complications. Of course, the technological piece was a big piece of it. [But] the other question that always comes up was, What was the culture of NASA?" he said. "What was the culture of our contractors, and were there people that were raising a red flag that we didn't listen to, and ultimately did that culture contribute to the failure and, in those cases, to disaster?"
I asked Bridenstine whether he considered Musk's actions on the Rogan show to be one such red flag.
"I think those were not helpful," he said.
Bridenstine said he has spoken with Musk recently. "We've had a number of conversations," he said. "I will tell you, he is as committed to safety as anybody, and he understands that that was not appropriate behavior, and you won't be seeing that again."
But, Bridenstine said, he had wanted to conduct a review of workplace culture at SpaceX and Boeing even before Musk took a puff of marijuana, which is legal in California (where the podcast was filmed) but is considered a controlled substance, like heroin and cocaine, by the federal government. He described the assessments as a "necessary and appropriate step when you're launching humans on rockets."
"Rather than waiting until—we don't believe there's going to be an incident, but if there is an incident—rather than waiting until there's an incident, we do a cultural assessment of our contractors [now]," Bridenstine said. "We want to get ahead of it. We want to see, right now, today, are they experiencing pressure from schedule, are they experiencing pressure from cost, and are those concerns challenging their thought process in a way that could be dangerous?"
A spokesperson for SpaceX declined to comment on Bridenstine's remarks.
After news of the safety reviews broke, both SpaceX and Boeing offered statements touting workplace programs that promote drug-free environments. NASA hasn't provided details about the reviews, but the Post described them as a "months-long assessment that would involve hundreds of interviews designed to assess the culture of the workplaces."
NASA gave the two companies a combined $6.8 billion in 2014 to develop launch systems that could transport the agency's astronauts to and from the International Space Station. The passengers for the first test launches were selected in August. NASA announced last week that the first test, an uncrewed demonstration by SpaceX, is tentatively scheduled for January 7, but Bridenstine said on Thursday that the date is unlikely to stick and may slide into spring. Crewed test flights are expected next summer, but that timeline is also likely to change.
NASA's contracts with SpaceX and Boeing require both contractors to "maintain a program for achieving a drug- and alcohol-free workforce" and conduct "preemployment, reasonable suspicion, random, post-accident, and periodic recurring testing of contractor employees in sensitive positions for use, in violation of applicable law or federal regulation, of alcohol or a controlled substance."
In the past decade, NASA has worked increasingly with commercial companies on various projects. The partnerships have created an unusual situation for the agency. Longtime NASA contractors such as Boeing, Lockheed Martin, and Northrop Grumman have been following the rules, including those about drug use, for decades. For NASA, managing a start-up with a young workforce and a famous CEO is a very new experience. The agency may need to rethink how it handles these newcomers, of which there will be many; on Thursday, NASA announced it would work with nine U.S. companies to send robotic missions to the moon. The majority were formed in the past 10 years.
As I've written before, Bridenstine's disapproval of Musk's podcast appearance is understandable. NASA, just like any federal agency, is endlessly concerned with its public image, and the optics of one of its contractors smoking and drinking in front of millions of viewers, months before he is entrusted with the lives of Americans, are not great. Whether that behavior calls for an extensive review of employees at SpaceX, who certainly answer to Musk but may not support his choices, is open to debate.