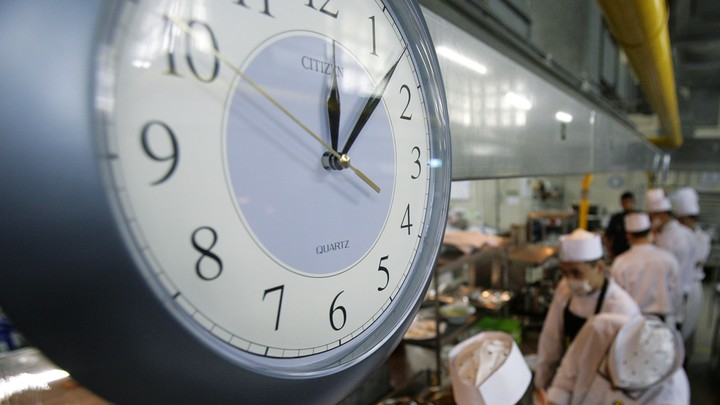 Why does fish cook so fast? What's the "wasabi window"? And can you really make 20-year-old aged whiskey in six days? This episode, we're looking at the role of time in food and flavor: what it does and how we've tried—and sometimes succeeded—to manipulate that. To explore these questions, we visit a whiskey time machine tucked away in a low-slung warehouse in downtown Los Angeles and meet its inventor, Bryan Davis. And we speak with Jenny Linford, a food writer and author of a new book, The Missing Ingredient, all about time and food. Listen in now—this one's well worth your time!
Linford was lying awake in bed, worrying about work, when an epiphany caused her to sit bolt upright. "I thought, Time! But time is an ingredient!" she said. Cooking, ripeness, freshness, seasonality, and aging—so many aspects of food and flavor are intertwined with time that Linford quickly realized she had to write a book. This episode, we sit down with Linford to tell the story of how the invention of the espresso machine led to dramatically faster shots of coffee, why you should let chocolate melt in your mouth for a full minute to truly appreciate its flavors, and how butchers carefully let meat decay over a few weeks to create more savory steaks.
The new science of old whiskey
After exploring time's central role in creating the flavors we crave, we visit a real-life time machine—for whiskey. At Lost Spirits Distillery in Los Angeles, the autodidact Bryan Davis has built an extreme version of a tanning bed in an effort to re-create some of his favorite decades-old whiskeys. His machine produces the equivalent of sunlight that's three times as strong as the sun at the equator in order to break down wood more quickly in alcohol. His goal: to create 10-year-old Islay-style whiskey in less than a week. How does his time machine work—and has he succeeded in his quest to compress time? Could his six-day-old liquor destroy the economics of aged Scotch? What might whiskey taste like once it's freed from the barrel? Listen in now for a brief but surprising history of time—in food.
---
This post appears courtesy of Gastropod.
We want to hear what you think about this article. Submit a letter to the editor or write to letters@theatlantic.com.
Nicola Twilley is a co-host of the podcast Gastropod and a contributor to The New Yorker.
She is at work on two books: one about refrigeration and the other about quarantine.
Cynthia Graber is a writer and audio journalist based in Somerville, Massachusetts, and
a co-host of the podcast Gastropod. H
er work has appeared in
Scientific American
and
The New Yorker
.
Gastropod
is a podcast that covers food through the lens of science and history.