A Racist Message Buried for Thousands of Years in the Future
A room-size time capsule preserves a snapshot of America in the 1930s—including its curator's prejudiced beliefs.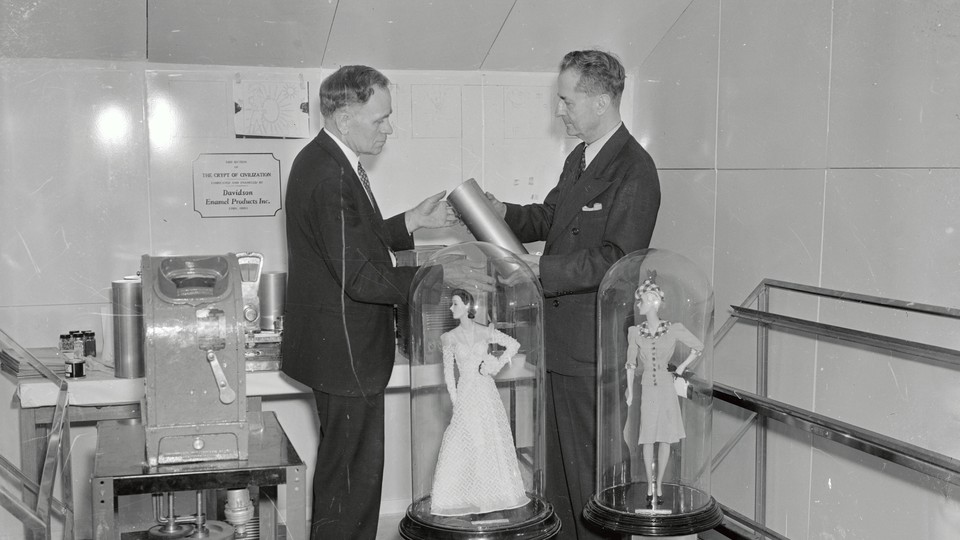 The Crypt of Civilization is arguably the largest time capsule in the world. Housed in a basement at a university north of Atlanta, this underground chamber with a massive stainless-steel door was packed with artifacts, then welded shut on May 25, 1940.
The crypt was designed to preserve a picture of life in the 1930s for humans thousands of years in the future. Inside are stacks of records and film reels alongside 640,000 pages of books shot onto microfilmed pages. There are appliances, clothing, preserved food, an original copy of the script of Gone With the Wind donated by its director, a bottle of Vaseline, and a "Negro doll." There's even a phonograph designed to teach English words if future civilizations have forgotten the language. No electricity? No problem. A tiny windmill can run a generator to produce current.
The crypt was made to be opened in 8113 C.E., a date based on the difference between when the project began—1936—and what at the time was thought to be the first year of the Egyptian calendar. The crypt's return would be as far removed from the present as the present was from the pharaonic past.
Thornwell Jacobs, a historian and an educator, was the prime mover of the crypt. Jacobs felt an acute lack of understanding of everyday lives in his own historical investigations. "Had it not been for such a natural catastrophe as the eruption of Vesuvius, the glories of Pompeii and Herculaneum would never have been revealed to our sight," he wrote in his memoirs, which he included in the chamber. He also expressed a subtler desire to preserve the culture of the American South, which he argued was slipping away day by day. Thus he sealed his vision of the present into a room at Oglethorpe University, where he served as president from its refounding in 1913 through 1941.
In many ways, this vision was a paradox. Jacobs was committed to experimentation and unbound thought, but the crypt also betrayed a narrow provincialism typical of men of his age, class, and race. Jacobs conceived of science in a manner decades or more ahead of his time, including his embrace of evolution. But in his memoirs, he also laments that Lincoln's Emancipation Proclamation freed "4 million half-savage negroes, not only, but also gave them the ballot."
Despite the crypt's relative fame as far as time capsules go—it's one of the best-documented projects—its conception by a man with openly racist hostilities has rarely been addressed. That's in part because Jacobs's views were largely locked away in archives and his obscure books. His memoirs lapsed into the public domain decades ago, but they were only digitized and made available online in 2016.
Jacobs's curation makes the crypt more than a historical oddity: It inverts the current controversies raging in the United States about whether to retain Confederate statues and rename buildings and streets dedicated to avowed white supremacists. Literally underground, it carries a message for the future that many people today wouldn't want delivered yet that could still be seen as a valuable reminder of the past. If it somehow does reach our distant descendants, what will it teach them?
---
Beyond his writing, Jacobs embodied the complicated history of the South in his name and affiliation with Oglethorpe University. Jacobs's father used the moniker "Thornwell" both for an orphanage he founded after the Civil War and for his son, who was born and raised there. That name came from James Henley Thornwell, a mentor of Jacobs's father and a Presbyterian minister who defended slavery as moral and Christian. (The orphanage still exists. Its website doesn't note Thornwell's full name or background.)
Oglethorpe University's eponym, meanwhile, is that of Georgia's founder, Edward James Oglethorpe, who opposed slavery in that state. The college was founded in the 1830s, and one of Jacobs's grandfathers taught there in the 1840s. But Oglethorpe went bankrupt after investing in Confederate bonds during the Civil War. Inspired by his grandfather's tales of its greatness, Jacobs became obsessed with restarting the school. He even found the long-lost grave of Oglethorpe and his wife in England and tried to bring their ashes back to Georgia, but England objected.
Jacobs had no training as an educator. For much of his early life, it wasn't clear what he'd wind up doing. In his teens, he trained as a typesetter and printer, something that came in handy later when he self-published his floridly written books. He attended an institution founded by his father, and earned a bachelor's and a master's. He went to Princeton Theological Seminary and was ordained as a Presbyterian minister, and briefly had a pulpit.
But it appeared he was most adept at fund-raising—for his father's orphanage, for a woman's college in Georgia, and, ultimately, for the rebirth of Oglethorpe. Oglethorpe's name and history opened pocketbooks. In 1916, Jacobs relaunched the school at its current campus and admitted only white men. It admitted white women by the 1920s. (Oglethorpe University did not respond to requests for an interview. Its website doesn't address Jacobs's or the university's legacy.)
Jacobs wrote extensively—a little fiction but mostly biography, history, and science. He appears to have formed ideas early that races must remain separate, both in making babies and in social and intellectual pursuits. He also harbored a resentment of the Reconstruction phase of Southern life after the Civil War. In the 1930s, he compared the plight of German Jews to Southerners after the Civil War. He hated Abraham Lincoln with a passion—and, equally, Franklin D. Roosevelt, who he thought had stolen the election with millions of votes from races and religions Jacobs didn't think worthy.
But Jacobs could also peer into the future, casting aside limitations that would seem to come with prejudice and anti-scientific racial notions, and write lines like the following, in a 1927 textbook for a course he taught called Cosmic History: "That life may not have originated on this earth at all, is, of course, quite possible."
Jacobs accepted empirical evidence and scientific observation, and used his textbook to cast discovery as an extension of the glory of God, rejecting literal biblical interpretation. He worked on the book while Georgia and other states were banning the teaching of evolution, and Tennessee was prosecuting the schoolteacher John Thomas Scopes. "This union of blind religious devotion and blind scientific ignorance is absolutely deadly," he wrote. His secular beliefs kept Oglethorpe from obtaining a much-desired affiliation with the Presbyterian Church.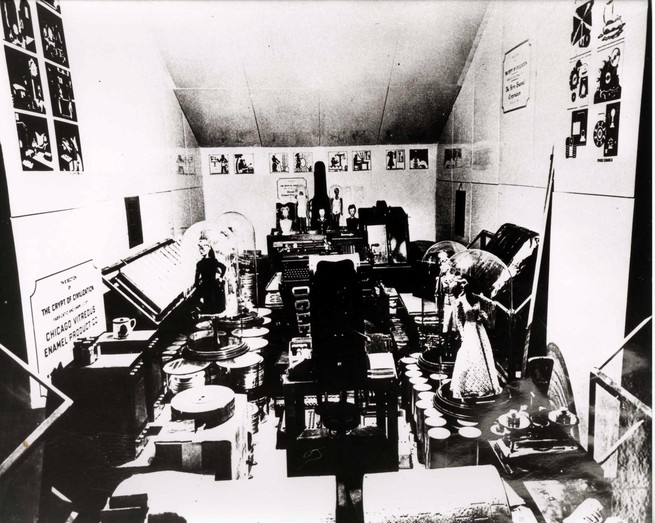 Looking back, you can see his racial attitudes harden even as his scientific views expand. In his 1908 novel, The Law of the White Circle, about the 1906 Atlanta race riots, Jacobs makes the case that the races can't coexist without violence. By 1940, he said in a speech that was transcribed and placed in the crypt just before it was shut: "It is almost a sure bet that, if nothing is done about it, the United States will, in a few centuries, become a nation of quadroons ruled by an upper class of Jewish blood. At present we are a conglomerate of whites from northern Europe, brown whites from Southern Europe, yellows from Asia, indigenous reds, blacks from Africa, with our movies, radios, and newspapers either owned or operated by Jews."
Adam Rothman, a professor of history at Georgetown University and head of the school's Slavery Archive, says that Jacobs foresaw "the death of the white race." The intermingling of races had become the ultimate wrong in his view, one fostered by the North, by liberals, by Democrats, by many others. He saw what he believed was his world ending, and he sealed that world in the crypt as an act of memory and defiance.
---
In the crypt, Jacobs included everything that he thought was significant across arts, industry, science, and commerce. In this way, he excluded views through what he chose to include. Beyond his dedication speech and his books (and that single "Negro doll"), the crypt hardly contains anything that nods to race at all. The history of African Americans, and Africa as a continent, are absent. "You wouldn't think that blacks existed," says Paul Hudson, a history professor at Georgia State University Perimeter College, who rediscovered the crypt as an undergraduate at Oglethorpe in 1970 after it had fallen into obscurity. Hudson went on to write extensively about Jacobs.
"It would have been a more surprising story had it not been like this," says David Pilgrim, a professor of sociology at Ferris State University. Jacobs's omissions were certainly not unique: In that era, Pilgrim says, African Americans' cultural contributions were frequently ignored or caricatured. He points out that the crypt could have included material related to protests in the late 1930s, coverage of Jesse Owens's Olympics victory, or Billie Holiday's 1939 recording of the song "Strange Fruit," among so many other items.
Pilgrim is the founder of his university's Jim Crow Museum of Racist Memorabilia, a collection that houses thousands of objects depicting bigoted notions throughout American history, mainly from the 1870s to the 1960s. These include everything from Aunt Jemima labels to Ku Klux Klan publications. In contrast to the Crypt of Civilization, Pilgrim's museum aims to starkly expose the many shades of public racism that have persisted in the country's culture. "I built a museum on racist, contemptible collectibles, and there are many people who thought those pieces should be destroyed or burned or placed in garbage cans," Pilgrim says.
So far, no one has proposed opening the crypt and changing out its contents. Unlike other monuments, it remains largely invisible, left to tick away underground. Students at Oglethorpe aren't confronted with the crypt as they move around campus. Jacobs's name and tributes do abound, but he is remembered only vaguely as the modern founder.
At Georgetown, Rothman has been part of a group that traced the descendants of a large sale of school-owned slaves in 1838 by the Jesuit administration to avert bankruptcy. The university is years into a reconciliation that is incomplete and could last decades. Oglethorpe's situation is more complicated. At the heart of the university's modern refounding sits a reminder of what many in the South thought they had left behind. But while the figures aboveground can easily be debated, protected, or demolished, what should be done with a past that is already buried yet is scheduled to come to life again so inconceivably far in the future?
It's hard to predict how many years, decades, or centuries the crypt will actually last: Oglethorpe may have no legal obligation to maintain it, even though a large metal plaque outside implores future generations to keep it shut. Should it (and we) actually survive until 8113, maybe it will be dangerous in how it influences a future people who, one could hope, have shed constructs like race. Hudson, for his part, retains optimism about the ultimate outcome thousands of years hence. "That whole concept of 'bigoted' might disappear by then," he says. "People might just not understand it at all."