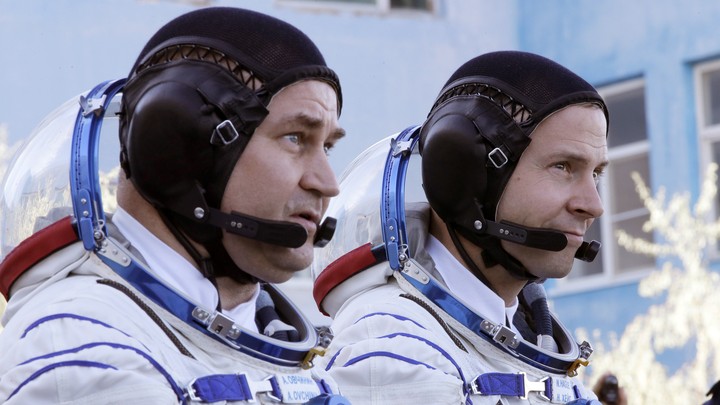 Launching people into space will always be risky, but in the khaki-colored desert of southern Kazakhstan, it can feel routine. Since the 1980s, the Baikonur Cosmodrome, operated by Russia, has been the site of dozens of successful launches to the International Space Station, first of Russian cosmonauts, and then of astronauts from around the world. For nearly 40 years, crews have piled into a cozy capsule on the nose of a rocket and blasted off without incident, headed for humanity's home above Earth.
On Thursday afternoon local time, Russian flight controllers prepared for another routine launch. But something went wrong.
A few minutes into the flight, an emergency light flickered on inside the capsule. As the craft approached the edge of space, hardware detected an "anomaly" in the rocket's booster, which propels the rocket upward, according to officials. The capsule automatically switched to an abort procedure and fired engines to push itself away from the malfunctioning rocket. The capsule then landed by parachute in the desert, where rescue workers soon arrived to recover the crew.
The crew members, the American astronaut Nick Hague and the Russian cosmonaut Alexey Ovchinin, were not injured in the landing and were said to be in good condition. The incident is the first launch failure in Russia's crewed transportation program, known as Soyuz, in 35 years.
"'I hope they get down'—that's the only thing that was going through my mind at the moment in time when I was watching that play out in real time," Reid Wiseman, NASA's deputy chief astronaut, told reporters on Thursday.
Video posted by RT, the Russian state news agency, showed Hague and Ovchinin sitting on couches and getting their vitals checked soon after landing.
In the footage, Russian space officials mill around, and snacks are laid out on a table in front of them. Hague is shown speaking to Dmitry Rogozin, the director of the Russian space agency Roscosmos. Rogozin appears to suggest that Hague eat something, but the astronaut declines. That seems rather understandable, considering Hague and Ovchinin's rough ride back to Earth.
Officials said the emergency landing required a ballistic descent, which means the Soyuz capsule returned to the ground at a very steep angle. In this scenario, passengers experience up to eight times the force of gravity pressing down on them.
Peggy Whitson, a NASA astronaut, described what that felt like in 2008, after the Soyuz capsule carrying her and two others back from the ISS reentered Earth's atmosphere in a ballistic descent. The capsule had malfunctioned, forcing it into a steep path. Whitson felt the effects for a full two minutes: "I saw 8.2 G's on the meter and it was pretty, pretty dramatic. Gravity's not really my friend right now and 8 G's was especially not my friend." Under normal conditions, during launch and reentry, crew experience about five times the force of gravity.
Russian and U.S. officials have promised a thorough inquiry into the malfunction. "The Soyuz situation requires investigation into the causes of the incident and possibly certain personnel decisions," Yury Borisov, the Russian deputy prime minister, said in a tweet. "For now, all that can be said is that the emergency rescue system worked effectively, which is very important."
Before the failed launch, Hague and Ovchinin, clad in space suits, bid farewell to their family members through a glass partition. They had expected to be apart for months. After the astronaut and cosmonaut were recovered and evaluated, they were reunited with their families.
.@AstroHague, right, and cosmonaut Alexey Ovchinin, left, embrace their families after landing in Baikonur, Kazakhstan. Hague and Ovchinin arrived after a safe landing on Earth following a Soyuz booster failure during launch earlier. Look: https://t.co/MzoA9TOqXk pic.twitter.com/mZqIiL7RYi

—

NASA

(@

NASA

) October 11, 2018
NASA said the crew would be examined at a local hospital as a precaution, then transported to the cosmonaut-training center in Star City, near Moscow. After training at NASA facilities in the United States, American astronauts join their fellow cosmonauts in Star City for additional preparations before flight.
The incident comes just weeks after engineers discovered a mysterious hole in a Soyuz capsule docked to the ISS, which resulted in a brief leak of pressurized air out of the station. The crew on board plugged the hole, and officials are still investigating the matter. The malfunction appeared on a part of the capsule that doesn't return to Earth, so it doesn't pose a threat to departing crew members.
Read: What happened on the International Space Station?
Thursday's failed flight imperils the schedule of future crew launches. It's unclear how long the investigation will take, and when officials will feel ready to launch again after its completion. Roscosmos could attempt to launch an uncrewed Soyuz capsule as a test. As for crewed flights, it's possible the U.S. government, which pays Roscosmos to fly NASA astronauts, may be more hesitant than its Russian counterpart.
There are currently three people on the International Space Station: Serena Auñón-Chancellor of the United States, Sergey Prokopyev of Russia, and Alexander Gerst of Germany. The trio arrived at the ISS in June aboard another Soyuz capsule, which can remain in orbit only for about 200 days, according to its design specifications. They are scheduled to return to Earth in December. Even if the United States and Russia determine that the Soyuz program is ready for more crewed missions, there are no launches scheduled between now and December.
Unless something changes, the ISS will be empty when its current inhabitants depart, which would mark an unprecedented situation. The space station has been continuously occupied since 2000, with crews rotating in and out. NASA officials said Thursday they don't have any official protocols for how long the ISS can remain empty.
If Russia resumes flights but the United States takes a step back, American astronauts will have no way to get to the ISS. NASA has relied on Russia's transportation services since 2011, when the space-shuttle program ended after 30 years. The United States pays $70 million to $80 million per seat.
When the United States canceled the space-shuttle program, officials said that another astronaut-transportation system would become available soon. They turned to the private sector, offering companies funding to design and build these systems. In 2014, NASA gave two companies, SpaceX and Boeing, a combined $6.8 billion to develop their concepts. The space agency predicted they would complete their spacecraft, conduct both uncrewed and crewed test flights, and be certified for regular missions to the ISS by the end of 2017. The hiatus in U.S. launch capabilities, they promised, would be short-lived.
Read: NASA's culture of optimism is too much of a good thing.
But the effort has experienced numerous delays, partly as a result of overly ambitious schedules by SpaceX and Boeing, according to federal audits of the program. While the hardware is nearing completion, NASA announced last week that crewed test flights are now expected in summer 2019 at the earliest. If the schedule slips further, the United States may be forced to purchase more seats from Russia or accept the fact that their astronauts may remain grounded for some time.
Americans and Russians have had uninterrupted access to space for decades. If the crew on the ISS returns and another doesn't replace it, and if the investigation drags on for months, it's quite possible that next year, as the 50th anniversary of the first moon landing approaches, all the world's astronauts will have their feet firmly planted on Earth.
We want to hear what you think about this article. Submit a letter to the editor or write to letters@theatlantic.com.