Will It Ever Stop Raining?
Cities across the country smashed rainfall records, thanks to a set of factors.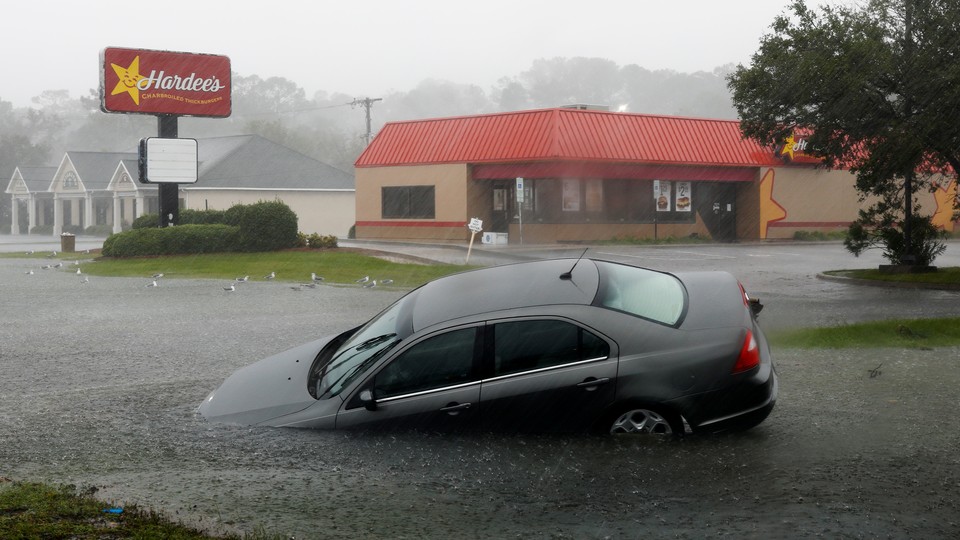 For much of the United States, September played out as follows: Rain tonight, followed by more rain in the morning. Watch for occasional drizzle and downpours, which will be interspersed with rain.
"It really worked out to be an odd September. It's been a very wet month for two-thirds of the country," says Jon Gottschalck, the chief of operations at the Climate Prediction Center in the National Weather Service.
So, what gives? Gottschalck told me that all this abnormal amount of moisture can't be blamed on any one weather factor. What makes September "odd," he said, is that the cause of the rain tended to vary by region.
In the north, much of the woe can be blamed on the jet stream, the high-atmospheric river of air that whisks storms across the country. The stream has spent most of the month unusually far north, lingering in Southern Canada, and moving very little air across the continental United States. So storms have tended to crawl across the country, dropping more rain on fewer places before they make it to sea. This northern jet stream also blocked drier, cooler pockets of air from making it to the United States.
In the upper Midwest, that helped lead to stalled-out rainstorms and dangerous flooding earlier this month. A slow-moving storm system also led to record rainfall and flash flooding in Oklahoma this weekend, killing one. (Meanwhile, the northerly jet stream has brought a rare bout of tornadoes to Ontario and Southern Canada.)
In the southern half of the country, Tropical Storm Gordon brought torrential rains to Alabama and Mississippi. Waves of moisture wafted across the Gulf of Mexico and dumped their contents on Southern Texas. And Hurricane Florence brought pounding rains from the Carolinas to the Great Lakes.
Records fell accordingly. Dallas-Forth Worth has received four times as much rain as normal this month, breaking a 1932 record. Washington, D.C., has not only seen a top-five September for rainfall, but a record-challenging year. The nation's capital has seen almost twice as much rain in 2018 as famously dreary London. And large swaths of the Appalachians are likely experiencing their wettest-ever September.
Of course, cities across southeastern North Carolina also just had their rainiest month ever, as a set of 1877 records buckled under the endless torrents of Florence. Wilmington, North Carolina, was already enduring a wet year—it surpassed its annual average rainfall totals all the way back in early August—before it saw 30 inches of rain in this month's storm.
Some of this record-shattering weather may presage what is to come. Large rainfall events have gotten more common across most of the United States since the beginning of the 20th century, according to the National Climate Assessment. The same report also projected them to get even more intense and frequent in the decades to come, especially in the Northeast.
But there is good news, at least in the short term: "There does appear to be a change," Gottschalck said. The jet stream is pushing south, meaning that storms will likely begin to pick up speed as they move across the continent. "We should start to see some colder air and frost and freezing get into the northern Plains and Rockies," he added.
So it will get drier. But it will also, soon enough, get colder.