SpaceX Will Send a Japanese Billionaire to the Moon—And He's Taking a Bunch of Artists With Him
The spaceflight company said Monday it would take Yusaku Maezawa on a historic trip in 2023.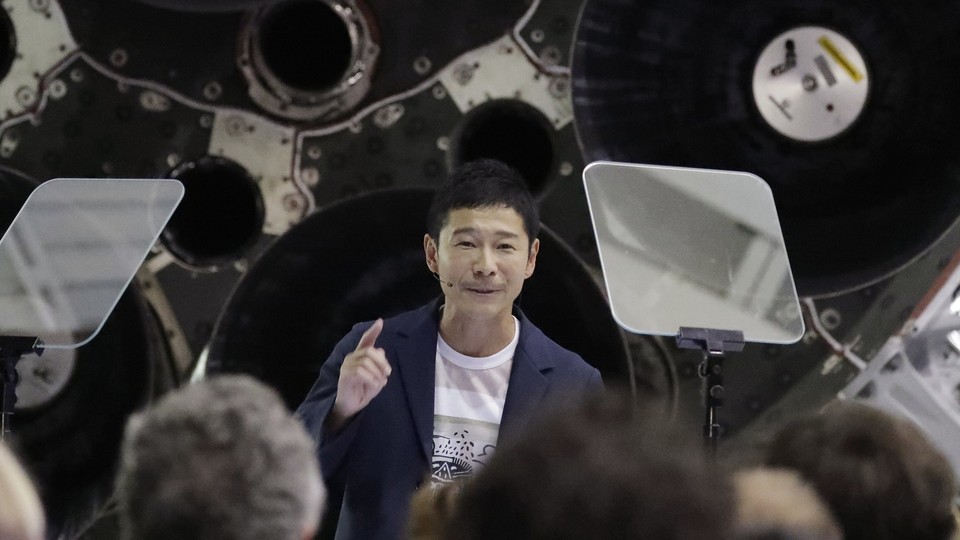 SpaceX said Monday night that it would send Yusaku Maezawa, a billionaire entrepreneur from Japan, on a trip around the moon in 2023 aboard the company's yet-to-be-built rocket. And Maezawa won't be flying alone. Joining him will be six to eight artists, chosen from a pool of painters, photographers, musicians, film directors, fashion designers, and architects from around the world.
"Ever since I was a kid, I have loved the moon," Maezawa said. "This is my lifelong dream."
Elon Musk, SpaceX's founder, introduced Maezawa at a press conference at the company's headquarters in Hawthorne, California. The announcement comes a couple of months before the 50th anniversary of the Apollo 8 mission that sent three NASA astronauts on a historic loop around the moon.
Maezawa and his fellow passengers will fly on the BFR, a massive launch vehicle capable of carrying several passengers, which SpaceX hopes will someday carry people to Mars. (Some SpaceX officials refer to the BFR as the Big Falcon Rocket; Musk has sometimes switched out Falcon with an expletive.) The BFR, which Musk first described in 2016, is still under development.
"I did not want to have such a fantastic experience by myself," said Maezawa, who purchased every seat on the BFR.
Maezawa is the founder of Zozotown, Japan's largest online fashion mall. His net worth is $2.9 billion, according to Forbes. He is an avid art collector, and in 2016 he spent $80 million on paintings by Jean-Michel Basquiat and Pablo Picasso, two artists he cited as inspirations during Monday's event.
Maezawa declined to say how much the BFR ride will cost him, but Musk added, "It's going to be free for the artists."
The trip, if successful, would dramatically alter the record of moon travelers. Only 24 people have ever flown to the moon, and 12 of them have walked on its surface. All have been Americans, male, and white, and with fairly similar backgrounds. One private passenger would have made history. But an entire spaceship full of civilians, with different backgrounds, from different nations, would completely rewrite it.
Musk opened Monday's event by showing images of the rocket, a simulation of its flight, and a video of one of its powerful engines igniting and kicking out flames. When completed, the BFR will measure 118 meters, or 387 feet, in height. Musk estimated the entire thing—rocket, spaceship, and other hardware—would take about $5 billion to develop.
Musk said SpaceX would conduct several uncrewed test launches of the BFR. The moon trip would last four to five days, he said. After launch, the BFR will make several course corrections and complete one loop around the moon before returning to Earth, where it will land upright, in a maneuver SpaceX has pioneered with its Falcon 9 rockets. "This will look really epic in person," Musk said.
Asked whether Musk, who is known to be optimistic about big deadlines, believed SpaceX would meet its 2023 launch date, Musk said, "We're definitely not sure."
The moon announcement comes during a tumultuous year for Musk, which he described last month as "the most difficult and painful year of my career."
His electric car company, Tesla, has struggled to meet production goals for its Model 3 sedan, and a slew of news reports have revealed chaotic and dangerous work conditions at its factory. U.S. federal regulators are investigating whether Musk misled investors and broke the law when he said on Twitter last month that he might convert the publicly traded Tesla to a private company, a suggestion he withdrew three weeks later. Musk spent the summer publicly insulting investors, journalists, and a British cave diver, who hours before the SpaceX reveal announced that he had filed a lawsuit against Musk for accusing him of being a pedophile.
But SpaceX has remained above the fray. The company has maintained a steady cadence of Falcon 9 launches, which has delivered a variety of payloads into orbit, from commercial satellites and International Space Station cargo to top-secret national-security missions for the U.S. government. Last year, SpaceX completed 18 launches, its most in a single year. At the time of this writing, the company has already recorded 16 launches. In February, SpaceX debuted its biggest rocket, the Falcon Heavy, in a successful and spectacular maiden flight from the same launchpad at Cape Canaveral that hosted the launches of the Apollo and Space Shuttle programs.
Musk, clad in his signature plain, black T-shirt, appeared relaxed and cheerful as he spoke Monday night.
"The purpose of SpaceX, the reason for creating SpaceX, was to accelerate the advent of humanity, becoming a spacefaring civilization, to help advance rocket technology to a point where we could potentially become a multiplanet species and a true spacefaring civilization," he said.
As for the moon trip, Musk said he hadn't planned to join. "He did suggest that maybe I would join this trip, I don't know," Musk said, referring to Maezawa and his troop of artists.
"Yeah, yeah, yeah," Maezawa chimed in with encouragement.
"Maybe we'll both be on it," Musk said.