Dozens of Massachusetts Homes Exploded. A Gas Expert Weighs In.
Investigators still don't know what happened, but there's one likely explanation.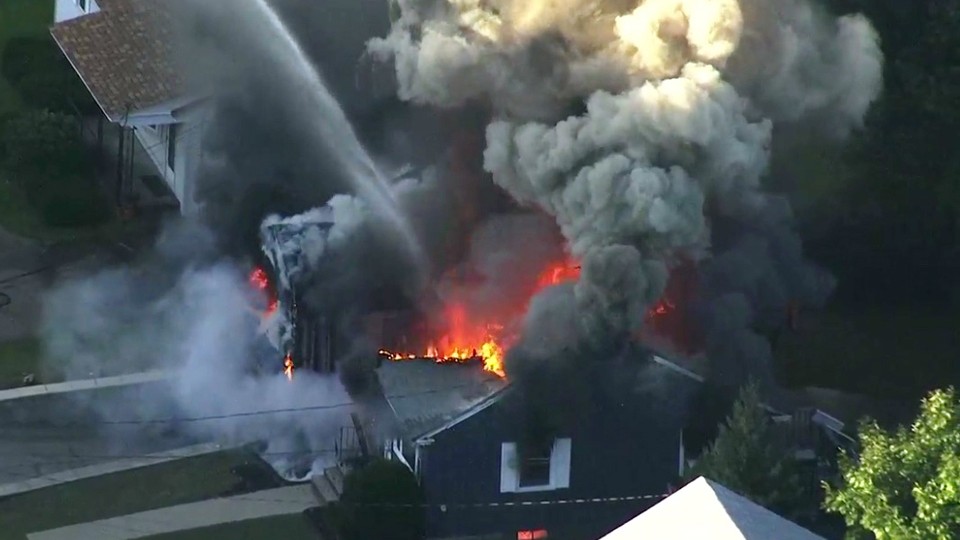 Late Thursday, dozens of explosions erupted in three towns in northern Massachusetts. As many as 70 fires, explosions, and suspected gas leaks were reported to state police, with at least 39 homes affected in Lawrence, Andover, and North Andover. One person was killed when a chimney collapsed on his car, and at least 25 more people were reportedly treated for injuries.
In a statement, Columbia Gas said a total of 8,600 customers will be without service until safety teams can ensure that their homes and businesses are leak-free.
A widespread series of explosions like the one in Massachusetts is "really rare," says Robert Jackson, a professor of energy and environmental science at Stanford University. Jackson's studies focus on the environmental impacts of natural gas, and he has mapped thousands of gas leaks in cities around the country, including Boston. He told me that such an event is "unprecedented in recent years," since explosions are usually isolated to a single building.
Jackson is not involved in investigating the Massachusetts explosions, but he was able to offer some insight into what could have caused such a strange, dramatic incident. The most likely explanation, he says, is the one most reports have speculated: Pipelines in the towns became suddenly over-pressurized. In the same way that high-voltage power lines traverse hundreds of miles before breaking off into lower-voltage tributaries in neighborhoods, natural-gas delivery systems consist of both long-distance, high-pressure pipelines and local ones that are only nominally pressurized and deliver gas into homes. Neighborhood pipelines are usually designed to withstand two to three times their normal operating pressure, but any increase makes gas more likely to escape.
"I can't imagine another explanation for this event than a flush of pressurized gas," Jackson says.
If local lines indeed were suddenly inundated with high-pressure gas, Jackson says, that could result in an explosion in one of two ways. First, the pipes themselves could explode. Second—and more likely, according to Jackson—excess pressure could have caused gas to leak out of pipes and valves and into homes, where it could be ignited by a pilot light and send whole buildings up in flames.
In most cases, according to Jackson, such rapid pressurization would be caused by a failure at a valve that separates high- and low-pressure pipelines. As for what would lead to such a failure, Jackson says, it could be that "somebody made a mistake. To flip the wrong valve, leave a junction open. Human error is the most common source of natural-gas explosions."
Columbia Gas's website announced an improvement campaign just a few hours before the explosions began, though no evidence has yet linked the explosions to pipeline updates or botched repairs. (A spokesperson for Columbia Gas did not respond to a request for comment.)
A flush of gas could also occur if older valves leak or break. In 2015, Jackson and his colleagues found that cities like Cincinnati that replaced their aging pipelines had 90 percent fewer gas leaks a mile than older cities like Boston that relied on older, cast-iron pipes. Across the country, Jackson says, many local pipelines are more than a century old—including in Boston, the closest major city his team studied to Thursday's explosions.
Even though natural-gas leaks are fairly common, serious consequences aren't. From 1998 to 2017, 15 people a year, on average, died in incidents related to gas distribution in the U.S. "Significant incidents"—those that do things such as cause an injury or death, result in at least $50,000 of damage, or lead to a fire or explosion—happen about 286 times a year.
That might sound like a lot. But then again, the streets of Boston carry an average of four gas leaks a mile.