For Millions, Florence 'Has Never Been More Dangerous'
North Carolina's governor warned that inland residents now face life-threatening hazards.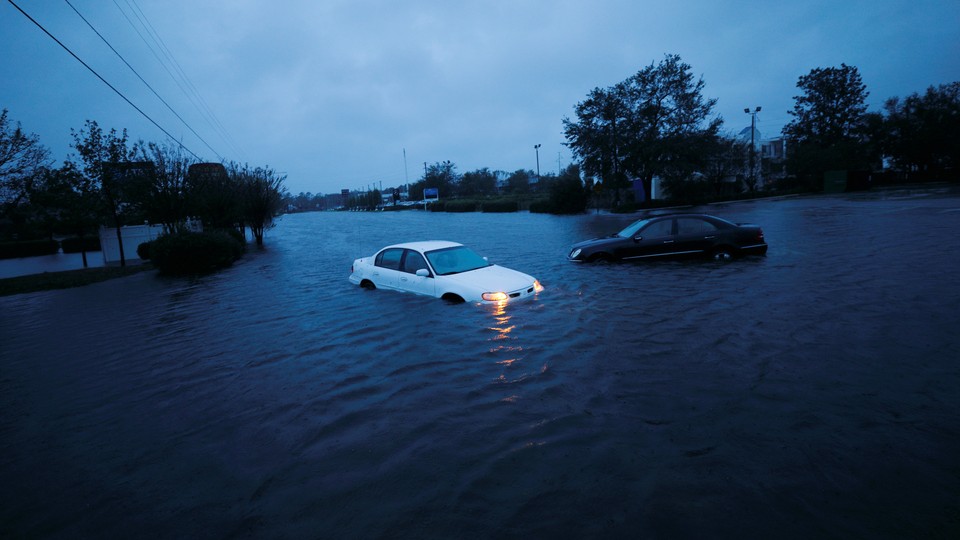 Florence continues to churn across the Carolinas, pounding the states with a third day of high winds, unprecedented flooding, and record-shattering downpours.
Since making landfall on Friday morning as a Category 1 hurricane, the storm has killed at least 14 people and brought much of the region to a standstill. It has meandered at a dangerously sluggish pace across North and South Carolina, concentrating its rainfall in just a few areas and causing more damage than a faster-moving storm.
A reprieve may come soon: Florence has begun to move more quickly, and it has also weakened to a tropical depression, meaning its sustained winds do not exceed 39 miles per hour.
But local and national officials warned that the worst was yet to come for many residents.
The storm has now turned its fury to North Carolina's well-populated Piedmont region, a plateau more than 200 miles wide that links the Appalachian mountains to the coastal plain. A senior meteorologist at the National Weather Service warned that the area "will experience devastating flash flooding unlike anything in recent memory."
"This storm has never been more dangerous than it is right now" for much of the state, said Roy Cooper, the governor of North Carolina, at a briefing on Sunday afternoon.
He urged people to stay off the roads across most of his state. Swaths of the country's busiest highway, Interstate 95, have been forced to close in both North and South Carolina after they were overwhelmed by floodwaters, according to local transportation officials. And the North Carolina Department of Transportation recommended that motorists essentially take a detour around the entire state.
Roughly 700,000 people lacked electricity on Sunday, down from initial levels of roughly 1 million, according to the Department of Energy.
The perils North Carolina currently faces aren't exactly like those that existed during an earlier part of the storm. Florence's storm surge has largely abated, according to the National Weather Service, and its high winds have slackened. Now a more rain- and thunderstorm-driven set of threats are coming. Here is what officials, meteorologists, and first responders will be looking for in the next few days:
Flooding. Florence is bringing an inconceivable amount of rain to the United States: Perhaps 18 trillion gallons, with about half of that total falling in North Carolina alone.
Florence has smashed the North Carolina record for most rainfall dumped by a single storm, as well as the single-storm rainfall record for any East Coast state except Florida. Some areas in southeastern North Carolina have received more than 40 inches of rain since Thursday. And Wilmington, North Carolina—the state's eighth-largest city—has already received more rain in 2018 than in any previous year, with more than three months left to go.
All that water has to go somewhere. It has already started to overwhelm creeks, rivers, and roads. The state warns that many waterways will not crest until late Sunday night or Monday.
"The strongest storm bands are dumping 2 to 3 inches of rain per hour," said Governor Cooper. "That's enough to cause flooding in areas that have never flooded before."
The National Weather Service has issued a "flash-flood emergency" for areas around the state's largest city, Charlotte. A flash-flood emergency is the federal government's highest form of flood warning, and it indicates that dangerous and extreme flooding is in progress. Flash-flood emergencies are also in place for Union County in North Carolina, and Lancaster and Chesterfield Counties in South Carolina.
Fayetteville, North Carolina—a city of more than 200,000—ordered many of its downtown residents to evacuate on Saturday. "Please notify next of kin if you are not evacuating," warned local police.
Floods are particularly dangerous when they submerge or besiege roads. That's because motorists may attempt to drive through a flooded road. But even a foot or two of floodwater can immobilize or wash away a vehicle. In other cases, the added weight of a car will collapse an already water-strained road or bridge. At least four of Florence's 14 fatalities have happened on a flooded road.
Tornadoes. A weakening hurricane can give rise to small, short-lived, but still destructive tornadoes, as the cyclone's high winds come into contact with slower-moving air pockets inland.
The National Weather Service has detected roughly a dozen tornadoes via radar since Florence made landfall. It warns that new tornadoes could still form through Sunday evening.
Landslides. As those torrential rains move inland, they will produce mudslides in the Appalachian foothills and mountains. Bradley Johnson, a professor of environmental studies at Davidson College, says that "dozens to hundreds of landslides" could unfold across the Blue Ridge.
2018 is already the worst year for landslides in North Carolina this decade, since three people were killed by them earlier this spring. But as Florence moves in, the state does not necessarily know where its most threatened areas are. Last decade, the state abruptly cut funding for a program that meant to map landslide risk in 19 counties, according to The Charlotte Observer.