Glaciers Falling on Tourists: Yet Another Danger of Climate Change
As people flock to see the world's receding frozen wonders, they're also encountering freak accidents.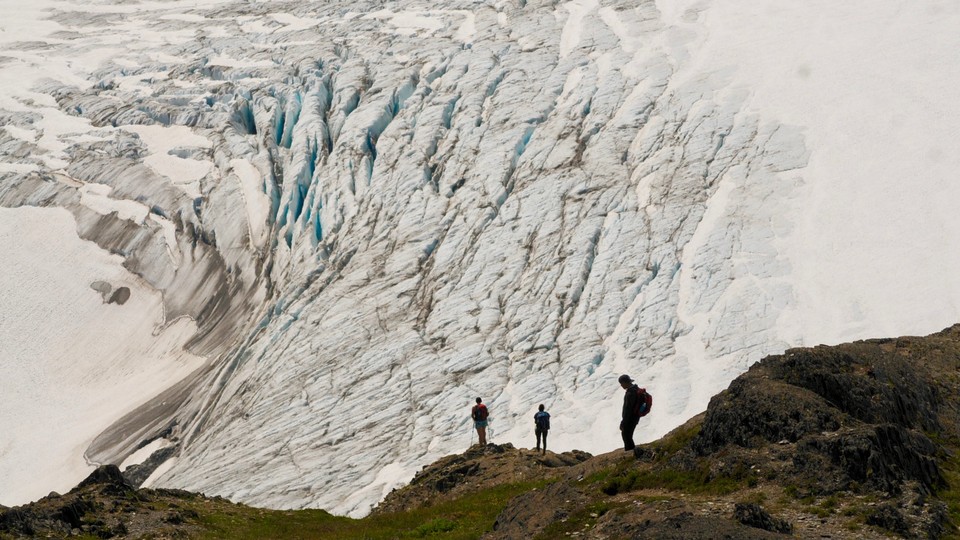 In the summer of 1987, a woman visiting Alaska was crushed by a 1,000-pound chunk of ice. According to news reports at the time, Thais Grabenauer, 59, had been taking pictures with her husband at the foot of Exit Glacier, a towering wall of ice that's one of the most popular attractions in Kenai Fjords National Park. A half-ton piece of the glacier calved off as the couple was snapping, killing Grabenauer and injuring her husband.
It was one of those wrong place, wrong time tragedies that seem unlikely to happen again. But in the three decades since Grabenauer's death, it has happened again—in Alaska and around the rest of the world. In 2009, for instance, two brothers crossed a safety barrier on New Zealand's Fox Glacier and were buried under a collapsing ice shelf. On a single day last July, two people were killed at separate glaciers in south-central Alaska: A 32-year-old woman was crushed by a collapsing ice ceiling on Byron Glacier, and a 5-year-old boy was hit by a rock falling from Worthington Glacier.
Deaths like these remain rare, but they're also telling cases of a broader trend. In recent years, people have been increasingly flocking to the world's glaciers. This boom in "glacier tourism" seems to be dually spurred, at least in part, by climate change: For one, people seem eager to glimpse the majestic monuments of ice before they melt away. And as ice sheets disappear, many glaciers are becoming more accessible—and unstable. The result is that places such as Exit Glacier are not only witnessing more tourists than ever crossing rocky, dangerous terrain; they're also becoming better poised for those wrong place, wrong time misfortunes.
Every year, nearly 300,000 people come to Kenai Fjords National Park, which sprawls along the southern coast of Alaska's Kenai Peninsula and includes the vast majority of the Harding Icefield. Exit Glacier is the sole glacier accessible by road in the park. The managers now close the area at the base of the glacier each summer to protect people from falling ice, snow, and rocks. But the closure "is mostly just to keep people from going up the sides of the glacier," says Mark Walters, who works in the Exit Glacier visitor center. "There's a way onto it higher up."
Most summer days, Trevor Kreznar leads visitors up this path to give them the chance to walk across the glacier and climb down into the crevasses. Kreznar works for Exit Glacier Guides, a guiding business that has operated for 14 seasons, over which it has more than doubled its number of guides due to increased demand. "I would say maybe 10 percent of the [customers] have been on a glacier before," Kreznar estimates. Nevertheless, Exit Glacier Guides has never had an accident on the ice, he says. It briefs clients on safety, and the guides know the glacier well; Exit Glacier moves downhill about a foot a day in the summer, changing the nature of the ice day by day.
Not everyone shares this track record of safety. Around the world, people are hurt on glaciers every year. Some are mountaineers making attempts on dangerous climbs across glaciers, like a Slovakian man who slid deep into a crevasse on the Kahiltna Glacier while trying to descend Alaska's Denali in 2017. (The 1992 climbing season on Denali saw 11 deaths in a single three-week period, according to the Alaska Division of Public Health.) Others are casual tourists just trying to get close to the ice, like a 17-year-old who died earlier this year when he fell into a crevasse while hiking on Switzerland's Gorner Glacier with his dad. "[Accidents] on the snow bridges and snow caves, that's inexperience," Kreznar says. "One side of it is people who are basically ignorant to it, and [the other side is] people knowingly taking risks."
The 5-year-old boy who was hit by the rock from Worthington Glacier earlier this year was hiking with his family on a commonly used trail in a state recreation site. The glacier is just east of the small city of Valdez, which is wreathed by glaciers, some of which are remote while others are highway accessible. Lee Hunt, the executive director of the Valdez Adventure Alliance, which operates the park containing Worthington Glacier, says about 100,000 unique visitors make their way to the site every year. The organization has added more warning signs and tries to remind people that glaciers can be dangerous, she says: "There are trails that go up to the toe of the glacier … but you know, people can't resist scrambling up the sides. There is something definitely alluring about glaciers."
Every year, the Kenai Fjords National Park officers get complaints about tourists not being able to get close enough to Exit Glacier. The glacier has receded much farther than the trails surrounding it originally reached. South of Anchorage, another popular glacier, Portage Glacier, is still referred to as a "roadside" glacier, though it's receded too far to be seen from the road. The only way to walk up to it now in the summer is to hike a mountain pass and cross several deep, fast rivers on a glacial plain. Boats are increasingly used to cross the widening lake at the glacier's foot.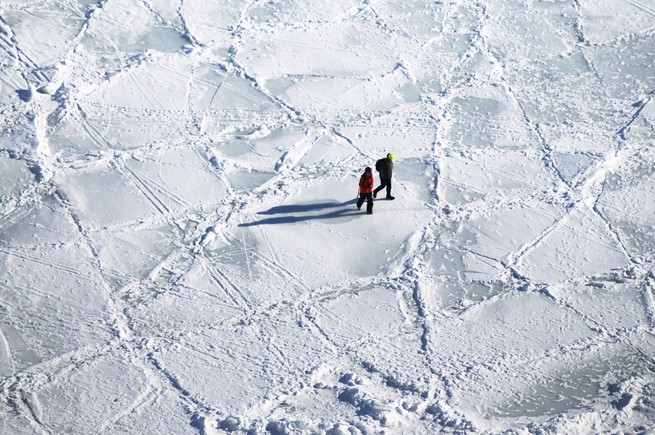 That trend is not unique to North America. In Iceland, where tourism has skyrocketed in the past decade, glaciers and ice caves have become key attractions. On the Vatnajökull ice cap, the largest ice cap in Europe, where the ends of glaciers jump out onto gravel plains, guides and park managers have been busily extending trails and taking vehicles farther to access the glaciers as they recede across the landscape. There are bridges scattered around the country built to cross streams that have since moved entirely out from under them.
To date, there haven't been many incidents of injury on Iceland's glaciers, says Hans Welling, a researcher with the University of Iceland who has written about glacier tourism. Extensive tourism and national-park systems are still relatively new for the country, he notes. Now that glaciers have moved farther back, some entrepreneurs are opening other tour options on glacial lakes, such as kayaking. There's one glacial lake, the Jokulsarlon Glacial Lagoon, that an estimated 40 percent of the tourists in Iceland visit. But many visitors are still focused on the ice, Welling says.
Glaciers in Iceland, like other places, recede at different rates each year depending on a variety of conditions. Welling says that Iceland's parks have not traditionally considered climate change in their park plans, so now park managers have to strategize around the shifting rates and figure out ways to handle tourists coming to the parks. "There are some very popular glaciers because they come in on a very shallow bay and they recede on a 100-meter-a-year basis," he says. "There's a lot of pressure on the parks. Now that some of [the glaciers] are receding, they have to extend their infrastructure."
Kreznar, Hunt, and Welling all said one reason many tourists gave for wanting to see glaciers is because of the feeling that it was their last chance to do so. "Some folks are really into the environmental aspect of it, some folks are really into the science aspects of it, some folks are definitely just into the aesthetics of it. And then you have other folks who are really into the athleticism of it," Kreznar says.
All appear to be part of a growing recognition that many of nature's most picturesque scenes are fragile and changing. Climate change is a slow creep: Often the shifts happen too gradually for people to see them in action. Glaciers, on the other hand, are disappearing in real time. On warm days, tourists can watch rivulets of water run off the surfaces of the ice, draining away into streams.
Still, it's likely that people visiting glaciers may not anticipate consequences quite as immediate as dislodged half-ton chunks of ice. The growing risks to travelers on melting glaciers are cruel reminders of all the smaller-scale and sometimes unpredictable damages climate change can inflict—even in the places where its broadest impacts are most visible.