Why the Wildfires of 2018 Have Been So Ferocious
It's the heat, not the humidity.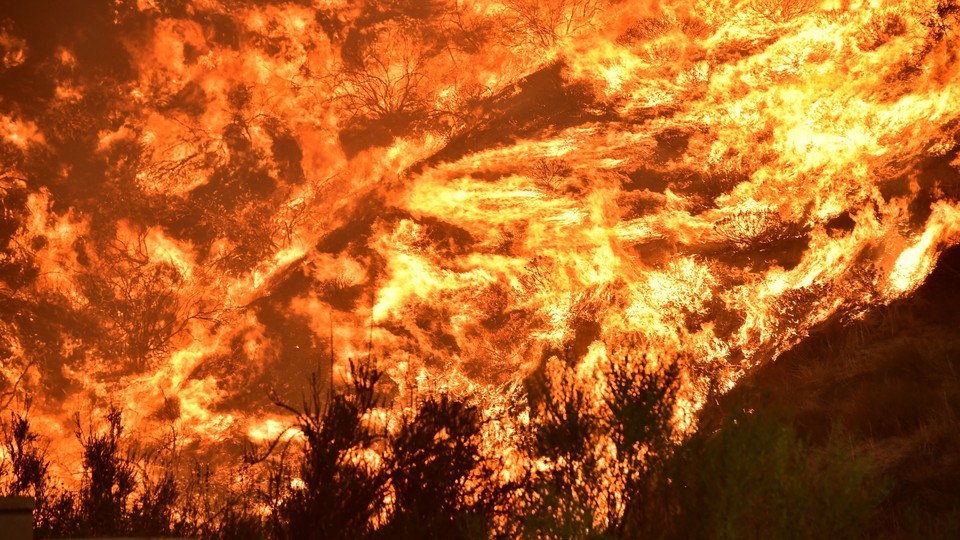 Updated on August 10 at 10:06 p.m. ET
How bad is California's current fire season?
Numbers don't seem to capture it. The Mendocino Complex Fire is the largest wildfire in the state's history, with nearly 500 square miles burned. The Holy Fire has forced 20,000 people to leave their homes. Sixteen other blazes, requiring 14,000 firefighters, are devouring woodlands elsewhere in California.
Some of the "smaller" fires this year would have once made history. The Carr Fire, a massive blaze that has killed eight people, is already the sixth-most destructive fire in the state's history.
"There aren't enough people in the U.S. Army to fight the Carr fire," Scott Stephens, a fire ecologist at UC Berkeley, told The Washington Post.
Press photos can't take stock of this destruction. Feeds have filled with images of infernal flames, burned-out hillsides, and the state's low-flying, dive-bombing, firefighting 747—but single pictures can provide no sense of scale. More effective have been photographs taken by astronauts aboard the International Space Station: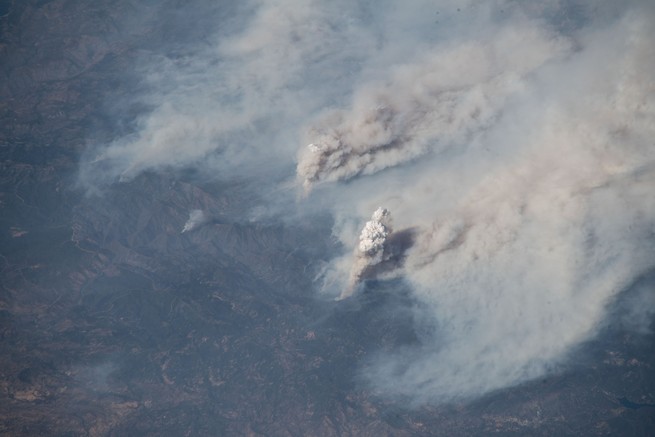 There would be little precedent for this year's fire season in California—if the last few years hadn't been wretched as well. 2017 was the state's costliest, most destructive wildfire season. Six of the 10 largest wildfires in the state's history have occurred in the past decade, and all but one of them have happened this century.
But there's something strange about these fires. Park Williams, a professor of biology and environment at Columbia University, told me that a wet spring normally makes for a calmer fire season. This spring, rainfall was adequate. And in 2017, the spring rains were enormous and excessive. Both fire seasons, therefore, should have subdued. But both seasons turned out to be anything but.
"Last year and this year we've seen giant outbreaks of fires in areas where you wouldn't have expected it based on the soil-moisture balance," Williams said in an email.
The following map, for instance, shows how soil-moisture levels in June 2018 compared to early summer moisture over the past 120 years. "The areas where we've been seeing big fires this year are generally dry," he said. "But some [areas], including where the Carr fire is, are not even near record-breaking dry."
---
National Soil-Moisture Map, as of June 2018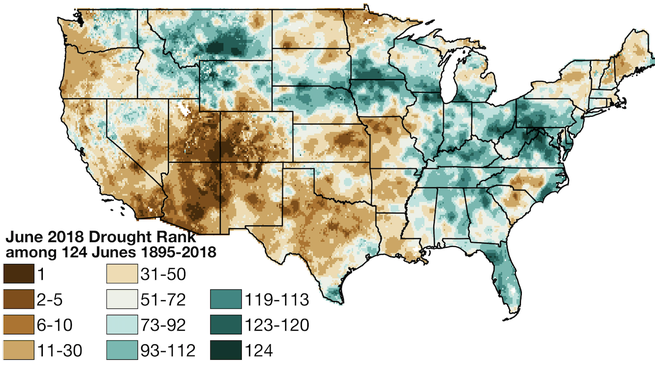 ---
So if forests had plenty of moisture in early June, how did they become tinderboxes by late July?
"The factor that clearly made the difference in 2017, and again in 2018, is heat," Williams said. "Last summer was record-breaking, or near record-breaking, hot across much of the West, and I believe July 2018 will break records or come close to it again this year. Even if the deep soils are wet following winter and spring, a hot and dry atmosphere seems to be able to overwhelm that effect."
As it turned out, July 2018 was the hottest month in California ever recorded. The state as a whole was 5 degrees Fahrenheit warmer than normal. (The National Oceanic and Atmospheric Administration announced the record on Wednesday, after Williams and I corresponded.)
Death Valley also endured the hottest month ever recorded on Earth, averaging 108.1 degrees Fahrenheit (or 42.3 degrees Celsius) across day and night.
The literature suggests that wildfires are more driven by the temperature and moisture content in the air than by the moisture content in the soil, Williams said. This bodes ill for our warming world. It also means that wildfires may become harder to predict during the preceding winter and spring. "We tend to think of fire danger as being a function of the drought status of an area," Williams said. "Even the Earth-system models used to project climate/land-cover changes for the next century do this." But extreme air temperatures may overwhelm that effect, leading us to undercount future fire risk.
What has been "reinforced this year and last," Williams said, is that there's even more evidence "that a warming climate strongly promotes increases in forest fire activity in western North America."
As if there wasn't enough evidence of that. Last year, the National Climate Assessment—written by a panel of scientists in the military, federal civilian agencies, and private universities—reviewed the complete scientific literature on climate change and wildfires. They concluded that the number of large blazes had increased since the early 1980s. They also said the number of wildfires "is projected to further increase in those regions as the climate warms." They warned this could induce "profound changes to certain ecosystems."
This was not a controversial conclusion. A 2016 study in the Proceedings of the National Academy of Sciences found that human-caused climate change had doubled the number of overall acres burned by wildfires since the mid-1980s. (It was co-authored by Williams.)
Yet some commentators—including, bizarrely, the Canadian pop psychologist Jordan Peterson—have claimed that climate change is not having an effect on fires. They assert that U.S. government data show that larger wildfires burned in the West during the 1920s and '30s.
In fact, the National Interagency Fire Center—which maintains that data—says that none of its fire-acreage records from before 1960 should be trusted. Regional fire authorities often double- or triple-counted the same fire, or they estimated fire size inaccurately at that time.
Modern data, collected through incident reports and satellite observation, show that wildfires now burn twice the area they did in the 1990s and '80s, according to Zeke Hausfather, a climate scientist at Berkeley Earth and an analyst at Carbon Brief.
Despite the scale of the California blazes in 2018, Williams said the western United States overall would likely escape the year without setting a new national record in acreage burned.
"It will be high, though, consistent with the other big years of the past decade," he said.
There is little precedent for the big wildfire years of this decade because the planet as a whole is entering into an unprecedented new climatic era. The worst wildfires—and the hottest summers, and the worst floods—are yet to come. And the only technologically proven way to keep them at bay is to reduce greenhouse-gas emissions.