Will Washington State Voters Make History on Climate Change?
The state could be the first in the union to adopt a carbon price by ballot.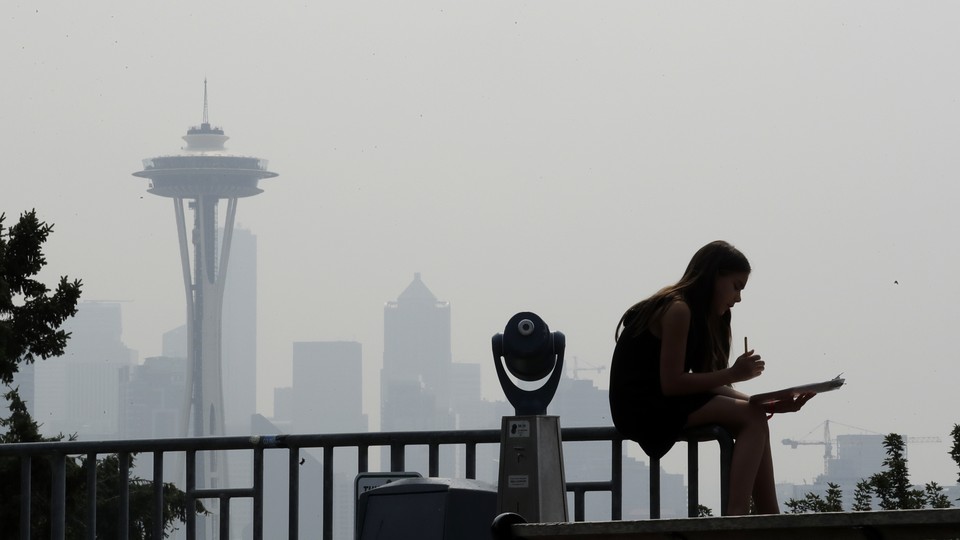 Updated on August 15 at 4:30 p.m. ET
This November, voters in Washington State may do what no group of people—in or outside the United States—has done before.
They will vote on whether to adopt a carbon fee, an aggressive policy to combat climate change that charges polluters for the right to emit carbon dioxide and other potent greenhouse gases.
Their decision will reverberate far beyond the Olympic Peninsula. If the measure passes, Washington will make history, becoming not only the first state in the union to adopt a type of policy called a carbon tax—but also the first government anywhere to do so by ballot referendum.
If it fails, it will bring into question whether progressives can implement substantive, state-level climate policy in the face of President Donald Trump's environmental rollbacks, even in deep-blue redoubts like Washington.
"I'm going to do everything I can for it," said Governor Jay Inslee, a Democrat and a longtime champion of climate policy, in an interview. "I'm hoping others will join me, because it really is a very well-balanced, thoughtful policy."
The proposal, known as Ballot Initiative 1631, is one of the most ambitious climate policies advanced since Trump took office. Its passage would slot Washington into the forefront of the national fight against global warming: Only California could claim to have tougher climate laws.
But its victory is not assured. Washington voters knocked down a carbon tax the last time one appeared on the ballot, in November 2016, though that effort was not supported by the state's environmental community. And a wide array of oil and gas companies—including Phillips 66, Chevron, BP, and Shell—have collectively donated or pledged millions to oppose the measure, according to public documents.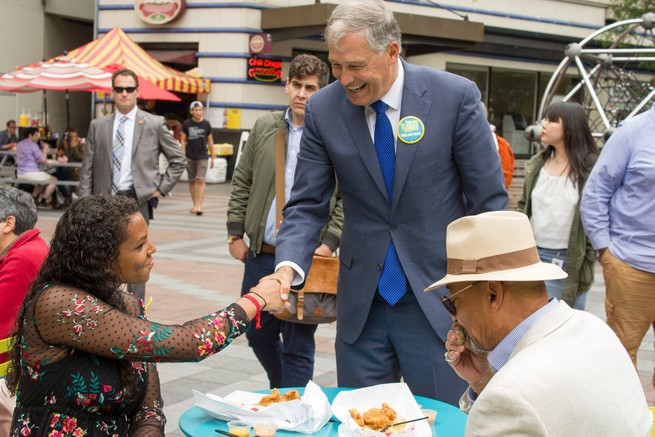 Initiative 1631 attempts to take the colossal costs of climate change—its hotter days, higher seas, and angrier weather—and calculate them into the price of fossil fuels. It requires major polluters like fossil-fuel companies to pay $15 for every ton of carbon dioxide they release into the atmosphere. The state estimates that this levy would generate roughly $2.2 billion in its first five years.
Initiative 1631 would then invest this windfall into a new fund to support projects that would accelerate the state's transition away from fossil fuels, like public-transit development, energy-efficiency upgrades, and new wind- and solar-power plants.
The fund would support other kinds of projects, as well. One-quarter of its revenue must be spent to protect forests and streams in the state. One-twentieth must directly flow to communities that stand to be hurt by either climate change or the transition away from fossil fuels—communities such as the Quinault Indian Nation, whose territory runs along the Pacific Coast, or Centralia, Washington, a majority-white, working-class town near the state's only operating coal plant.
Initiative 1631 would take effect in 2020. For the next decade and a half, its starting fee of $15 would increase by $2 every year, plus inflation. In 2035, when the fee is projected to hit $55 a ton, state lawmakers could either freeze it in perpetuity or vote to continue its steady increase.
Initiative 1631 is a "carbon tax"—at least as defined by the World Bank, the Brookings Institution, and, well, the Carbon Tax Center. Since it tries to internalize the costs of climate change into the economy, it is unmistakably what economists would call a Pigovian tax.
But Initiative 1631 enacts a carbon "fee," not a tax, citing Washington State law. As a fee, its revenue cannot be spent on any government expenses, like public education or welfare. Every cent raised by Initiative 1631 must go toward solving climate-related problems or protecting the state's environment.
The fee will be charged directly to some of the state's largest polluters. But Dana Bieber, a spokeswoman for the opposition campaign, argues that there's "no doubt" these companies would pass along its costs to consumers. "Regardless of what you say about a carbon fee or a carbon tax, it's intended to be paid by consumers," she told me.
Carbon prices are usually designed to raise the cost of fossil fuels in order to goad consumers into using them less. Under Initiative 1631, the price of gas would likely rise by 13 cents a gallon in 2020, and the price of home-heating oil would rise by 15 cents a gallon, according to the nonpartisan think tank Resources for the Future.
The initiative's supporters say that—in a worst-case scenario—the policy will cost most Washingtonians about $10 a month. And they contend that companies will not succeed in transferring every cent of costs to consumers.
Carbon prices have been successfully implemented both in and outside of the United States. For almost a decade, California has charged polluters for the right to emit carbon pollution. But it uses a "cap and trade" scheme to set its carbon price, which means it uses a market to determine the price of emitting a ton of carbon dioxide. Under the law, the state's annual carbon emissions have fallen 13 percent from their historical peak.
But carbon markets can fail, and Washington forgoes that approach. Initiative 1361 levies a single, economy-wide fee that will not gyrate with the swings of a market. No other state has imposed a carbon price in the same way. But elsewhere in the developed world, examples abound.
"Right next door to Washington, in British Columbia, there's been a carbon tax for 10 years," says Kristin Eberhard, a senior researcher at the Sightline Institute, an environmental think tank that focuses on the Pacific Northwest.
British Columbia's tax is roughly twice as expensive as Washington's proposed starting fee, and it rises faster than Initiative 1631 would increase. But the province's carbon emissions have fallen by only 2 percent since 2007, when the fee was adopted—though this gap is mostly due to an enormous oil-and-gas exporting boom.
Canada on the whole will phase in a national carbon price of roughly $38 (in U.S. dollars) by 2022, though that plan could be canceled if Prime Minister Justin Trudeau is not reelected.
Roughly 20 percent of the world's carbon emissions are covered by some kind of carbon-pricing scheme, according to the World Bank. But every single one of those policies was adopted or decreed by lawmakers. "This has never been done at the ballot," Eberhard told me. "If this passes, it would be a huge win for climate action. It would show that people are actually willing to vote for a tax—that's how much they care about climate change."
It would also show that voters will do what state lawmakers—at least in the United States—cannot. Since Trump's election, progressives have claimed that states and cities will take up the banner of climate action. But other than a series of vigorous lawsuits against Trump's environmental rollbacks, blue-state Democrats have struggled to channel this resolve into new policy.
In Washington, Inslee has proposed several carbon-tax schemes since 2016. But state lawmakers have not taken interest: In March, state-Senate Democrats shot down the latest attempt at a statewide carbon tax, effectively killing the measure for a year. One week later, Oregon Democrats also failed to muster the votes for a carbon price.
"There's a long tradition in Washington of voters seizing the initiative, literally, and passing things that were way ahead of where the politicians were," Inslee told me. "This was true on gay marriage, on legalizing marijuana, and on recognizing a woman's right to choose."
State-level carbon prices may not put much of a dent in global emissions, but they retain outsize importance in America's federal system. If Democrats hope to pass a national climate law when they next take control of both Congress and the White House, they will benefit from having plenty of state policies to learn from. Just as Romneycare in Massachusetts helped set the framework for Obamacare, Washington's carbon tax could serve as a model for the entire country's—especially if Inslee runs for president, as he is rumored to be considering.
It is the right time to be talking about serious climate-change policy, Inslee said, as climate change has recently become serious for many of the state's residents. Though Washington's blazes have not reached the size of destructiveness of California's, the state is suffering through a wretched wildfire season of its own. Washington could see more fires in 2018 than it has seen in any year in its history, according to a spokesman for the state's Department of Natural Resources.
"I'm looking across Puget Sound. I can't see Seattle through the smoke right now," Inslee said, speaking by phone. "Climate change is no longer a chart and a graph. It's smoke that people are choking on."
In 2016, an environmental nonprofit got a carbon tax onto the state general-election ballot, but the state Democratic Party—as well as a coalition of civil-rights, labor, and environmental groups—opposed the measure, and it failed. Unlike Initiative 1631, that proposal took a revenue-neutral approach, returning all money collected by the carbon fee directly to state residents. It did not include the carveouts for labor, environmental justice, or communities of color included in this policy.
"The 2016 ballot initiative was attempting to be a bipartisan effort—attracting some more moderate Republicans, but repelling the more left wing of the Democratic voting bloc," Eberhard told me. "This one is trying to go straight for the left wing."
Initiative 1631 can claim the support of a huge coalition of Democratic-affiliated groups, including labor unions, racial-justice groups, and environmental nonprofits. They drafted the proposal together and are now hoping their unified organizing power can push it over the finish line.
Part of these deliberations included making sure that the poorest communities would not be affected by the new carbon price. The initiative includes a "dollar recycling" mechanism meant to shield low-income ratepayers, for instance, from higher electricity bills.
"We did the work that I think Congress and state legislatures—the elected officials in our democracy—are meant to do," says Becky Kelley, the president of the Washington Environmental Council who was involved in the initiative's creation.
"We brought together a big range of folks who are affected by a hard challenge, and we tried to find solutions that work for a lot of folks. We did the work of lawmaking," she told me. "And the good news is, in Washington State, we the people can act as the lawmakers when the lawmakers fail to act."
"This is just a very tremendous alliance," Inslee agreed. "I've never seen an alliance around a clean-air or clean-water initiative before that is so broad."
---
Initiative 1631 does not cover every major carbon polluter in the state. It exempts manufacturing industries that sell much of their products abroad—which is to say, the state's enormous aerospace industry, and especially the state's largest employer, Boeing. Alcoa, a major aluminum manufacturer, is exempt, too.
The proposal also exempts the Centralia coal plant, Washington's only operating coal-fired power plant. That plant is scheduled to shut down in 2025 through a prior agreement with the state government. Any additional regulation of Centralia's emissions would push that date further into the future, increasing the overall amount of air pollution, said Nick Abraham, a spokesman for the initiative's supporters.
All in all, Initiative 1631 covers about 80 percent of Washington's climate-warming pollution. It will cover more than 85 percent of the state's pollution after Centralia shuts down.
Abraham framed these carveouts as crucial for the state's workers. "We need to build a lot of infrastructure to move away from fossil fuels, so we need the folks who know how to build things to stay in our state," he told me. "If we're keeping those industries here, over time we can transition them over. But we need the folks who are already here to stay here."
That wasn't good enough for Bieber, the spokeswoman for "No on 1631," a political-action committee formed by the Western States Petroleum Association to oppose the measure. She argues that consumers and small businesses will bear the brunt of the new fee. "The proponents will tell you that it's about going after the state's largest carbon emitters, but the largest carbon emitters in the state will be exempt from 1631," she told me. "Pulp-and-paper mills and airplane manufacturers are exempt. But a small business—like any other business—has to pay their energy costs. They don't have an exemption like a coal-fired power plant."
Not all coal plants are exempt from Initiative 1631. Any coal-generated electricity imported into the state through the power grid will be subject to the fee. About one-sixth of Washington's electricity comes from coal plants.
Bieber did not answer directly when asked whether the initiative's opponents would support the measure if it included fewer exemptions. "Our broad coalition have differing views on how to handle a carbon fee," she said.
Bieber claimed that the "No on 1631" coalition includes Teamsters and machinists, as well as "farmers, small businesses, and consumers." If so, those farmers are not putting their money where their mouth is: "No on 1631" has received 99.999 percent of its $5.4 million budget from oil and gas companies, according to its public campaign-finance filings. That last 0.001 percent comes from a construction-focused PAC.
"We're happy with the support we have. Hopefully people contribute to our campaign so we can get the facts out to voters," Bieber said when asked about the oil-industry money underwriting the effort.
Both the "Yes" and the "No" campaigns say that their rival effort is certain to outspend them. Clean Air Clean Energy WA, the PAC that supports the initiative, currently reports a $3.4 million budget.
But if "Yes" wins, it won't necessarily have anything to do with the size of its budget. Victory may not even hinge on its turnout operation or the scale of its coalition. It may come down to the work and rhetoric of one man who has turned climate change into a progressive rallying cry.
"Donald Trump is a very inspirational, unifying figure. He's unified the Democratic Party like never before," Inslee told me. "When you know you're on your own, when you know you're not going to have salvation from the White House, it focuses your attention that we need to take action."