Hawaii's Biggest Hurricane Threat in More Than Two Decades
"I've not seen such dramatic changes in the forecast track as I've seen with this storm."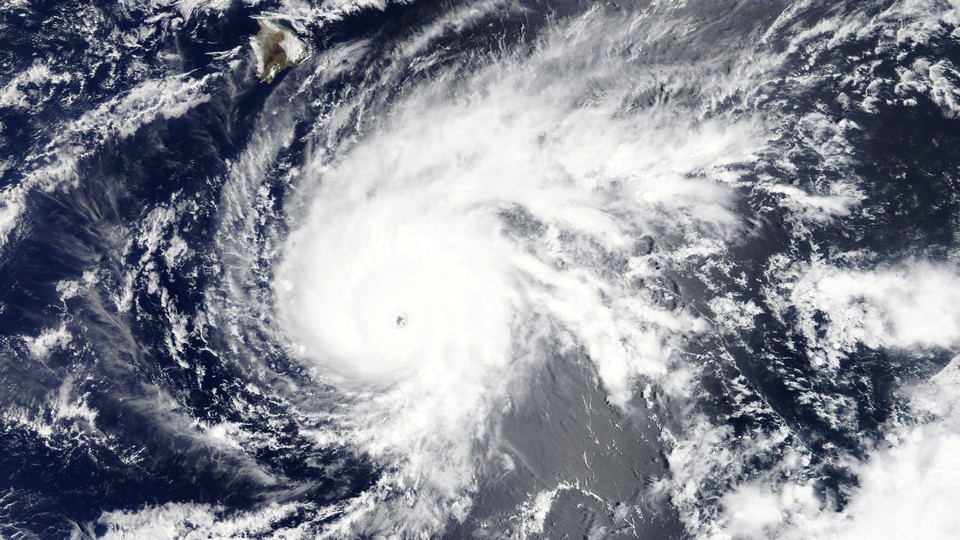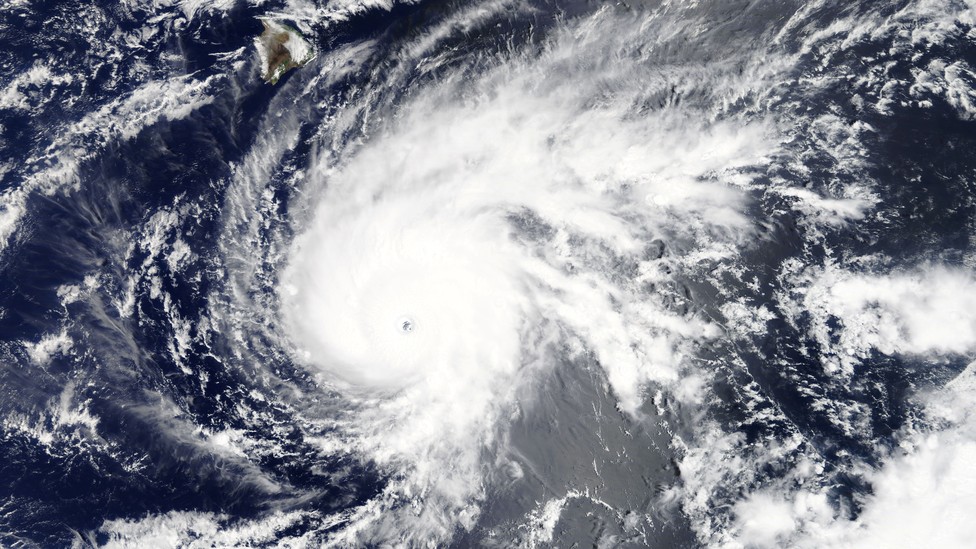 Residents of Hawaii awoke to a flurry of emergency alerts Wednesday morning as a major hurricane spun toward the state, threatening the entire island chain with heavy rains, damaging winds, and severe flooding.
Hurricane Lane had grown to a Category 5 storm Tuesday night, packing maximum sustained winds of 160 miles an hour, according to the National Weather Service. Lane then weakened to a Category 4 storm on Wednesday, but the hurricane still has winds of up to 155 miles an hour and remains the most powerful hurricane to threaten Hawaii in more than two decades.
"Hurricane Lane is not a well-behaved hurricane," David Ige, the Hawaii governor, said in a statement on Tuesday, as he signed an emergency proclamation that would mobilize state resources for disaster-relief efforts. "I've not seen such dramatic changes in the forecast track as I've seen with this storm. I urge our residents and visitors to take this threat seriously and prepare for a significant impact."
Lane began a northward churn toward Hawaii earlier this week. As of Wednesday, Hawaii's Big Island is under a hurricane warning, which means that hurricane conditions are expected within 36 hours, and Maui and Honolulu counties are under a hurricane watch, which means these conditions are possible. Lane is expected to weaken even further in the next 48 hours, but the storm will still bring dangerous weather conditions—including damaging winds, intense surf, and "life threatening" floods—to Hawaii from Wednesday to Saturday, according to the latest forecast from the National Weather Service.
During its brief time as a Category 5 storm, Lane became the first hurricane of this magnitude to pass within 350 miles of the southernmost point of the Big Island since Hurricane John in 1994, according to the National Weather Service office in Hawaii. John had swept past Hawaii, depositing some rain but sparing the islands from significant damage. This was a big relief for Hawaii residents; two years before Hurricane John skirted their shores, Hurricane Iniki had made a direct hit and devastated the islands.
Iniki, the strongest recorded hurricane to make landfall in Hawaii, led to the deaths of six people, the injuries of more than 100, and an estimated $1.8 billion in damage. Nearly 1,500 homes were destroyed in the Category 4 storm and thousands of residents were left without water, electricity, and shelter for days, according to news reports at the time. Iniki destroyed sugar-cane crops and shut down dozens of hotels, wiping out two of Hawaii's top industries in one stroke and, according to a Washington Post story, spiked the unemployment rate on Kauai, the fourth-largest island in Hawaii, from 5 percent to more than 50 percent overnight.
Hurricane Lane watchers say it's difficult to predict which islands will be most affected by the storm, but their forecasts "continue to show that all islands are at risk."
The threat comes days after another natural disaster in Hawaii finally began to show signs of slowing: the eruption of Kilauea, a volcano located in the southern part of the Big Island. Kilauea started spewing lava in early May, displacing thousands of people and destroying dozens of homes. At the eruption's peak, rivers of molten lava flowed from 12 fissures at the base of the volcano. By early August, only one fissure remained active, according to Reuters. Still, geologists aren't ready to declare the end of the eruption. "It could be weeks or months before we feel comfortable calling the eruption and the summit collapse over," Tina Neal, the lead scientist at the Hawaiian Volcano Observatory, warned in a statement earlier this month.
If Kilauea were still as active, a clash between the volcano and Hurricane Lane would likely not have produced the doomsday effects such a matchup calls to mind. "As massive as the impact of a volcanic eruption can be, it's hard to grasp the scale of a hurricane," David Nolan, an atmospheric scientist at the University of Miami, told Jim Nash in The Atlantic last year. The power of the volcano would pale in comparison. As Tracy Gregg, a geologist at the University at Buffalo, put it: "A volcano punching up through [a hurricane] would be a smudge on the windshield."
But Lane has already affected Kilauea-related efforts: The Kilauea Disaster Recovery Center, which has provided assistance to victims all summer, will close Thursday because of the storm, according to center officials.
Hawaii residents and tourists are buckling down before the hurricane arrives, stocking up on food and other supplies. Officials have advised people to stay home, which they say is the best place for shelter. If the hurricane leads to significant displacement of people from their homes, there's a chance the state may not be equipped to handle the numbers.
According to a state-issued review of emergency preparedness, Hawaii lacks shelter resources in proportion to its population. "There are insufficient hurricane evacuation shelters to meet the estimated demand of the population and these shelters have no supplies," reads the review, which was conducted earlier this year in response to a false emergency alert that led Hawaii residents to believe, for a wrenching 38 minutes, that a ballistic missile was headed their way. "The designated hurricane evacuation shelters and the post-impact sheltering systems are in need of retro-fitting and improvement."
State officials echoed the review's findings this week. "We do not have enough shelters for everyone," Tom Travis, the head of the Hawaii Emergency Management Agency, said Tuesday, according to Hawaii News Now. "If you're not in a flood zone, most citizens should remain in their homes. If you are in a flood zone, you should actively seek shelters elsewhere."
Hurricane Lane arrives two months into a particularly active Pacific hurricane season, with an above-normal number of tropical storms and hurricanes, according to forecasters. The likelihood of a near- or above-normal season for both the eastern and central Pacific regions is at 80 percent, according to the National Oceanic and Atmospheric Administration's Climate Prediction Center. On the other hand, the center predicts the Atlantic hurricane season will be less active than usual. The likelihood of a typical season is 30 percent, and the likelihood of an above-normal season is 10 percent.
But predictions have a habit of shifting in the hurricane business, and the season—for both the Pacific and Atlantic—stretches until the end of November.
"There are still more storms to come," warned Gerry Bell, the lead seasonal hurricane forecaster at the Climate Prediction Center. "The hurricane season is far from being over."