How Much of an Herbicide Is Safe in Your Cereal?
The debate is vicious around glyphosate, which was recently found in several breakfast favorites.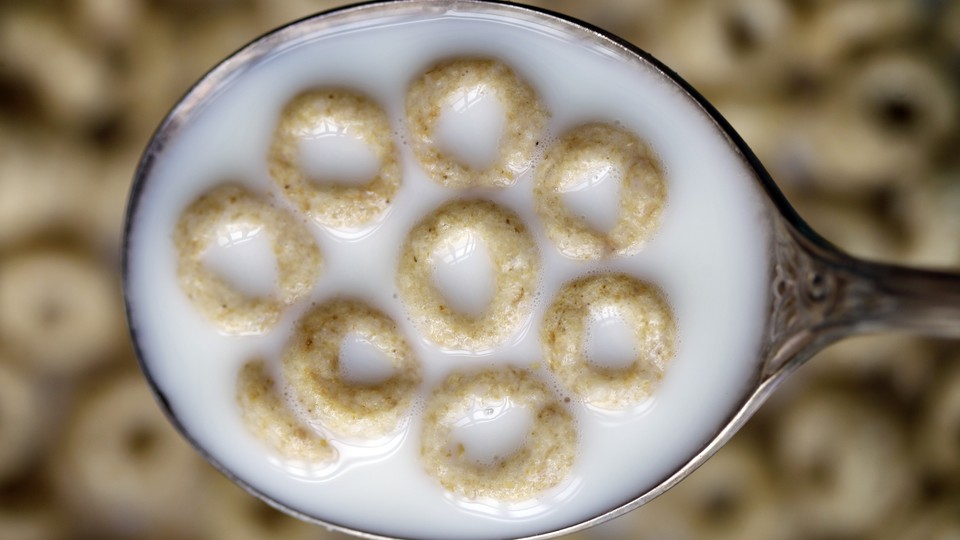 On Wednesday, the prominent consumer-advocacy group Environmental Working Group, or EWG, released a report that found glyphosate, a common herbicide, in breakfast foods. The report, which focuses on cereals, granola bars, and oatmeal, determined that out of the 45 products tested, only two were free from traces of the herbicide. Twelve samples contained amounts of glyphosate that were lower than what the EWG believes is harmful to consume, and 31 of the samples contained levels of glyphosate higher than this benchmark.
"Glyphosate has been linked to an elevated risk of cancer and classified by the International Agency for Research on Cancer, a part of the World Health Organization, as probably carcinogenic to humans," Olga Naidenko, the EWG's senior science adviser for children's environmental health, told me.
But glyphosate's danger is contentious. It was introduced into the U.S. consumer market in 1974, and in 1985 the Environmental Protection Agency determined the herbicide to be "possibly carcinogenic to humans." Then, in 1991, the agency rescinded that determination, declaring "evidence of non-carcinogenicity in humans."
Things haven't gotten any clearer since. As Naidenko alludes to, the International Agency for Research on Cancer, or IARC, determined glyphosate to be a "probable" carcinogenic hazard in 2014. That same year, the U.S. Government Accountability Office admonished the Food and Drug Administration, which monitors EPA standards in food, for failing to disclose that the FDA had not been testing for glyphosate, and it took issue with the FDA's current herbicide-residue-testing program. A year later, it was revealed that the FDA would finally begin testing for the herbicide in food. Those findings have not yet been made public.
"The IARC is like a bible in the field … It's long been recognized as the only agency that looks at environmental chemicals and their carcinogenicity," says Alex Lu, an associate professor of environmental-exposure biology at Harvard. The 2014 IARC finding, he says, "was a huge deal because everyone is exposed to a little bit of [glyphosate] because it's so widely used."
Indeed, glyphosate, available to consumers as the weed killer Roundup, is the most widely used herbicide in the United States. Its use globally continues to grow. And it isn't only a weed killer; it's also sprayed on some grain crops before harvest to accelerate drying. Those treated grains then make their way into breakfast foods, containing trace amounts—which the FDA contends are safe—of the herbicide. (Monsanto, Roundup's manufacturer, did not respond to a request for comment.)
The debate around glyphosate is focused on just how much should be allowed into food. Advocacy organizations such as the EWG and the Alliance for Natural Health disagree with U.S. regulatory bodies' established risk guidelines for the herbicide. "The concern about glyphosate is long-term exposure," Naidenko says. "Most health agencies would say a single portion does not cause deleterious effects. But think about eating popular foods such as oatmeal every day, or almost every day—that's when … such amounts of glyphosate might pose health harm."
And so the controversy continues. In 2016, the U.S. Department of Agriculture, or USDA, collaborated with the EPA to begin testing residue of glyphosate on corn. However, a year later the project was quietly dumped. In a statement made to the environmental blog EcoWatch, the USDA acknowledged its change of plans, stating that it switched gears to testing honey, which comes in contact with 100 different herbicides. Glyphosate would not be included in the test as it requires a different methodology.
The safety of glyphosate remains contentious within international regulatory bodies, as well. Debates have recently raged in Germany and Argentina. A year after the IARC labeled glyphosate a probable carcinogen, WHO—which, again, oversees the IARC—collaborated with the UN's Food and Agriculture Organization and directly contradicted the IARC's findings. Glyphosate, says the report, "is unlikely to pose a carcinogenic risk to humans from exposure through the diet." The following year, the European Chemicals Agency declared it would not be classifying glyphosate as a carcinogen.
Lu remains dubious about both the FDA and WHO's declarations that glyphosate is likely not carcinogenic. Part of the problem, he says, is that the herbicide has long been used with little information—and it's only starting to trickle in now. "The reason that the IARC took so long is because of lack of data," he says. "They had to weigh the validity [of the risk] before coming to the conclusion."
Dan Wixted, who helps run Cornell University's Pesticide Safety Education Program, notes that the IARC determined glyphosate poses a cancer hazard—and that's significantly different, he says, from posing a risk.* When used in a scientific context, a hazard is something that has the potential to cause harm; risk is an assessment of how likely it is that a given hazard will do so.** "EPA considers exposure as well as hazard (toxicity) when determining the reference dose, which is therefore based on risk," he says.
But, he adds, "we support continued research as to whether the reference dose for glyphosate sufficiently reduces the risk to human health."
All these messy controversies do not make it easy for consumers trying to figure out if they should be worried about glyphosate. The EPA reiterates that it doesn't believe glyphosate to likely be carcinogenic to humans. "We are currently reviewing public comments received on the draft assessment and plan to publish the proposed interim-registration-review decision for glyphosate in 2019," a spokesperson told me.
The FDA, for its part, says its findings on glyphosate's risk to humans will be released "in future reports."
---
* This article previously mischaracterized Dan Wixted's statements on the IARC's assessment of glyphosate.
** This article previously misstated the scientific definition of risk.