Trump's Fuel-Efficiency Rollback Breaks With 50 Years of Precedent
The proposal would undermine California's ability to regulate toxic air pollution.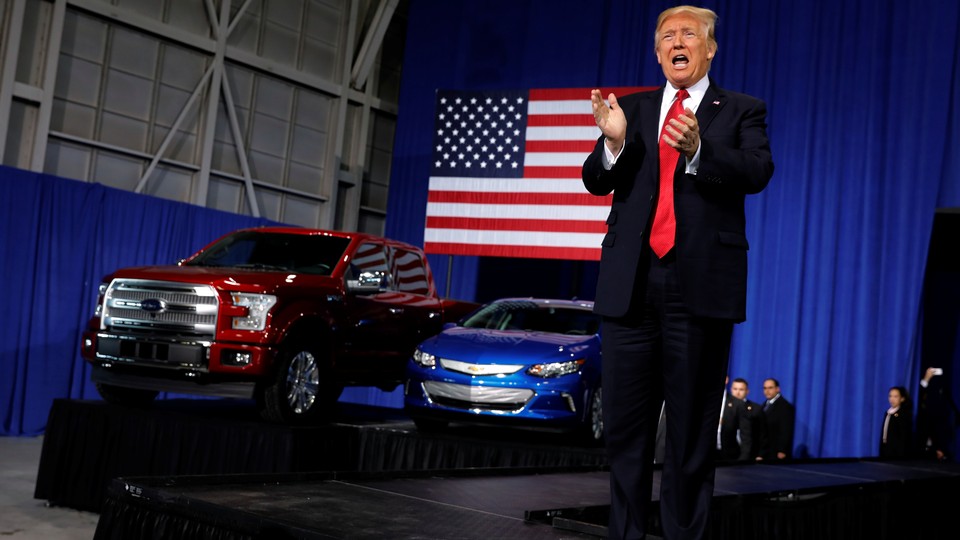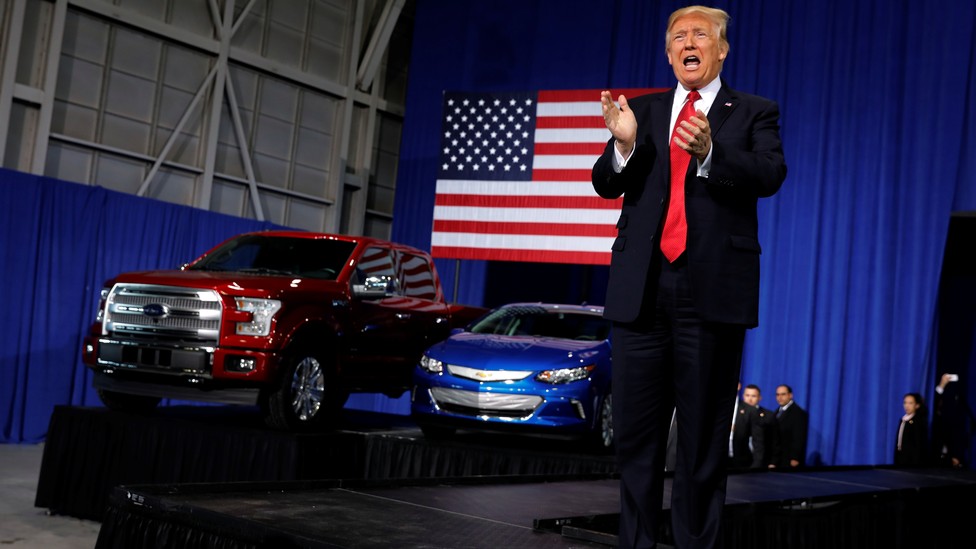 Updated on August 2 at 4:02 p.m. ET
The Trump administration proposed a major environmental rollback on Thursday, announcing that—starting in 2020—it will no longer require cars and trucks to become more fuel efficient every year.
Under the new proposal, automakers would only have to produce cars that achieve a real-world average of about 29 miles a gallon from 2021 to 2025. This is a major change: The Obama administration had once required that new cars average about 43 miles a gallon by 2025.
The move is the latest front in Donald Trump's war on his predecessors' climate legacy. But it also fits with his broader cultural crusade against liberal power centers: The administration says it will also revoke California's special authority to regulate greenhouse-gas emissions from cars and trucks.
And far more significantly, the Environmental Protection Agency has also said it will revoke California's waiver to operate its Zero Emission Vehicle program, which encourages the purchase of electric and hydrogen vehicles by local residents and businesses. In doing so, Trump breaks with five decades of federal practice by ending one of California's programs to reduce conventional air pollution, like ozone, smog, and particulate matter.
The national rollback, which will be finalized later this year, has already been denounced by environmental groups, consumer advocates, and public-health organizations. But automakers and even the acting EPA administrator, Andrew Wheeler, also remain skeptical of the proposal. As I wrote in June, the car industry is happy to see the fuel-efficiency rules weakened. It would just prefer for the policy change to be a little quieter, a little subtler, a little less Trumpian.
President Trump is said to have been involved in choosing the final policy proposal, though—so maybe that was never an option.
There's little doubt that the rollback will have long-term consequences for the climate. The transportation sector, which includes cars and trucks (and also planes), now emits more heat-trapping gas than any other part of the U.S. economy. The proposed freeze will not press carmakers to produce more efficient vehicles, at exactly the time when manufacturing cleaner and more efficient vehicles is one of the country's most pressing environmental needs.
Yet it's not exactly new for a Republican administration to battle stricter fuel-efficiency rules. President George W. Bush did it too, for a time, until a spike in gas prices and a Democratic-controlled Congress forced him to act in 2007. What's most notable is that—by attacking California's Zero Emission Vehicle program—the Trump administration is also attacking the state's ability to regulate not just greenhouse gases, but conventional air pollution.
There are big differences between these two types of pollution—both scientifically and politically. Greenhouses gases are at their most harmful when they accumulate in Earth's atmosphere and trap heat, causing the planet to warm. They're only dangerous, in other words, when dispersed through Earth's atmosphere. But conventional air pollution can trigger immediate and local health problems. Ozone, for instance, exacerbates asthma and other respiratory problems. Particulate matter can cause early deaths and diabetes.
Atmospheric scientists have long recognized that, when it comes to conventional air pollution, California has a more difficult challenge than everyone else. Not only does the state contain some of the country's largest car-dependent cities, but the unique geography of the Los Angeles Basin—which pairs insistent sea breezes to the west with imposing mountains in the east—can essentially trap smog in place for days at a time.
Even today, the EPA says that two of California's regions—including the Los Angeles Basin—are so polluted with ozone that they are in "extreme nonattainment" with federal standards, the worst possible designation.
Congress has also recognized that California has a tough task. When they passed the Clean Air Act, lawmakers carved out a special waiver process for the state, allowing it to set higher standards than the federal government. Any other state could then choose to accept these standards. Today, 13 states use these stricter pollution rules, including New York, Pennsylvania, and New Mexico.
Since the passage of the Clean Air Act in 1970, no president has ever denied or revoked California's waiver to regulate conventional air pollution. Until now.
"It's really an assault and it's fundamentally at odds with the purpose of the waiver," says Ann Carlson, a law professor at UCLA. "The EPA is attacking not just the greenhouse-gas regulations but also California's historic goal in regulating conventional air pollution—which every previous president has supported, which has been going on for 55 years, which has led to extraordinary health benefits."
Does the EPA still believe that conventional air pollution is a special problem for California? I posed that question to an agency spokesman, who responded by linking to the agency's webpage describing the rule change.
"The [Zero Emissions Vehicle] standards … address environmental problems that are not particular or unique to California," says a document on that page.
The proposal, which is now open for public comment, could still be revised before it is finalized in several months.