The Global Rightward Shift on Climate Change
President Trump may be leading the rich, English-speaking world to scale back environmental policies.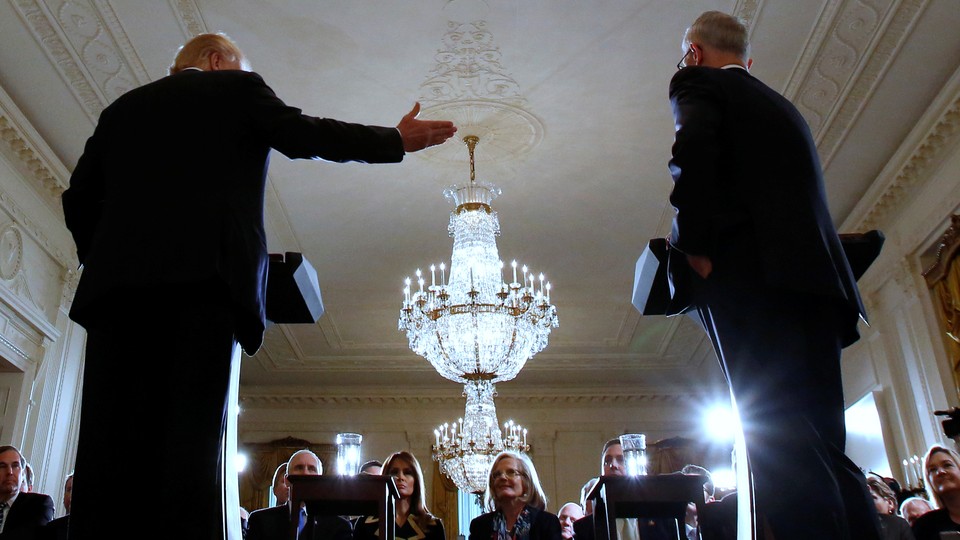 Last Thursday, Malcolm Turnbull was the prime minister of Australia. By the end of this week, he'll be just another guy in Sydney.
Turnbull was felled by climate-change policy. His attempt at a moderate, even milquetoast energy bill—which included some mild cuts in greenhouse-gas emissions—proved too aggressive for his co-partisans. On Friday, members of Australia's center-right Liberal Party voted him out of office.
Pity for Turnbull, though at least he can he can trudge home to his mansion on Sydney Harbor. And pity for Australia, which lately has had some trouble keeping its prime ministers in office. (It's churned through six of them since 2007.) Yet even setting that context aside, Turnbull's tumble remains a disquieting sign for anyone hoping for an aggressive global climate policy. In Australia—where global warming has contributed to the die-off of half the coral in the Great Barrier Reef since 2016—even a mild climate bill could not pass under a conservative government.
It points to an emerging pattern: Moderate national leaders—on both the center-left and center-right—in some of the world's richest and most advanced countries are finding it far easier to talk about climate change than to actually fight it.
At a basic level, this pattern holds up, well, everywhere. Every country except the United States supports the Paris Agreement on climate change. But no major developed country is on track to meet its Paris climate goals, according to the Climate Action Tracker, an independent analysis produced by three European research organizations. Even Germany, Japan, and the United Kingdom—where right-wing governments have made combatting climate change a national priority—seem likely to miss their goals.
Simply put: This kind of failure, writ large, would devastate Earth in the century to come. The world would blow its stated goal of limiting atmospheric temperature rise. Heatwaves might regularly last for six punishing weeks, sea levels could soar by feet in a few short decades, and certain fragile ecosystems—like the delicate Arctic permafrost or the kaleidoscopic plenty of coral reefs—would disappear from the planet entirely.
Australia's recent instability further complicates this unease. The global climate action of 2016 may be producing something like a worldwide climate backlash—especially in countries with powerful fossil-fuel interests, like Australia and Canada. Or—far more worryingly for climate advocates—these changes in policy may be trickling down from the biggest historical emitter of greenhouse gases of them all: the United States.
Take Canada. In 2015, Justin Trudeau campaigned for prime minister by citing his support for a national carbon price. (A carbon price is a type of climate policy that charges polluters for every ton of heat-trapping gas they dump into the atmosphere.) After winning the election, Trudeau took a compromise strategy on fossil fuels, proposing an economy-wide carbon price while endorsing the construction of several massive new oil-export pipelines.
Two years later, Trudeau's carbon-pricing scheme is in trouble. The government has already slashed the ambition of its initial proposal. The Conservative Party, which opposes Trudeau, has dubbed the carbon price a "tax on everything" and its leader says a future government would repeal any carbon price. The new premier of Ontario, Canada's most populous province, says he will fight the carbon price when it takes effect in January of next year.
It seems likely that the 2019 elections in Canada—in which Trudeau faces reelection—will hinge in part on what voters think of the carbon price. While that vote is still more than a year away, Trudeau's Liberal Party has lost its early lead in polling and is now essentially tied with the Conservative Party.
But political opposition is not the only reason Trudeau has watered down his plan. His party seems to have real concerns about the economic consequences of the policy. In order to avoid putting any one country at a competitive disadvantage, global governments vowed to fight climate change together in 2015. But President Donald Trump abrogated this informal arrangement. Since taking office, he ravaged American climate policy, repealing his predecessor's pollution-reduction rules on cars, trucks, and power plants. Coupled with Trump's new tariffs and trade policy, a carbon tax could ding Canadian competitiveness.
This month, Trudeau's government announced that it will tax only 20 percent of carbon emissions, not the planned 30 percent. Some Trump-threatened industries, including cement and steelmaking, will only see 10 percent of their emissions taxed, according to The Globe and Mail.
"If the countries with whom we are competing—and especially that big one to the south of us—do not have that kind of a [carbon tax] system in place, then you are having your hands tied behind your back," Dennis Darby, the president of a Canadian manufacturing organization, told that paper.
Yet even as he fights for his political life, Trudeau has found it easy to keep supporting new fossil-fuel infrastructure. In May, his government purchased the Trans Mountain pipeline project, which will likely assure its construction. The pipeline, which is opposed by environmental groups and several indigenous nations, will let Canada easily export hundreds of thousands of barrels of oil a day to Asia.
If Trudeau loses next year, and conservatives repeal his carbon tax, then his government's climate legacy will be a pipeline, not a reduction in emissions. And if Canada abandons its climate policy, then it will follow the path set by another Anglophone petit petrostate: Australia.
Oz is the only country in the world to adopt an ambitious price on carbon pollution and then promptly repeal it. Its aggressive climate policy—adopted by the left-leaning Labor Party in 2012—was repealed by Prime Minister Tony Abbot's rightwing government two years later.
Which is to say that Australian climate policy is already weird and mangled—and, indeed, that Australian energy policy as a whole is weird and mangled. Australia should have cheap electricity: It is very sunny, and very windy, and its miners haul roughly $50 billion in U.S. dollars of coal out of the ground every year. Yet recently Aussies have been paying some of the highest power prices in the world. Since 2015, household power bills have doubled in cost in some states. Electricity in Sydney is now more than twice as expensive as it is in New York.
Turnbull's downfall has to be understood in light of that policy disaster. The former prime minister spent months trying to put together a "National Energy Guarantee" that would address its electricity crisis, mostly by making Obamacare-style improvements to the power market. The same bill also legislated some modest emissions cuts that were promised under the Paris Agreement.
Rightwing lawmakers, many of whom are allied with Australia's booming fossil-fuel industry, seized on the climate aspects of the legislation. So last week, Turnbull abandoned it. The embarrassment ultimately led to his ouster: By Friday, his party's right wing had voted to replace him.
So Australia's energy policy is now again adrift. Its new prime minister, Scott Morrison, is perceived in the country as being on the center-right, and he's said he won't abandon the Paris Agreement. But Australian carbon emissions have been rising for six years and it's totally unclear whether it will meet its greenhouse-gas targets. The new prime minister has also already appointed a far-right opponent of renewable energy to lead Australia's ministry of energy and environment.
What else drove this coup? Look to a July speech made by Tony Abbot, a former Australian prime minister and by far its most conservative leader this decade. He exhorted Australia to follow President Trump's lead and leave the Paris Agreement—which is notable, since Abbot himself signed the agreement. But the situation had changed: "Absent America, my government would not have signed up to the Paris treaty, certainly not with the current target," he said.
"Withdrawing from the Paris agreement," he continued, "would be the best way to keep prices down and employment up; and, to save our party from a political legacy that could haunt us for the next decade at least."
Abbot then engaged in a bit of Trumpianism, rejecting many of the conclusions of mainstream climate science. "Storms are not more severe; droughts are not more prolonged; floods are not greater; and fires are not more intense than a century ago." (These claims are respectively false, likely false, debatable, and false.)
All this does not bode well for advocates of climate action. Extreme weather is battering Australia on all fronts: Carbon-warmed oceans are plundering its Great Barrier Reef, and a record-breaking drought is ravaging the country's well-populated southeast. Yet even its center-right-led, middling attempt at a climate policy is withering on the vine. On Monday, in one of his first public appearances since taking office, Prime Minister Morrison declined to comment on whether climate change is intensifying the country's drought. "I'm going to leave that debate," he said, "for another day."