Why Scott Pruitt's Critics Will Miss Him
His successor will likely be far too skilled to attract notice to the EPA.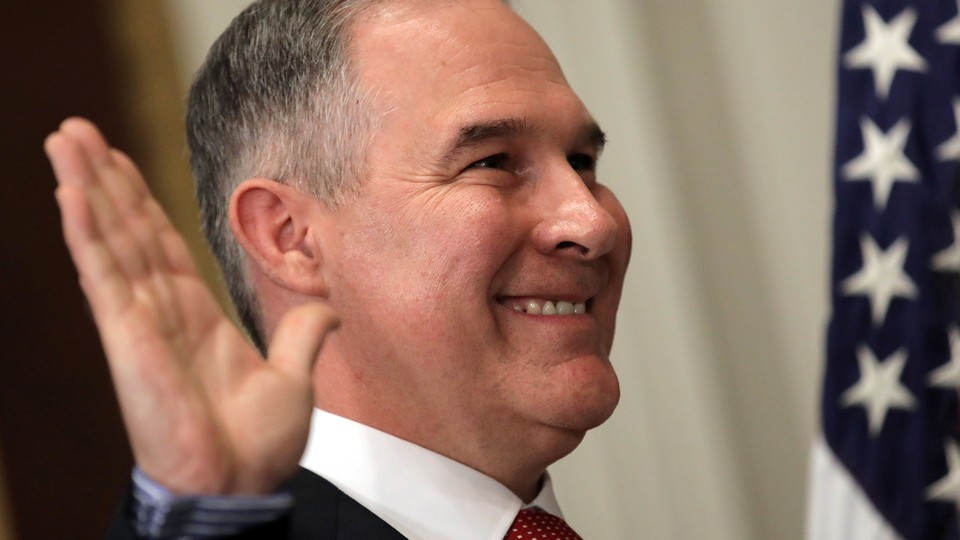 Scott Pruitt is gone.
During his time in office, Pruitt racked up a fabulous array of "bizarre and venal" controversies—so many that it verges on cliché to list them all. (My favorite: Pruitt's dispatching a government-salaried aide to buy a used Trump-hotel mattress for his own—that is, Pruitt's—personal repose.)
His fall has delighted critics both of the Trump administration and of his own distinct brand of open corruption. Yet I suspect that many environmentalists and climate advocates will come to miss the Oklahoma attorney. Pruitt succeeded in something that not even Democrats can muster: He could get the EPA into the news.
Since last January, the White House and the executive agencies have attacked environmental science and policy. They have proposed bailing out coal plants, stopped prosecuting some environmental crimes, and begun dismantling Obama-era climate programs like the Clean Power Plan. Trump has even tried to install Barry Myers—the CEO of AccuWeather and a longtime opponent of free and public weather forecasts—as the head of the National Oceanic and Atmospheric Administration, the same federal agency that issues free and public weather forecasts.
But of all these efforts, an environmental-policy issue has led the national conversation only once, when President Trump withdrew the United States from the Paris Agreement last June. Only then did newspapers and networks go wall-to-wall on climate coverage. More than half of all network coverage of climate change in 2017 concerned Trump's abandonment of Paris, according to Media Matters, a liberal watchdog group that provides the only available data on the topic.
But Pruitt? That man got the EPA in the news. He was a one-man carnival of alleged grift, and networks couldn't look away. And while most news operations must cover the dismantling of environmental policy with a just the facts, ma'am approach, anchors and journalists of all stripes could hound Pruitt for his misuse of taxpayer resources. Ed Henry of Fox News, given rare access to the administrator, got in an inspired grilling.
In retrospect, it's noteworthy that so many Pruitt scandals did not concern the environment at all. (Pruitt's use of a $50-a-night condo is a big exception here, as the administrator reportedly met with his landlord's lobbyist husband. A federal investigation is ongoing.) It makes sense, in a way: As my colleague Elaina Plott reports, many of the men and women who leaked Pruitt's scandals believed in the administration's policy agenda. They just hated their boss, apparently.
Some amount of blame here resides with the national political media, which often depicts politics as a game full of goofy characters, not the battleground of government policy. Environmental policy keeps the air and water from killing us, but it moves slowly and has few personalities. It also combines dull, technical language (one of the most important ideas in environmental law is called Chevron deference, ugh) with gauche connotations of latte liberalism.
As such, I have no doubt that news consumers heard more this week about Pruitt's hapless pursuit of Ritz-Carlton hand lotion than a new Politico report that finds the EPA is suppressing a study showing "most Americans inhale enough formaldehyde vapor in the course of daily life to put them at risk of developing leukemia and other ailments."
For all those media failures, though, it helps to have a villain—and Pruitt was an inspired villain. His scandals also allowed Democrats and other administration opponents to talk about deeper, more substantive rollbacks. If he abused his public office, what else was he doing?
Andrew Wheeler, the new acting administrator of the EPA, may be far harder to deploy rhetorically. Wheeler is a former coal lobbyist and a supreme Washington insider: He started his career at the EPA; spent years as an aide to Senator Jim Inhofe, an Oklahoma Republican who rejects mainstream climate science; and most recently worked as a coal lobbyist.
Wheeler does not have a reputation for personal scandal. He will not relish opportunities to go on TV, as Pruitt did early in his tenure. And he will also likely prove more effective than Pruitt. Legal experts told me that they expect Wheeler to run a more careful, by-the-book process than his predecessor, producing rollbacks that are more likely to hold in court.
But Wheeler will work from the same playbook as his old boss. "There will be no noticeable shift from the Pruitt agenda to the Wheeler agenda because it's really the Trump agenda," Myron Ebell, a famous opponent of mainstream climate science who led Trump's EPA transition, told me in an email.
So Wheeler will fade into the background—becoming just another Trump Cabinet secretary, like Kirstjen Nielsen, Sonny Perdue, and Alex Azar. And environmentalists are saddled with the same challenge they always face when talking about the environment: trying to convince the public that a technical, often arcane set of agency policies are in fact America's last protection against toxic chemicals, poisonous water, and an abundance of heat-trapping air. Meanwhile, the planet continues to warm.