Which Company Will Test the DNA of Separated Families?
And other unanswered questions about the HHS's new plan to reunite migrants separated at the border.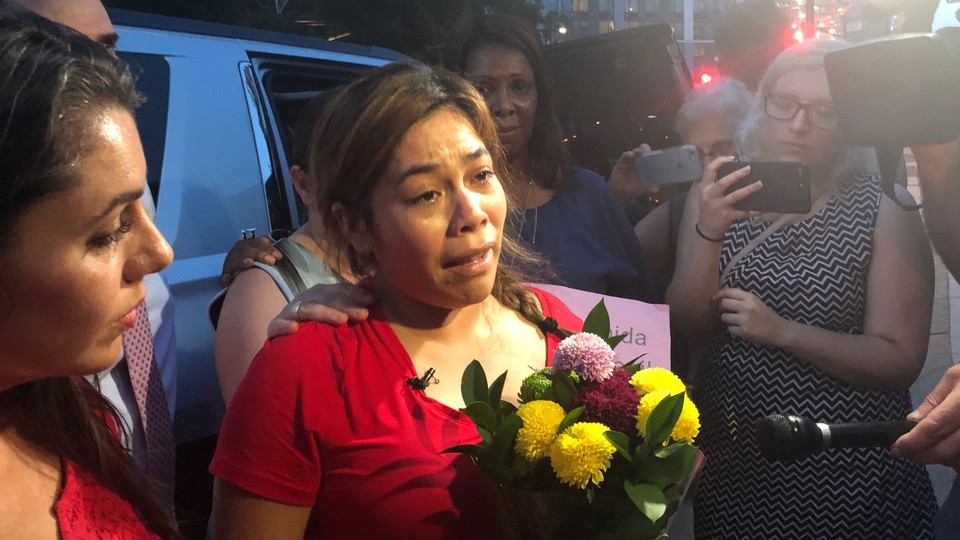 It did not take long for people look to DNA as a solution for reuniting families separated at the border.
First, congresswoman Jackie Speier suggested that the DNA-testing company 23andMe help find separated parents and children. 23andMe quickly responded, offering to donate kits. Then on Thursday, the U.S. Department of Health and Human Services announced it is conducting its own DNA tests—in this case, to verify claimed relationships before reuniting families.
The news, both times, was met with swift backlash by immigrant advocates, who worried what the government could do with sensitive genetic data. "They're essentially solving one civil rights issue with another — it's a gross violation of human rights," said Jennifer Falcon, of the immigrants-rights group RAICES on NBC News. "These are minors with no legal guardian to be able to advise on their legal right, not to mention they're so young how can they consent to their personal information being used in this way?"
HHS officials have said the genetic data will only be used to reunite families, but they have made very few details of the process public. DNA testing for immigrants is not new, points out Sara Katsanis, who studies genetic privacy at Duke. In fact, it has been part of U.S. immigration policy for years. Since 2012, the Priority 3 category of the U.S. refugee program—which reunites family members from designated countries—has required DNA tests to prove genetic family relationships. And in 2014, as the number of unaccompanied children escaping violence from Central America was surging, the Obama administration devised a program that allowed parents in the U.S. to apply for refugee status for their children still in El Salvador, Guatemala, or Honduras. They, too, had to take a DNA test first. (The Trump administration ended this program in 2017.)
To apply for these refugee programs, parents in the U.S. have to send their DNA samples to an accredited third-party lab, which then sends additional kits to a U.S. embassy or consulate for the children abroad. For parents and kids separated at the border, the government is more involved. HHS and Department of Homeland Security teams are going to detained parents and children to swab their cheeks. The analysis is being performed by a lab contractor who HHS says will destroy any DNA swabs after analysis. HHS declined to name the contractor.
HHS officials say they are resorting to DNA to meet the court-mandated deadline of reuniting children younger than 5 by Tuesday, as verifying relationships through documents like birth certificates would take too long. Migrants often do not travel with paperwork, so locating documents and sending them to the U.S. could take weeks.
But this reliance on a genetic definition of family will almost certainly run into problems. When the U.S. started asking for DNA tests from immigrants in the past, they found that families are more complicated than genetic relations. A woman from Somalia, for example, had to leave behind her niece, who she unofficially adopted after the child's mother went missing and father died. A man from Ghana found out his sons were fathered by a different man. A man from Sierra Leone found out his wife was raped by rebels during the country's civil war. It is unclear what recourse parents separated at the border will have in similar situations.
The DNA test HHS is using looks at 20 or so locations in the genome. Judging from a description of the tests, these locations are likely STRs, or "short tandem repeats," where stretches of DNA are naturally repeated. STRs are useful for establishing parent or sibling relationships but are not as useful for grandparents, aunts, uncles, or more distant relations, says Katsanis.
Matt Adams, the legal director for the Northwest Immigrant Rights Project, points out that the court order to reunite families only covers parents, not grandparents or older siblings. "We have a client who is a grandmother, and they've taken that grandchild," he says. "There's no mechanism to force the government to process her case."
He also sees the DNA test as a delaying tactic. Many of his clients have located their children and established contact by phone, but HHS is requiring a DNA test before they are reunited. Perhaps there are specific situations with reason to suspect fraudulent claims, he says, but DNA tests are not warranted on a large scale.
When reached for comment, an HHS spokesperson replied with an FAQ that concludes with a warning about fraudulent claims. "How does HHS go about confirming the identity of parents, and are there adults in the past year fraudulently claiming to be parents?," asks the last question. The answer says that two parents being vetted for recent reunification had criminal histories according to ICE background checks. But it never answers the question that the FAQ itself posed, which is whether adults are really fraudulently claiming to be parents.
HHS, for its part, says the entire vetting process is necessary for the safety of the kids.