Trump Has Done More Than Pull Out of Paris
His other policies have knocked the U.S. off track to meet its emission-reduction goals.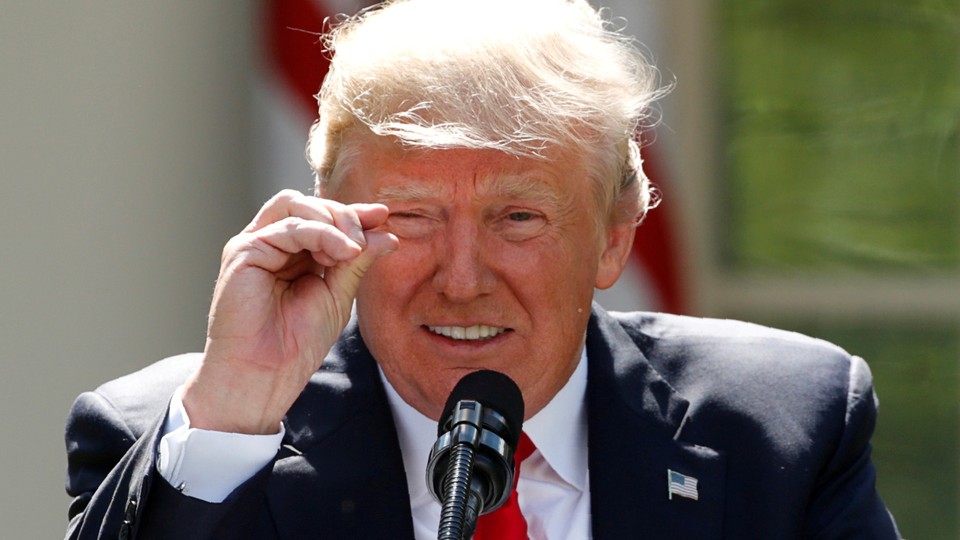 There's new evidence that President Donald Trump has already made the planet hotter.
Since taking office, Trump has done something substantively worse for the climate than pull the United States out of the Paris Agreement on climate change: He has slashed at a large body of climate-focused rules issued by President Obama. With the rules no longer in force and unlikely to be replaced, companies are now planning to emit more greenhouse gases, trapping heat in the atmosphere and warming the globe.
As such, the United States will fall far short of its pollution-reduction goals under the Paris Agreement on climate change, according to a new report from the Rhodium Group, a private market-research firm.
The Obama administration once aimed to cut U.S. emissions 28 percent by 2025, as compared to their all-time record high levels in 2005. The new report projects that emissions will only drop by 17 percent by 2025, even in a median scenario.
The Trump administration's rollbacks are "obviously having an effect," said John Larsen, the director of U.S. energy research at Rhodium. "They're already deferring investments that might otherwise have led us to a better pathway."
"But even if the rollbacks didn't happen, you'd still need to do more action," he told me. "No matter what, we need more action."
In a bleak finding for environmentalists, Larsen and his colleagues found that a future "worst-case" scenario far exceeded the "best case." Even if President Trump does not succeed in fully dismantling every Obama-era climate policy, the United States will still fail to make its Paris target, cutting greenhouse-gas pollution by only 20 percent by 2025.
But if the White House succeeds in totally destroying U.S. climate policy, and renewable energy does not mature as quickly as anticipated, then U.S. emissions could far undershoot their target, declining by only 12 percent, according to the report. That would mean the U.S. will not even come halfway to making its Paris goals.
If the United States fails to make its Obama-era climate targets, it will not be alone. Germany will not meet its 2020 climate goals, though it aimed for reductions far more ambitious than the United States.
Even if all the countries of the world managed to make their Paris targets, the world would still fail to prevent the world's average temperature rising by two degrees Celsius. Countries have simply not pledged to reduce their greenhouse-gas emissions fast enough to meet that goal.
"The Rhodium Group is a serious outfit that does really impressive work," said Zeke Hausfather, a research scientist at Berkeley Earth who was not connected to the report.
He said the study reached the same conclusions as most energy analysts. "Cheap natural gas and renewables will continue to force out coal, leading to reducing emissions in the power sector. But emissions will stay mostly flat in the transportation sector."
Still, faced with these lackluster findings, climate advocates have turned to two more hopeful storylines. First, they argue that states and cities are beginning to pass climate laws of their own. They have formed We Are Still In, which claims to represent 171 million people and 34 percent of the U.S. economy.
Larsen said that state action was good—but there needed to be more of it. "California's doing everything it can do. They're going to keep trying new stuff, but they're in their own league," he told me.
States in the Northeast could be far more aggressive, he said. They could try encouraging public-transit use or promoting electric-car ownership. And in New England—where many homes still run oil-burning furnaces through the winter—local governments could subsidize the purchase of new electric heaters.
"States, whether or not they succeed, need to try to get at this stuff," Larsen said. "By trying new stuff in the hope that something works, it's laying the groundwork for the next wave of federal action."
Second, climate advocates argue that renewable energy is getting cheaper faster than anyone has anticipated.
"There's this idea in the power sector that technology is going to save us, that renewables are getting cheaper way faster than predicted," Larsen said. "What we find is: Yes, emissions could go down faster and more dramatically than anybody expected. However, there is a limit to that success."
Right now, that transition is driving coal plants out of business, lowering emissions. But starting around 2025, cheap renewables and natural gas could actually cause emissions to rise, the team found.
That's because natural gas and renewable energy will start pushing pre-existing nuclear-power plants out of business. Current nuclear plants do not emit any greenhouse pollution, but they would likely be replaced with natural-gas plants, which do, Larsen said. Only state or federal policy will prevent the demise of these nuclear plants.
"One thing that's important to point out is that—barring some truly unprecedented federal intervention—it's unlikely that coal is ever going to return to where it was in the past. And that's not because of state and federal policy, but because the other options are so much cheaper," Hausfather said.
"Federal policy didn't play a huge role in most of the decline in emissions we see over the last 15 years," he continued. "And it's probably not going to have a huge role in the emissions declines we see in the next five. It's market forces, cheap renewables, cheap gas, that's driving this change. The market is killing coal, not policy."