Even Geologists Hate the EPA's New Science Rule
Dozens of scientific and medical groups oppose the proposal, which began under former EPA Administrator Scott Pruitt.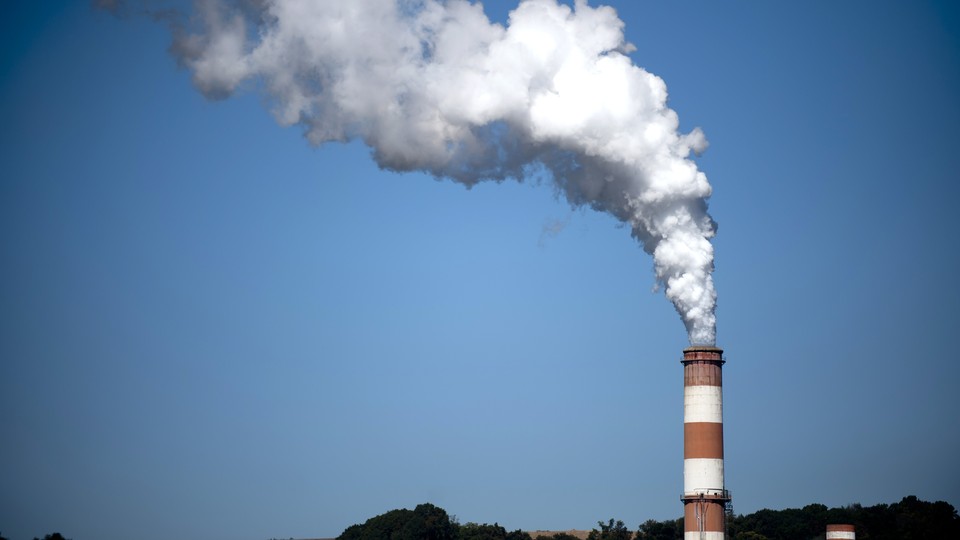 Oops.
A few months ago, the Environmental Protection Agency proposed a new policy that it claimed would "strengthen transparency" in the science it uses to craft regulation. To support its case, the agency alluded to a few major research institutions—namely, three of the world's most prestigious scientific journals and two bipartisan reports on science and policy.
"The proposal is consistent," bragged an EPA statement, "with data access requirements for major scientific journals like Science, Nature, and Proceedings of the National Academy of Sciences as well as recommendations from the Bipartisan Policy Center's Science for Policy Project and the Administrative Conference of the United States' Science in the Administrative Process Project."
It was not, actually. Within a week, the editors in chief of those three "major scientific journals" clarified that the proposed rule had nothing to do with their policies. And a lead author of the two bipartisan reports rejected the rule as well, saying that her colleagues "would laugh and hoot" at its ideas.
"They don't adopt any of the recommendations of any of the sources they cite," says that author, Wendy Wagner, a law professor at the University of Texas. "I'm not sure why they cited them."
The seven-page proposed rule—one of Scott Pruitt's most ambitious initiatives from his last months at the EPA—uses the language of "scientific transparency" to prohibit the agency from consulting a wide swath of peer-reviewed scientific research. If adopted, the policy would essentially bar the EPA from consulting most large-scale medical studies when creating rules about air pollution, toxic chemicals, and water contaminants. The proposal could also force the agency to revoke decades of clean-air protections.
The proposal may not, on its face, seem particularly far-reaching. It requires that scientific studies that support "pivotal regulatory science" publish their underlying data, models, and assumptions. Some scientific studies—in ecology, for instance—may already meet this requirement.
But scientific and medical institutions have rejected the proposal en masse because it would paralyze most medical researchers. These scientists cannot publish their supporting material for public consumption without invading patients' privacy, as one study's data may encompass the identifying details and full medical history of hundreds of people. Often, subjects will only agree to participate in a medical study after being promised their data will be kept private.
The EPA rule creates a catch-22 for these researchers. If they disclose the identity of their research subjects, then they could face criminal penalties under federal medical-privacy laws. But if they respect the privacy of their subjects, then their final study cannot be used by the EPA.
If this seems strange, it is: The proposal would forbid the EPA, whose mission is to "protect human health," from consulting scientific research into humans.
On Tuesday, the EPA will hold the first public hearing about the proposal. It will serve as a test of sorts for whether EPA policy can command public attention after the departure of its infamous leader. The proposal has failed to capture the mainstream attention (or the press coverage) that met even minor Pruitt scandals, such as his pursuit of Ritz-Carlton lotion or his illegal purchase of a $43,000 soundproof phone booth.
But dozens of scientific and medical leaders have taken notice, arguing that the proposed rule doesn't seem to be about scientific transparency at all.
"If the EPA wanted to engage in a good-faith discussion in how to improve transparency, that's certainly something they could have done. But this doesn't seem to be that," Jeremy Berg, the editor in chief of Science and a computational biologist at the University of Pittsburgh, told me.
Berg issued a statement decrying the proposal, which was co-authored by the editors of four other major scientific journals: Nature, Cell, PLOS One, and Proceedings of the National Academy of Sciences (PNAS).
Recall that the EPA had once claimed that Nature, Science, and PNAS had inspired its policy in the first place. Berg said, in so many words, that this was bullshit.
"What concerns me and what concerns the other editors is that the proposed rule is much more rigid than our policies," Berg said. "Based on our experience, that could have some very negative impacts in preventing the use of high-quality science."
"We're interested in making things as transparent as possible," he added. "But we understand there are circumstances where this isn't possible, and we think there's a lot of scientific values in those papers."
It's also possible to craft transparency rules that allow for these exceptional circumstances, Berg said. For instance: While some human-subject studies can't release their data publicly, researchers can still make their data available confidentially to other academics, who can then check and replicate their findings. Science and Nature's policies both allow for this possibility. The EPA proposal does not.
On Monday, 69 professional and public-health organizations—including the American Lung Association, the American Heart Association, the American Medical Association, and the American Psychological Association—also denounced the proposal.
"We strongly oppose EPA's efforts to restrict the use of the best available science in its policymaking and encourage EPA to withdraw its proposal," said a statement from the coalition. "If EPA excludes studies because the data cannot be made public, people may be exposed to real harm."
The group included representatives of the natural sciences who have historically avoided politics, including the American Geophysical Union and the Geological Society of America. Chris McEntee, the chief executive of the American Geophysical Union, wrote that the proposal was a "a wolf-in-sheep's-clothing policy that would undermine how the agency uses science in decision-making."
Harvard has also opposed the policy, as has the Association of Public and Land-grant Universities. Drew Gilpin Faust, the president of Harvard, wrote in a June letter to Pruitt that the proposal "is fundamentally flawed" and that it "would significantly limit the EPA's ability to consider the best available scientific findings."
It "risks not just erosion of public trust in the EPA's important work, but also progress on improving the health and wellbeing of our communities and our nation," she added.
As I wrote in April, the proposal is believed to target one study in particular: the Harvard "Six Cities" report, which in 1993 found that Americans living in more-air-polluted cities died faster than Americans living in less-polluted cities. The study used confidential medical information, but its data has been shared with other research teams and replicated several times.
Particulate matter, the specific type of air pollution identified by the study, has since been found to cause type 2 diabetes, and has been associated with elevated rates of lung cancer, heart attacks, asthma attacks, emergency-room visits, and hospital admissions. But because the Six Cities study cannot publish its data publicly, some Republican activists and lobbyists have attacked it as "secret science" and argued that particulate matter does not harm human health.
"If you have data that's really important for public health, then you ought to be willing to share it," Steven Milloy, a policy adviser at the Heartland Institute and a longtime advocate of "anti-secret science" policies, told me in April.
He added that the Six Cites study was "the granddaddy of all this stuff" and the "biggest science fraud that has gone on in this country's history." Milloy also rejects the mainstream scientific consensus that greenhouse-gas emissions are warming Earth's climate.
"To call such science 'secret' is to misrepresent the scientific process," Faust wrote in her letter. "Harvard has shared significant information and cooperated entirely in a full independent reanalysis of the [Six Cities] data by the Health Effects Institute (HEI), which confirmed the validity of the findings … Beyond the HEI reanalysis, the findings of Six Cities have been replicated numerous times in many independent studies."
It's true that mainstream public-health researchers have concluded that particulate matter is intensely dangerous to public health. But many of their studies are based on confidential medical information as well. If the policy is adopted, the Trump administration could possibly try to repeal or weaken policies restricting the amount of particulate matter in the air.
A peer-reviewed EPA report has found that the agency's particulate-matter rules have prevented roughly 200,000 early deaths since 1990. But even at their current levels, the EPA's rules are not strong enough to prevent type 2 diabetes, according to a recent study.
An EPA spokeswoman did not respond directly when asked about the wide number of scientific and medical agencies who have opposed the proposal.
"The EPA is committed to public participation and transparency in the rulemaking process," Molly Block, an agency spokeswoman, wrote in an email. "This proposed regulation is intended to strengthen the transparency of EPA regulatory science. EPA will consider all submitted comments—both those given orally at the hearing and those submitted in writing to the docket—as it moves forward in the rulemaking process."
"The public comment period for the rule closes on August 16, 2018," she added.