So Did Scott Pruitt Remake the EPA?
The agency is smaller, poorer, and less driven by science. But "I don't think there is a big Pruitt legacy," one legal scholar said.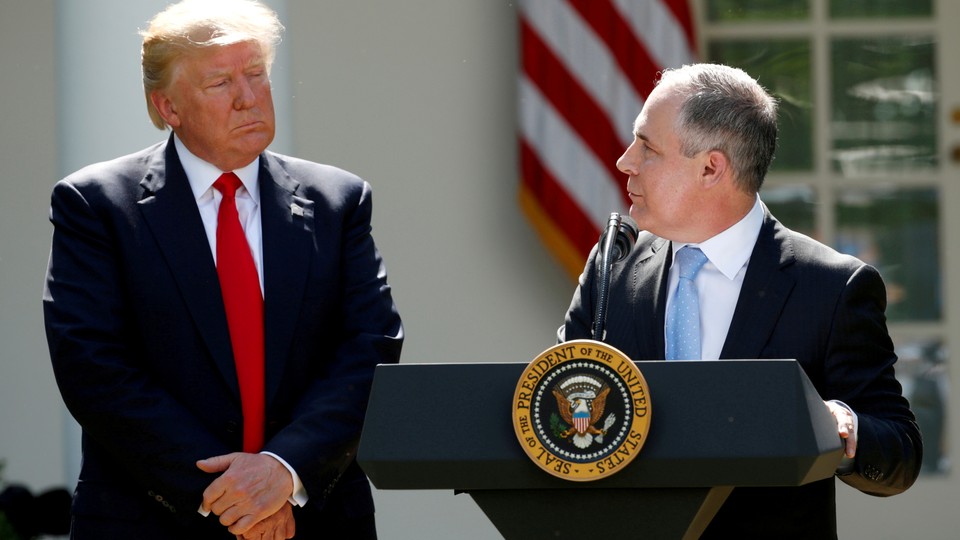 In the end, Scott Pruitt attributed it all to the Almighty.
"I believe you are serving as president today because of God's providence," he wrote in an obsequious letter to President Trump this week. "I believe that same providence brought me into your service. I pray as I have served you that I have blessed you and enabled you to effectively lead the American people."
On Thursday, in the same letter, Pruitt stepped down as administrator of the Environmental Protection Agency.
President Trump announced the news in a tweet. He also announced that Andrew Wheeler, currently the EPA's second-in-command, will take over as the agency's acting administrator next week.
Regardless of his righteousness, Pruitt blessed Trump by resigning. Over the last six months, Pruitt has attracted endless headlines to the Trump administration. Almost none have been good—and nearly all of them have focused on his misuse of public resources. "A good week for Pruitt," sighed the editors of the conservative National Review last month, "sees only one report of behavior that is bizarre or venal."
It's unclear which (if any) of these countless scandals led to Pruitt's resignation. (Perhaps it was this week's report that he instructed aides to keep a public and a private schedule, with sensitive meetings stricken from the former.) But for companies or nonprofits who actually deal with the EPA, Pruitt's jubilee of grift—while impressive—was always something of a sideshow.
Since taking office last year, Pruitt has waged a campaign to remake key tenets of U.S. environmental law. He began rolling back key Obama-era climate programs, including the landmark Clean Power Plan, which aimed to restrict greenhouse-gas emissions from the electricity sector. He proposed freezing fuel-economy rules for cars and light trucks, and he suspended an Obama-era rule to define the EPA's jurisdiction over small streams and rivers.
Recently, Pruitt's scope has widened. In April, he proposed a new policy that would block the EPA from citing most medical research when crafting clean air or water regulations.
But how successful was Pruitt? It depends on who you ask.
Trump, at least, seems publicly pleased with how Pruitt had done. "Scott has done an outstanding job, and I will always be thankful to him for this," Trump tweeted Thursday. "I have no doubt that Andy will continue on with our great and lasting EPA agenda."
"There will be no noticeable shift from the Pruitt agenda to the Wheeler agenda because it's really the Trump agenda," said Myron Ebell, who led Trump's EPA transition team, in an email. The agency would still focus on "undoing the Obama regulatory onslaught," including "repealing the so-called Clean Power Plan," he added. Ebell has long rejected the mainstream scientific consensus that human industrial emissions are warming the planet.
There's no doubt that Trump and Pruitt have already altered the EPA. More than 700 agency employees, including 200 scientists, resigned from the agency during 2017 alone, according to The New York Times. The agency is referring record-low numbers of environmental crime to the Department of Justice. And its science advisory board was also shuffled to include more industry-friendly researchers.
Trump's proposed rollbacks of climate policy have encouraged higher carbon emissions. The United States is not on track to meet its Obama-era commitments under the Paris Agreement, according to a report last week from the Rhodium Group, an energy research firm. Trump's policies are "already deferring investments that might otherwise have led us to a better pathway," an author of that report told me.
Clearly there have been near-term consequences of Pruitt's EPA. But outside experts told me that they were less sure that his legal work would result in long-term policy change. Sure, they said, Pruitt has generated lots of news stories by canceling Obama-era climate programs—but he has actually done this too quickly, with too little bureaucratic process, to secure their permanent scuttling.
"I don't think there is a big Pruitt legacy," said Jonathan Adler, a law professor at Case Western Reserve University whose scholarship anchored one of the major Supreme Court challenges to the Affordable Care Act. "[Pruitt] started the process of trying to roll back what the Obama administration did. But they tried to do a lot of it in a quick-and-dirty way, and it's not clear that works. Courts want to see that you've done the work."
Even a more conservative federal judiciary would not rubber-stamp many of Pruitt's proposed new rules, Adler told me. As such, he said, Pruitt's successor would need to take a more process-based approach to rolling back Obama rules. "The question is whether or not Wheeler takes a more slow and deliberate pace," he said. "That is the way you achieve lasting policy change, short of legislation."
Some environmental advocates agreed. "The first year of Mr. Pruitt's tenure was marked by reckless abandon seeking to reverse everything that the Obama EPA had done," said John Walke, the director of the federal clean air, climate, and energy program at the Natural Resources Defense Council. "He faced defeat after defeat in court because of his deep mistrust for career staff who could have guided him."
Most of these defeats have concerned small rule changes. Pruitt's large-scale rollbacks of Obama-era policy have yet to be committed to law by the EPA. "Those proposals have not been finalized. And the second crucial step, inevitable lawsuits and judicial review, has not yet been initiated, much less completed," Walke said.
He told me that Pruitt's hasty legal work was unlikely to survive judicial review or a future administration, but that whether the Trump administration will make its mark on environmental policy was a more "open question."
"Pruitt's successors will undoubtedly continue most if not all of the rollbacks initiated by Mr. Pruitt, because that's in line with the president's harmful agenda for the EPA," Walke said. But he wondered if Wheeler would stop implementing some Pruitt-led rules that he deemed "especially venal or motivated by an extreme ideology."
Some of Wheeler's former coworkers speculated along similar lines to Axios. They argued that Wheeler might leave a few more Obama-era rules in place, such as one that forbade tractor-trailer manufacturers from skirting pollution rules by placing an old diesel engine in a new truck body. The trucking industry largely supports the rule, but one Tennessee-based truck dealership reportedly lobbied Pruitt to reverse it.
There's no doubt that Pruitt has overseen one of the most environmentally skeptical EPAs in history. His only competitor is Anne Gorsuch Burford, who served as President Reagan's first EPA administrator in the early 1980s. Public and congressional scorn eventually forced her out of office, too.
And though she downsized the agency, her legal legacy was a Supreme Court ruling that ultimately increased the EPA's power. (Though that case may soon be reversed by her son, Neil, who sits on the Supreme Court.)
Perhaps Pruitt's legacy will resemble hers. Certainly his political story already does. "Scott Pruitt shot himself in the foot so many times it's like he had a vendetta against the hapless appendage," Walke told me. "At the end of the day, Administrator Pruitt brought himself down through his own missteps and misdeeds."