Buzz Aldrin's Son Tells His Side of the Story
"I think people are taking advantage of him."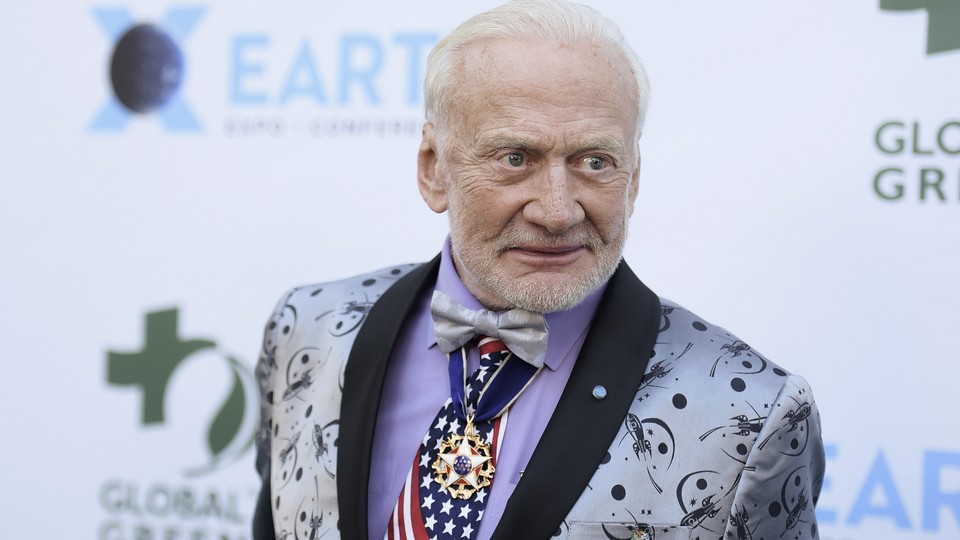 In 2010, Buzz Aldrin, the second man to walk on the moon, celebrated his 80th birthday by swimming with sharks in the Galápagos Islands. Aldrin has loved scuba diving for years.
"I've never really had a hobby, but when I am not working, scuba diving is one of my favorite things to do, and under the sea is my favorite place to be—on this planet," Aldrin wrote in a memoir published in 2016.
Aldrin went with his son Andy. As they prepared to plunge into the water, their guide warned them not to touch any marine life, including whale sharks—slow-moving, plankton-feeding creatures that can grow to be 40 feet long. Andy shot his father a look, Buzz recalls in his book. "And that means you, Dad," he said.
So when Buzz spotted a whale shark in the water, he swam right at it. When he got close enough, he grabbed on to the fish's dorsal fin and let it carry him through the water. A photograph of this moment, captured by Andy, appears in Buzz's book. There Buzz is, wrapped in a wet suit and oxygen tank—the space suit of the ocean—clutching a giant, spotted shark, his flippers kicking up bubbles behind them.
It's moments like these that Andy remembers fondly. "My relationship with my dad for the last 50 years has been really great," he told me in an interview. "Until recently."
Last month, Buzz filed a lawsuit against Andy and his daughter, Jan. The former NASA astronaut has accused his children, along with his longtime manager, Christina Korp, of a barrage of offenses, including taking control of his credit cards, using his money for their own gain, undermining his romantic relationships, and slandering him by telling others that he has dementia and Alzheimer's disease. Filed in Florida state court, the suit alleges fraud, conspiracy, and exploitation of the elderly.
The news of the lawsuit made national headlines last week. Buzz's lawyer, Robert Bauer, made the rounds with news organizations, including this one, to say his client's children were manipulating him. Buzz, now 88, appeared on Good Morning America to defend his mental health. "I'm feeling younger and more energetic really than I have ever been in my life," he said in the interview. "There is less confusion and more clarity."
Andy, Jan, and Korp released statements vehemently denying the allegations. In a recent interview, Andy rebuked Bauer's claims that Buzz and his children have long had a strained relationship. Bauer, Andy said, has known his father for a month.
"I think people are taking advantage of him," Andy said.
Both sides must now prepare for their first court date, which has not yet been set, according to a clerk for Brevard County, Florida, where the suit was filed.
Andy said he believes a new set of managers wants to take control of Buzz's space memorabilia, which is controlled by a trust that Buzz and his children set up in 2016. The lawsuit seeks to remove Andy from his role as trustee.
Korp, who has worked with Buzz since 2011, agrees. She said in a recent interview that the Apollo astronaut told her in June of last year that he no longer wanted her to book public appearances for him. "He just felt pressured to continue to perform every day," Korp said. "He loved to keep busy, he loved to do a lot, but he also very publicly has struggled with depression. Over the years, we always tried to find a balance." Buzz has written about his experiences with depression and alcoholism in the years after his historic moon landing in 1969.
Korp heeded his request. "But that gave him back his time, and he's not someone who does that well with idle time," she said. "His mind goes a million miles a minute."
It was at about this time, Korp said, that Buzz met a business adviser named Lisa La Bonte. A mutual friend had invited all three to dinner in Washington, D.C., to discuss their similar interests; Buzz had traveled to the United Arab Emirates for public speeches, and La Bonte had served as the head of a STEM-education nonprofit group, the Arab Youth Venture Foundation.
Buzz invited La Bonte to an Aldrin family reunion in Florida last August, Korp said. After that, "she just started showing up places," she said.
When I asked Bauer whom Buzz surrounds himself with now, he named La Bonte. Bauer said La Bonte was one of the people who first introduced him to Buzz. La Bonte has not responded to repeated requests for comment, but appeared to tweet about the case. "Buzz, you're famous for rising far above! Those with pure hearts and strong minds know false flags when they see, hear them," she tweeted last week. "Others who are misguided, may or may not ever come around, but focus on your peace of mind, your dreams! I, and all who call you our friend, love you."
Andy said his father is experiencing "increased confusion and memory loss." He grew particularly concerned this year. In January, "Page Six" reported Buzz had a "contentious" conversation with Steven Spielberg at an after-party for the Golden Globe Awards in Los Angeles. Andy said his father approached the filmmaker about the forthcoming biopic about Neil Armstrong, for which Spielberg serves as an executive producer. The film is called First Man. "He's never been very happy about the film," Andy said. "He didn't like that title."
Also in January, TMZ posted a video of an agitated Buzz arguing with a Delta agent over a missed flight. "These kinds of outbursts are things that really made us worry," Andy said.
Buzz was given three court-mandated competency evaluations last week. A Brevard County clerk said the results are not public records.
Korp said Buzz has not returned her calls for weeks. They last spoke by phone in March. "He told me he didn't know who to trust, and he felt like everybody was trying to use him, and he didn't know why everyone kept telling him not to trust me," Korp said. "I said, 'Buzz, come home. Just let us take care of you.'"
In the meantime, Buzz appears to have returned to the public eye in recent months. In May, he appeared at an induction ceremony at the New Jersey Hall of Fame. Buzz, who grew up in Montclair, New Jersey, gave a brief interview to Al Sapienza, an actor from The Sopranos.
For nearly 50 years, interviewers like Sapienza have been asking Buzz about what it was like to go to space. And you can tell, from the twinkle in their eyes and the awe dripping from their voices, that they want a response that will make them gasp. Surely a man who has walked on the moon, who has seen his home as a blue marble against the darkness, has a magical answer for that. Buzz knows this is what people want from him, but after 50 years, it gets exhausting.
Perhaps that's why, when Sapienza asked, because of course he did, Buzz gave him something a little bit different. The Apollo astronaut said that some people, when they escape the reliable tug of gravity, get nauseous. He pantomimed puking, complete with the requisite retching noises. But others, like him, are just fine, he said. Despite what his children say, the Apollo astronaut isn't ready to retreat from the public eye just yet.