Are Male and Female Brains Biologically Different?
The scientific debate around this question keeps raging, but one neuroscientist says we're more alike than we think.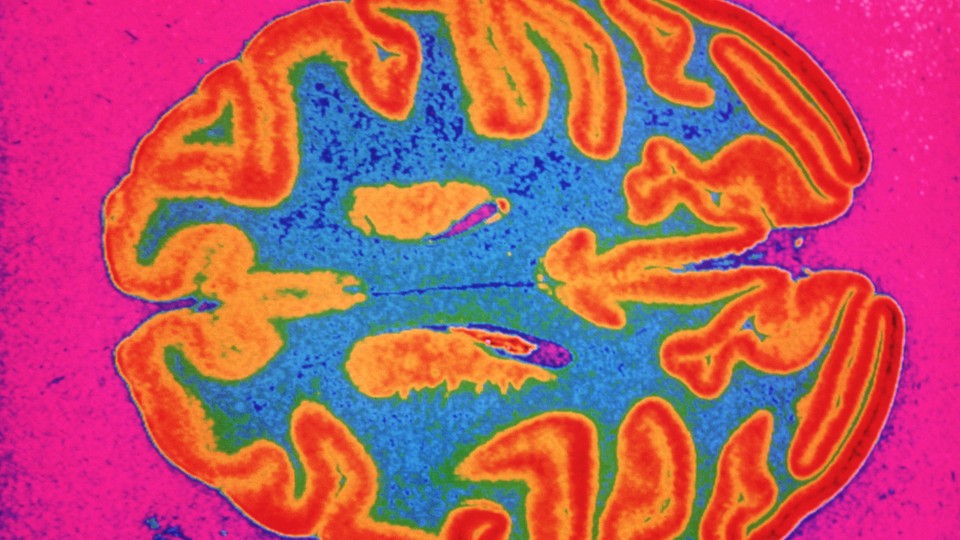 Updated June 26, 2018
Pop neuroscience has long been fascinated with uncovering secret biological differences between male and female brains. The question of whether men and women have innately different brains rarely fails to get people riled up. Just last year, the Google engineer James Damore caused an uproar after publishing a manifesto detailing the various ways women were biologically different from men.
But Lise Eliot, a professor of neuroscience at the Chicago Medical School and the author of Pink Brain, Blue Brain, says that anyone who goes searching for innate differences between the sexes won't find them.
"People say men are from Mars and women are from Venus, but the brain is a unisex organ," she said onstage Monday at the Aspen Ideas Festival, which is co-hosted by the Aspen Institute and The Atlantic.
That's a bold statement, and one science is divided on. It seems to depend on what exactly is being measured. For example, a large study in the U.K. found that many regions of men's brains were larger than women's, and that women on average had thicker cerebral cortices. What does that mean for how the brain works? Unclear. Another study found that "averaged across many people, sex differences in brain structure do exist, but an individual brain is likely to be just that: individual, with a mix of features," as New Scientist reported in 2015.
But there's no doubt that whatever their brains look like, behavior and school performance differences between men and women are strongly shaped by socialization.
Eliot said that Damore has a misunderstanding of neuroscience and that his letter overstated the role of testosterone in male and female bodies. While testosterone is linked to aggression, it doesn't offer a universal explanation for male behavior. Eliot also said that everyone, regardless of sex, can be competitive or aggressive, but males and females might have different ways of expressing those traits based on social norms.
Eliot blames academia and the media in part for the cycle that leads to the ongoing argument over biological brain differences. Because most scholars know that any small statistical difference between men and women will make headlines, academics, desperate for funding and attention, often focus studies on gender disparities. "You go back to data, analyze it for sex, and if you find a difference, then guess what: You have another paper," Eliot said.
She said that even scientifically indisputable differences, such as the oft-cited statistic that male brains are 10 percent bigger than female brains, don't mean anything. All of men's organs are bigger on average, but that doesn't mean they function differently.
If scientists and academics were to begin with the premise that men and women are equally capable, Eliot said, their studies would result in radically different conclusions.
For instance, many, including the then–Harvard University president Lawrence Summers, have used a 1970 study that showed men outperformed women 13 to one on the math portion of the SAT to explain why there aren't more women at the top of STEM fields. "People said brilliance in math is a male phenomenon," Eliot said.
Of course, it turned out women were being discouraged from pursuing STEM. Once more programs were put in place to foster this type of learning, the ratio dropped to three to one, Eliot said, and is now on its way to closing.
"We live in a gender-binary world," said Eliot. "The default assumption is that these differences are hard-wired ... But male and female brains are not much [more] different from each other than male or female hearts or kidneys."