What's Going On With Buzz Aldrin?
The Apollo astronaut is suing his children and longtime manager—but no one can agree on the truth.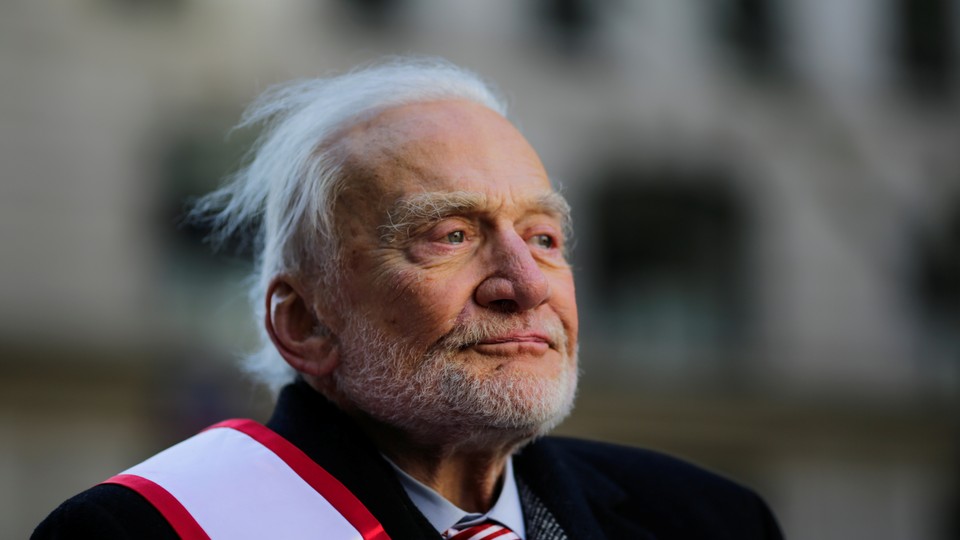 Buzz Aldrin, the second human to walk on the moon—to press bootprints into the dusty surface and gaze upon the horizon as it curved against the blackness of the space—is now embroiled in something much less awe-inspiring. He's suing his kids.
"I really felt that it really didn't need to come to this," the Apollo astronaut said in an interview with Good Morning America on Tuesday. "It's the saddest thing that ever happened in my family. But as I've seen, family is forever and I will forever be trying to patch it up."
To understand the lawsuit requires taking stock of what Aldrin has done since July 20, 1969, when he and Neil Armstrong pulled open the hatch of their lunar module and made history. Unlike Armstrong, Aldrin embraced the public attention back on Earth, fueled by what seemed to be an almost messianic desire to promote space exploration. He flew around the world to give speeches, wrote nearly a dozen books, and made many cameos on television shows. He talked about his plan to get humans to Mars to anyone who would listen, including Barack Obama on Air Force One. He sells T-shirts that say "get your ass to Mars." Even his short stint on Dancing with the Stars in 2010 was done, in part, to "inspire interest in the space program," he explained in one of his memoirs. Just last week, Aldrin, now 88 years old, was at the White House for a meeting of the National Space Council.
In the nearly 50 years since he walked on the moon, Aldrin has built an empire. And it's this empire that the former astronaut says has been mishandled.
Aldrin filed a lawsuit earlier this month in Florida state court against his two youngest children, Andy and Jan Aldrin, and his longtime manager, Christina Korp. Andy and Jan are board members of Buzz Aldrin's ShareSpace Foundation, a nonprofit that promotes STEM education for children. Korp is Buzz Aldrin's "mission-control director" and the vice president of marketing and business development at Buzz Aldrin Enterprises, a private company.
The lawsuit, which can be viewed in full here, is a tangle of allegations of fraud, conspiracy, exploitation of the elderly, and other finance-related charges. In it, Buzz alleges that Andy and Korp have taken control of his "personal credit cards, bank accounts, trust money, space memorabilia, space artifacts, social-media accounts, and all elements of the Buzz Aldrin brand." The suit claims that Andy transferred $475,000 from his father's bank account into his own bank account over the last two years, and that the two children have spent up to $60,000 using credit cards that are authorized under Buzz's personal account, all without Buzz's knowledge or consent.
The former astronaut further claims that Andy, Jan, and Korp have "forbidden" him from marrying and "specifically and deliberately have undermined, bullied, and defamed all of [his] personal romantic relationships." He alleges that Andy and Korp have slandered him by telling others that he has dementia and Alzheimer's disease.
The Aldrin children have denied the allegations. "The time has come to recognize where the elder exploitation is truly occurring and address the flawed foundation of the lawsuit," they said in a statement Tuesday. "Let it be clear that every one of these allegations are products of the increased confusion and memory loss that Dad has demonstrated in recent years."
Korp also denies the claims, and believes that the lawsuit is the result of Buzz being manipulated by a new set of managers. "Almost a year ago, some people began to exert undue influence on Buzz," Korp said in a statement. "These individuals began to actively try to drive a wedge between Buzz and his children, and me, for what I fear is their own benefit."
Korp said these managers are behind a newly formed company called Buzz Aldrin Ventures, which was established in April, according to public records. According to California's database of business registrations, Robert Tourtelot, Buzz's longtime friend and lawyer, is the registered agent on file for the new company, which is based in Santa Monica, California. Tourtelot and Lisa LaBonte, a business adviser, found Robert Bauer, a Florida-based attorney, to represent Buzz in the lawsuit, Bauer told me. LeBlanc, LaBonte, and Tourtelot did not respond to requests for comment.
The legal battle appears to stem from a rift in management of Buzz's affairs. The old guard—his children and Korp—against the new team behind Buzz Aldrin Ventures. Andy and Jan claim their father is experiencing cognitive decline, but his new handlers say he's just fine.
The first signs of this tug-of-war spilled into public view last week, when Buzz's verified Twitter account, @TheRealBuzz, posted this tweet about Korp:
Hey Twittersphere, pls RT @buzzs_xtina was terminated and does NOT represent Buzz Aldrin in ANY capacity. Her days of using Buzz's voice & brand to self-promote/ promote her clients i.e. @AstroTerry are over. [Hope she changes her twitter handle soon as that's just embarrassing!]

— Buzz Aldrin (@TheRealBuzz) June 19, 2018
For Buzz's regular follows, the language in the tweet didn't sound like The Real Buzz. Keith Cowing, the journalist who runs NASA Watch, which covers news about the space agency, contacted the Buzz Aldrin Space Foundation, where Andy and Jan also work, for comment. He received a rather cryptic response, which he shared on Twitter: "We are not sure who is responsible for the tweet regarding [Korp], but we are confident Buzz did not write this," a spokesperson for the foundation told Cowing. "I will add that the Aldrin family and Foundation colleagues have expressed concern for Buzz's potential vulnerability to manipulation by other parties seeking to gain access to and control of Foundation and personal resources."
Cowing noticed that the first person to "like" the tweet was Linn LeBlanc, the chief operating officer of Buzz Aldrin Ventures, according to LinkedIn. He also pointed out that another Buzz Aldrin account appears to have been set up in June, @MoonMarsBuzz. One of the first followers of this account is LaBonte, the business adviser who hired Bauer.
Buzz denies his children's claims about his mental state. "I'm feeling younger and more energetic really than I have ever been in my life," he told Good Morning America on Tuesday. "There is less confusion and more clarity."
Bauer said Buzz's relationship with his youngest children has always been strained. "It's been a tumultuous relationship," he said. "There's been periods of estrangement." (The eldest Aldrin child, James, is not involved in the lawsuit. Of his relationship with his father, Bauer said, "it's okay.")
But Buzz is known for speaking glowingly of his children. "It means a great deal to me that Andy has chosen to carry on my work," Buzz wrote in his 2016 memoir, No Dream Is Too High: Life Lessons From a Man Who Walked on the Moon. "Although I am proud of all my children, Andy is more similar to me, in that he is always up for almost anything I'm willing to try."
Buzz had even more praise in the memoir for Korp, who is included in numerous anecdotes throughout the book. Since his two sisters passed away, in 2012 and in 2015, "Christina is now my conscience and my indispensable crutch," he wrote. "Like my mother and my sisters, she is not a 'yes person,' so she, too, holds me accountable, and I will be forever grateful."
Buzz added that Korp, her husband, and their children, one of whom bears "Buzz" as one of his middle names, "have become like family to me."
"Christina not only manages my business, but she manages my life, and nowadays, she often teases that she has become my substitute mother, protecting my interests and making me behave ... or else!" he wrote. "We have a wonderful, close relationship, and I depend on her wisdom and expertise."
Korp's role has been a mix between handler and babysitter. According to a profile of Buzz by Jeanne Marie Laskas, published in GQ in 2014, Korp is frequently seen just offstage, gesturing to her boss to wrap it up when he goes over time during a public speech. She even "acts as a bouncer for all of the gold diggers trying to pry themselves into chez Buzz," Laskas wrote. "Christina is his shield. She wants him to slow down, to stop with the ladies, to stop feeling like he has to fly to friggin' Dubai to give a speech, but she knows he's incapable of stopping either."
Korp was briefly fired from her roles with Buzz in 2011, by his former wife Lois, according to the GQ profile. Lois, to whom the astronaut was married from 1988 to 2012, had become a de facto publicist for her husband, trotting him out for all kinds of events and commercial deals, Laskas reported:
He went on every talk show imaginable—all over the world. She turned down virtually nothing. He made none of the choices. He imagined himself promoting space, doing something good for the world and the future of mankind. He did what Lois told him to do, and now they were raking in millions, endorsement deals with Louis Vuitton, Tommy Hilfiger, Apple, Grundig, Nike.
Buzz hired Korp back after his relationship with Lois ended. According to his memoir, Korp took on one of Lois's daily duties, making the astronaut a Cobb salad for lunch.
A fissure in the working relationship between Korp and Buzz, whatever the cause, seemed to widen this spring. According to documents shared in the lawsuit, Tourtelot sent a cease-and-desist letter to Korp in April, on Buzz's behalf, ordering her to stop any activity associated with the Buzz Aldrin name. He sent another letter in May, this time terminating her employment at Buzz Aldrin Enterprises. Korp told me she remains employed there.
In June, Andy and Jan Aldrin filed a petition in Florida state court requesting to be appointed their father's co-guardians, saying that he "suffers from cognitive decline" that has "resulted in loss of memory, confusion, general delusions, paranoia, and unusual behavior," according to ABC News. The petition said Buzz "is now associating with new acquaintances who appear to be manipulating him with false information to their own benefit and his detriment."
Bauer said Buzz voluntarily underwent a competency evaluation this spring and was found to be "perfectly competent." After Buzz filed suit against his children and Korp, the court also ordered him to undergo three competency exams. The first was scheduled for Tuesday and the rest for Wednesday, and will be conducted in a "neutral location," Bauer said.
"This is a growing problem that we have in America," Bauer said. "We have older people who have worked hard their entire lives, have built their legacy, and then we have children who come up later and, in many instances, decide they know better than their parents. This really appears to be an instance of, 'you're old, you're senile, because you don't agree with me.'"
I asked Bauer who Buzz surrounds himself with now that his relationship with his children and Korp appears to have broken down. Bauer said the astronaut is supported by his staff, including Lisa LaBonte. "But honestly, he takes care of himself in a lot of things," Bauer said. "He travels on his own and he has a girlfriend."
Next year will mark the 50th anniversary of the moon landing—and of Buzz Aldrin's legacy. But that legacy has never been entirely his. Since Buzz became a national symbol, he has been asked, year after year, what it felt like to be on the moon, and he's had to answer, even when he didn't feel like talking about it. The public held the reins on his image. But the empire that he launched using that celebrity—he could control that. At least, according to his lawsuit, he thought he could.