Trump's NASA Chief: 'I Fully Believe and Know the Climate Is Changing'
"I also know that we human beings are contributing to it in a major way," Jim Bridenstine said, taking an unusual stance for his administration.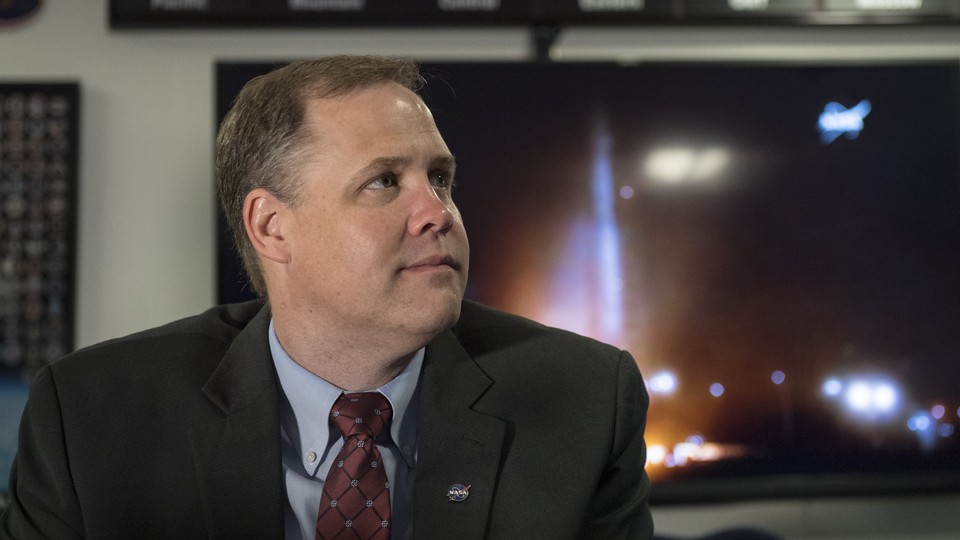 The new administrator of NASA held a town hall Thursday at the agency's headquarters in Washington, D.C. Jim Bridenstine is about four weeks into the job, and his path here was mired in controversy. After a few opening remarks, he started taking some questions. The first was about what Bridenstine thinks makes him qualified to be the head of NASA. The second was, as the moderator put it, "one more easy one—because it's about climate change."
Bridenstine laughed. So did many in the room. It was an uncomfortable question. Bridenstine, as a Republican in Congress, has a record of denying that humans are responsible for causing climate change. For Democrats and liberals, Bridenstine's view on this and other issues—particularly on same-sex marriage and transgender rights—made him a contentious pick to lead NASA, an agency that supports climate-change research and very publicly agrees with the majority of climate scientists who say that humans are the primary cause of the planet's rising temperatures.
"As far as my position on climate change and how it's evolved, I'll be very open," Bridenstine replied. He described, as he has done multiple times before, his longstanding interest in funding weather-forecasting programs, particularly for tornadoes, which threaten people in Oklahoma, Bridenstine's home state, each year. Then he got to what his critics wanted to hear.
"I don't deny that consensus that the climate is changing," he said. "In fact, I fully believe and know that the climate is changing. I also know that we humans beings are contributing to it in a major way. Carbon dioxide is a greenhouse gas. We're putting it into the atmosphere in volumes that we haven't seen, and that greenhouse gas is warming the planet. That is absolutely happening, and we are responsible for it."
Bridenstine did not say that humans are the main drivers of climate change. But his assertion that people are contributing to climate change "in a major way" marks his strongest support to date for the scientific consensus behind warming temperatures. And he went further than perhaps any other Trump-picked leader has.
Bridenstine went further on Thursday than he has in the past—even in the very recent past, like at his Senate confirmation hearing in November, which was convened a month after President Trump picked Bridenstine as his choice to lead NASA. When Brian Schatz, a Democratic senator from Hawaii, questioned Bridenstine about his views on climate change, Bridenstine said, "I believe carbon dioxide is a greenhouse gas. I believe that humans are contributing to carbon dioxide in the atmosphere."
"To what extent?" Schatz asked.
"That is a question I do not have an answer to, but I do know that humans have absolutely contributed to global warming," Bridenstine replied.
"Are they the primary cause?" Schatz said.
"It's going to depend on a whole lot of factors, and we're still learning more about that every day," Bridenstine said. "In some years, you could say absolutely. In other years, during sun cycles and other things, there are other contributing factors that would have more of an impact."
Bridenstine said something similar in June 2013, six months after he took office in the House of Representatives, and soon after a tornado killed 24 people in Oklahoma. During a floor speech, Bridenstine asked former President Barack Obama to apologize to Oklahomans for spending more money on global-warming research than on weather forecasting and warnings (a claim that PolitiFact, a fact-checking website run by reporters, rated as "mostly false.")
"Global temperature changes, when they exist, correlate with sun output and ocean cycles," Bridenstine said back then. "During the Medieval Warm Period from 800 to 1300 A.D., long before cars, power plants, and the industrial revolution, temperatures were warmer than today. During the Little Ice Age from 1300 to 1900 A.D., temperatures were cooler. Neither of these were caused by any human activity." (Scientists have found that volcanic eruptions also play a large role in these natural changes in climate, and they note that recent temperature changes dwarf any of these historic anomalies.)
Bridenstine's appearance at Thursday's town hall signaled a shift in the way he talks about climate change—and it was fairly reassuring for some on the other side.
"This goes to show Jim is a realist and pragmatist on climate—much as we had hoped when we looked to the confirmation hearing to hear the right answers. The answer he gave today is the right answer," says Phil Larson, a former adviser in the White House's Office of Science and Technology Policy under Obama and the assistant dean of the University of Colorado at Boulder's College of Engineering and Applied Sciences. "But what's even more important than right answers is how does that translate to NASA's earth-science portfolio?"
Indeed, it's possible that Bridenstine was trying to make sure his employees don't hate him. It's also possible Bridenstine is trying to convey, ever so slightly—and ever so unlikely, as his most vocal critics would probably say—that he's changing his mind.
As far as my position on climate change and how it's evolved, he had said. "Evolve" is a favorite word for politicians seeking to change their public opinions about something without incurring the wrath of flip-flopping accusations. In 2008, Obama said he didn't support marriage for same-sex couples. In 2010, he shifted, saying "Attitudes evolve, including mine." A memoir from David Axelrod, an Obama adviser, revealed in 2015 what many had already suspected: The former president only made that statement in 2008 because it was politically expedient. When Bridenstine was in Congress, it was probably politically expedient to rail against human-caused climate change. Perhaps he knows that now, at NASA, it's not.
Still, whether Bridenstine's views on climate change have changed or not, the views of his bosses haven't, and this remains a point of concern for Bridentine's critics. The Trump White House has proposed cutting or canceling many of NASA's earth-science missions. So far, they've been spared. Republicans don't have enough seats in the Senate to pass their dream budgets, so they've had to negotiate bipartisan budget legislation with Democrats. This setup has preserved most of NASA's climate funding, but not all. The latest budget deal didn't specifically mention NASA's Carbon Monitoring System, a $10-million program to track greenhouse-gas emissions around the world. The Trump administration took that as an opportunity to terminate the program for good.
Bridenstine became NASA chief 15 months after Obama's pick stepped down, an unprecedented gap in the transition between two administrations. How does the White House feel that less than a month in, he's making one of the most supportive statements for climate change of any Trump-nominated leaders?
"The climate has changed and is always changing," said Raj Shah, the principal deputy press secretary. "To address climate change as well as other risks, the U.S. will continue to promote access to affordable and reliable energy and support technology, innovation and the development of modern and efficient infrastructure in order to reduce emissions and effectively address future climate-related risks."
---
Robinson Meyer contributed reporting to this article.