Madame Pele's Grip on Hawaii
The Big Island's residents are reacting to Kilauea's latest eruption with a combination of grief and reverence.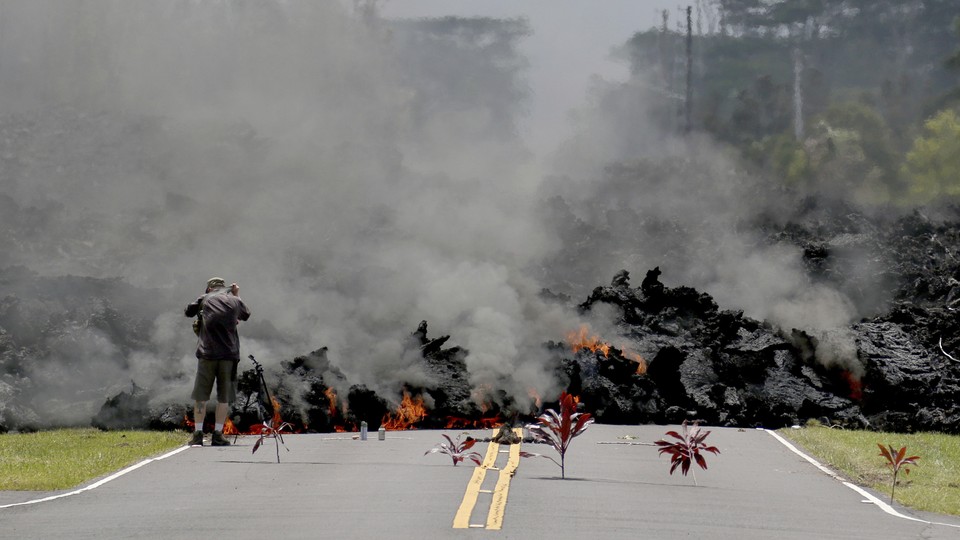 Of all the Hawaiian deities, Pele is perhaps the most formidable. The goddess of fire (and volcanoes and lightning and wind), she has a reputation for being as fickle as she is fervent. From her home in the Halemaʻumaʻu crater at the summit of the Kīlauea volcano, the legend goes, Madame Pele determines when and where the lava flows. She is the goddess who "shapes the sacred land."
Pele's presence is always felt on Hawaii's Big Island—Kīlauea has been erupting continuously since 1983. But rarely is it felt as much as it is right now. A cocktail of molten rock, gas, and steam is being forced up through the ground in parts of the island's Puna district, creating 15 fissures as of Thursday morning. Toxic volcanic gas is spouting out of cracks and vents; lava is cutting across roads and burning trees and infrastructure; dusty-rose plumes of ash are muddying the already murky sky. Geologists are now predicting that Kīlauea will experience an explosive eruption in the coming weeks, potentially ejecting "ballistic rocks."
The devastation has been severe: As of Thursday, according to aerial surveys, the Kīlauea volcano had destroyed three dozen structures—most of them homes in and around a lush, relatively elevated community known as Leilani Estates. Around 2,000 people have been forced to evacuate, many knowing they wouldn't be able to return to their homes for some time—if ever.
One Leilani Estates resident, Isaac Frazer, said Wednesday that he wasn't sure how his house would fare; he was hopeful it had been spared, although his neighbor's place was one of the first to be incinerated by the eruption. Another community local could only grab a handful of essentials when evacuating his home because the volcanic gas was so overpowering that he and his family were choking. "This is too sensitive and painful for us," he told me via text message. Susan Osborne, the principal of Kua o ka Lā charter school (which remains closed because of the air quality), sent me a text on Monday evening explaining that a fissure had burst right beside her house. When Osborne sent the message, she was at her home frantically collecting sentimental items and attempting to rescue her three cats. Osborne told me on Wednesday that she only managed to save one of them.
The devastation is poised to continue, and experts have little clue as to when, and where, the current flood of lava will cease to flow. But the belief that Pele is both a destroyer and a creator has offered many locals some consolation. They see the goddess's unpredictability as a fact of life that they not only accept and prepare for but also internalize and revere. The goddess of fire alone decides when she'll morph from ka wahine 'ai honua—the woman who devours the earth—into the shaper of sacred land. The myriad hoʻokupu (offerings) found all over the Big Island, from Halemaʻumaʻu crater to black-sand beaches to paved highway roads, attest to her grip on its residents.
"This is part of living in Pele's home," Joy San Buenaventura, a state legislator who represents the Puna district, told me on Monday. She was driving when we spoke, her voice panicky as she lamented how this "slow-moving disaster" will keep many displaced residents in emotional and financial limbo for months. Yet, she noted, "when the lava flow comes in, Hawaiians clean up their house to welcome Pele. They believe that Pele is coming to visit even if she leaves a path of destruction."
This sentiment pervaded my conversations with locals, including those who don't have Native Hawaiian ancestry, in recent days. It's evocative of an almost-ubiquitous worldview that sets Hawaii—where I was born and raised, on the island of Oʻahu—apart from the rest of the world. For lots of Puna residents, an eruption like the one currently charging through their region is both an awful natural disaster and an invigorating spiritual reckoning.
"People on the mainland—they're using all of these negative words" to describe the eruption, said Olani Lilly, an administrator at Ka ʻUmeke Kāʻeo, a Hawaiian-language charter school near the beach in downtown Hilo. But, she told me Wednesday, the eruption is "creation—it's creating new land ... it is a law of nature; with or without us, those processes will continue. We're fortunate enough to observe it, to have reverence for that amazing power."(The school, which teaches science using the Hawaiian system of knowledge, or Papakū Makawalu, canceled classes for several days because of a series of strong earthquakes last week that threatened to prompt a tsunami.)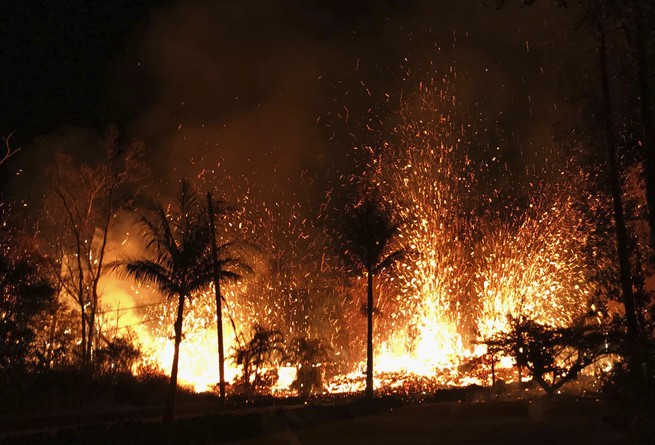 Frazer, the Leilani Estates resident who hasn't been able to check on his home, echoed Lilly's perspective, describing locals' relationship with Kīlauea as one defined by what he deemed a "mystic understanding." "Hawaii and this part of Hawaii in particular," he said, "is a place where religion, deities, cultures, science, and nature clash completely."
This clash informs how many kamaʻaina (locals) think about Kīlauea eruptions, even those who don't fully subscribe to Hawaiian spirituality. Puna—an expansive, rural region long known for its widespread poverty and high unemployment rates—is now the Big Island's fastest-growing district, its affordable housing prices attracting thousands of islanders and mainlanders and prompting a surge in development. For its part, Leilani Estates is a middle-class neighborhood home to lots of retirees and vacation rentals. Some locals interpret Pele's latest outburst as a warning: Hawaii, with its finite space and sacred land, can only withstand so much development and so many outsiders.
In fact, this mentality is how some kamaʻaina think about all kinds of catastrophic natural events. The fire captain of Kauaʻi, for example, drew a similar connection in commenting on an April rainstorm that caused landslides and damaged about 350 homes on Kauaʻi's northern shore, a sleepy, scenic part of the island that's seen a surge in posh vacation rentals. "Mother Nature is reclaiming the land right now," the captain told the  Honolulu Civil Beat, "and it's teaching everyone a lesson."

Steve Hirakami—who oversees the Hawaii Academy of Arts and Science, a charter school just a few miles away from Leilani Estates that was nearly consumed by lava from an eruption in 2014—embodies the fusion of values and belief systems to which Frazer alluded. Hirakami analogized climate change and the increasing severity of natural disasters accompanying it to a divine sign. He pointed, for example, to geothermal-energy drilling on the Big Island. Relying on volcanic hot spots to create steam, this technology has long been a source of controversy in Hawaii, in part because of fears that its extraction will, as one Columbia University Ph.D. candidate put it, "extinguish Hawaiian life—land, spirit, and people."
Hirakami recalled discovering in the late 1970s that a company was digging an exploratory well up along the slopes of Kīlauea and quickly telling a kupuna (elder) who lived in his community, which at the time was occupied almost entirely by Native Hawaiians who lived off the land. Appalled, the kupuna warned that Pele would respond, prophesying when and where. And respond Pele did, according to Hirakami, with a series of eruptions that ravaged the exact areas she predicted in the exact same order. "We're not taking care, we're not taking care," Hirakami said. "Nature is responding to us not taking care."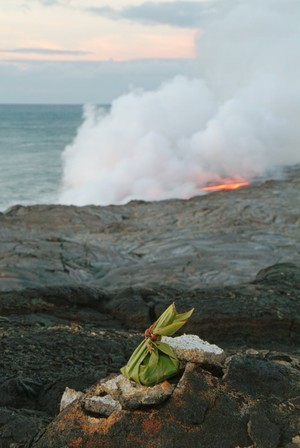 Still, islanders' complex relationship with Kīlauea is defined by more than just a "mystic understanding." Hawaii is the most isolated landmass on the planet. And it's a tiny landmass, an all-but-undetectable cluster of dots on world maps. It's also in the middle of the Pacific Ocean, nearly equidistant from the continental United States and Asia, and at the bull's-eye of the Ring of Fire, a string of volcanoes and seismic-activity sites around the ocean's edges. These characteristics help explain why the islands are so vulnerable not only to natural disasters but also to man-made ones.
Locals' attitudes toward these catastrophic events, in turn, could amount to a Darwinian-like response to Hawaii's environmental reality. That dynamic is bolstered by the "hang loose" lifestyle that's endemic to the islands, which ranks first in the country not only for its share of multiracial Americans but also for its people's happiness and well-being levels. With its rampant homelessness, skyrocketing cost of living, and deep-seated racial tensions, Hawaii is hardly the idyllic paradise many make it out to be—and residents' attitudes toward such catastrophes are as nuanced and diverse as their demographics. Still, there's no denying that kamaʻaina tend to see the world through a lens that's tinted by their unique physical and cultural surroundings.
Thus, Pele is a fact of life. Frazer recalled the particularly devastating Kīlauea eruption that started in the late 1980s, when he was a child; he remembers observing the lava as it ignited homes and cars and buried the entire community of Kalapana, where he had grown up. Lava was spewing everywhere as helicopters observed from above. "It was the most scenic experience—seeing this creation," he said. "But just five miles down the road it was business as usual—there were barbecues, the stores were open, the banks were open. Seeing the lava come to the surface, [when I was] just 7 or so years old, it was a pretty intense, amazing experience."
There's also something powerful, Frazer added, about "seeing those eruptions, knowing what damage it can do, knowing those dangers, and knowing the fact that [our community] has been erupted on, and that people have continued to live here and that the aloha thrives here." This has instilled in locals a special blend of grit and humility and camaraderie—a sort of Aloha Spirit 2.0. In my travels to and reporting on the Puna region, I've seen how infectious this ethos is, how it leaves a mark on anyone who visits. Frazer's current shelter situation is evidence of that: He's staying at the home of a couple from Alaska whom he'd never met before—they simply offered their house to anyone in need of a place to stay.
Osborne, the principal of Kua o ka Lā, told me via phone Wednesday that she was doing everything she could not to have a meltdown amid what seemed like a sea of meltdowns throughout the Puna region. She still didn't know the fate of her two missing cats, and the home in which she's currently taking shelter has to be evacuated soon because it's located near one of the fissures that recently formed. "It's just beyond words—the catastrophe is just immeasurable," she said. "Everything is so uncertain right now."
When Kua o ka Lā reopens, the focus will be on supporting kids' social and emotional well-being to help them cope with the aftermath. That, Osborne said, will require a wholehearted embrace of the school's core values: Aloha kekahi I kekahi ("have love for one another") and Kōkua aku Kōkua mai ("give help, receive help"), among others. "We're a very resilient community," she concluded. "We have already come together in a profound way."