Ebola Returns Just as Trump Asks to Rescind Ebola Funds
Fortunately, the new outbreak is happening in the DRC, a country well versed in fighting the dreaded virus.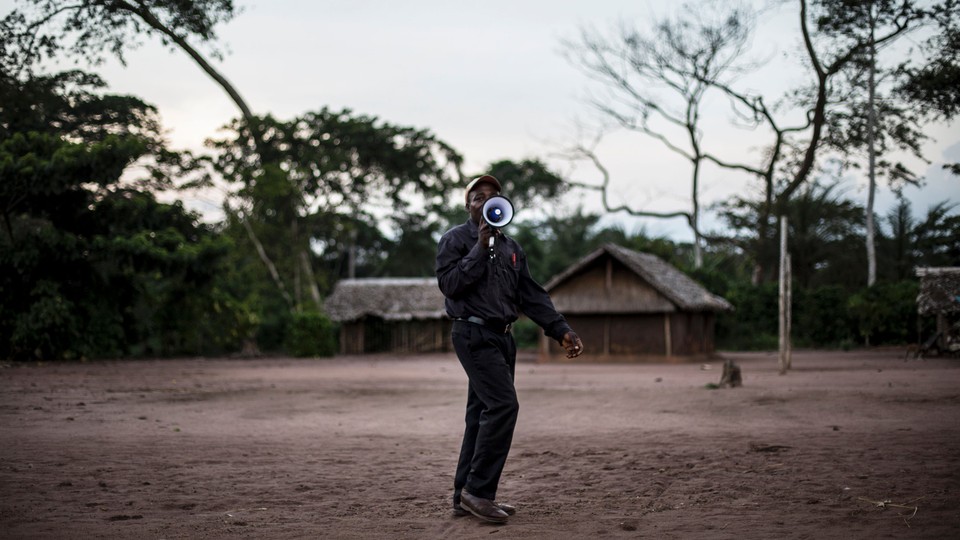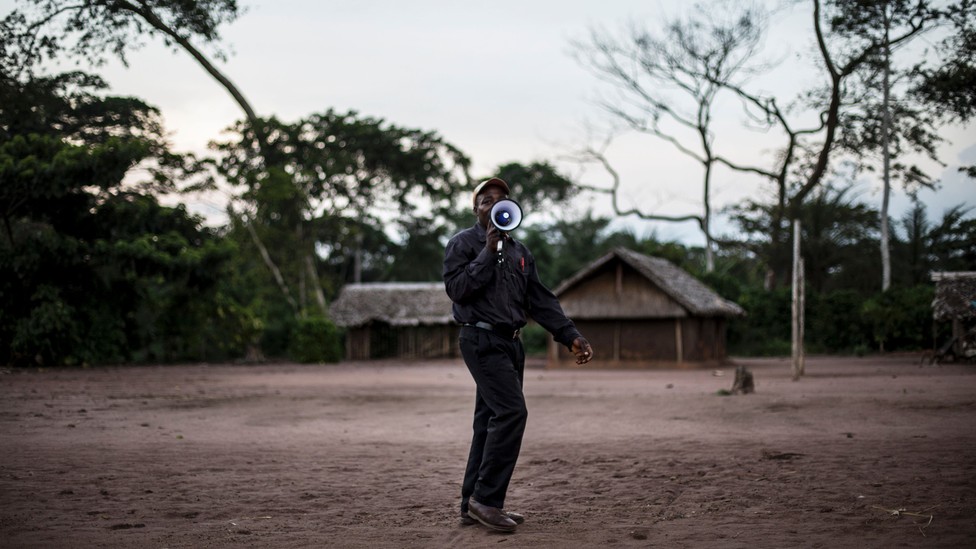 Ebola is back.
The infamous viral disease first made itself known to the world in 1976, in a small village called Yambuku in the Democratic Republic of the Congo. Now, 42 years later, Ebola is causing another outbreak in the DRC—the ninth in the country's history.
The new outbreak has hit the town of Bikoro in the northwestern part of the country. The nearby Ikoko-Impenge health facility—picture a small building with no electricity and limited supplies—reported 21 suspected cases over the past 5 weeks. Seventeen have died, but it's not clear how many of these people actually had Ebola. So far, just two cases were actually positive for the virus in laboratory tests, out of five samples that were sent to the National Institute of Biomedical Research (INRB) in Kinshasa.
Some might wonder why lab tests are necessary. Isn't Ebola so horrific that a case would be obvious? Actually: no. Ebola's symptoms have been grossly exaggerated by The Hot Zone and other popular accounts. In reality, it is often indistinguishable from more common illnesses like malaria or typhoid. Only a minority of patients hemorrhage, and most do so lightly. The virus doesn't liquefy its victims' organs, nor cause blood to gush from every orifice. When Ebola kills, it's usually through extreme dehydration.
For now, there is no reason for alarm. Despite the unprecedentedly large Ebola epidemic in West Africa, which infected 28,000 people and killed 11,000 between 2014 and 2016, most Ebola outbreaks have been small and contained affairs. Several have involved handfuls of cases. Already, experts from the World Health Organization, Doctors Without Borders, and local Congolese health institutes have traveled to Bikoro. The CDC is supporting local public health partners, and the WHO is planning to deploy more personnel and protective equipment, and has released $1 million from a contingency fund to help stop the outbreak.
A sense of geography is helpful. Look at the back of your right hand. Stick your thumb out and begin curling your fingertips in, stopping short of making a fist. That's the DRC—a country one-quarter the size of the United States. The capital city, Kinshasa, sits on the knuckle of your thumb. Bikoro, the site of the new outbreak, is on the base of your index finger. Yambuku, the site of the first 1976 outbreak, is on your middle finger. Kikwit, where the next major one happened in 1995, is at the base of your thumb. That was the outbreak, documented by camera crews and chronicled by Laurie Garrett in Vanity Fair, which helped catapult Ebola to global infamy.
Look at your hand-map again. Most of it is smothered by inaccessible forest, with just 1,700 miles of paved road. The remoteness of this terrain made it easier to control outbreaks like the most recent one, which hit the Likati health zone in 2017. It was contained within just 42 days, after just eight suspected cases and four deaths. The DRC and its partners are now looking to repeat that success in Bikoro.
It could be more challenging. Unlike Likati, Bikoro lies close to the Congo River—a major trade route—and close to the border with the neighboring Republic of the Congo. These connections increase the risk that the outbreak will spread. Then again, it also makes it easier to mount a response.
The DRC has become very good at controlling Ebola. The INRB in Kinshasa is more than capable of doing diagnostic tests without having to ship samples out to the United States. Its director, Jean-Jacques Muyembe Tamfum, was the first scientist to encounter Ebola at a time when he was the DRC's only virologist, and has been involved in every outbreak response since. He and his colleagues have also trained a crack-team of researchers and disease detectives. "We're advanced in public health," said Gisèle Mvumbi, a CDC-trained Congolese epidemiologist at the INRB, whom I met when I visited the DRC earlier this year. "If you compare us with Europe or the United States, eh, but here in Africa, we are high. We have experience."
The country excels at spotting diseases early. In the wake of the Kikwit outbreak, scientists like Muyembe and Emile Okitolonda, who leads the Kinshasa School of Public Health, trained medical staff in all of the country's 500-plus health zones to report potential symptoms. Now, even traditional healers and pastors know to do this. "Here, we have a surveillance system that works," Okitolonda told me when I met him in the DRC. "Here, nurses know that if they see a suspected case, they report it."
They might increasingly have cause to do so. "The last outbreak occurred approximately at the same time of year, and it appears that these outbreaks are occurring with greater frequency," says Anne Rimoin from UCLA, who has worked in the Congo for 16 years. That could be because the Congolese are getting better at detecting the disease, "but there is some evidence that this outbreak appears to have been smoldering for a few months," Rimoin adds. "Perhaps the ecology is changing, and it has something to do with the reservoir species." She means the animals that harbor the Ebola virus—bats are likely candidates, but the exact species is still a mystery.
"More information is needed on the potential introduction of disease into the human population or whether animal die-offs have been reported," says Rebecca Martin, Director of CDC's Center for Global Health. Her team and others are working to support studies of the disease's ecology as a priority.
The DRC's main challenge is its lack of resources. Sure, they can detect Ebola cases quickly, but someone then has to investigate, usually without suits, masks, or even gloves. Such equipment was distributed after the Kikwit epidemic, but Okitolonda told me that within five years, they had all been used up. "It'll be the same story in West Africa," he lamented, now that the catastrophic outbreak of 2014 is over. "Resources will disappear and people will forget."
The United States is already forgetting. Just as news of the Ebola outbreak broke, Donald Trump asked Congress to rescind $252 million that had been put aside to deal with Ebola, as part of a broader move to cut down on "excessive spending." That pot of money is the leftover from a $5.4 billion sum that Congress appropriated for dealing with the West African Ebola epidemic in 2015.
That epidemic ended two years ago, but "having some money left over was intentional," says Ron Klain, the former Ebola czar. It allows USAID to quickly deploy responders to the site of a future outbreak, to prevent it from metastasizing into an international disaster. It is not, as the Trump administration suggests, an example of "irresponsible federal spending." Quite the opposite: It's a savvy investment, since epidemics are always more expensive to deal with once they rage out of control.
Congress has 45 days from the time of Trump's request to act, during which time the $252 million is frozen. If they vote it down, or simply ignore it, the funds will be spent as intended. But "if Congress accepts Trump's proposal, USAID will have no funding for a response when the next crisis comes," says Klain, "and it will have to wait until Congress passes new funding, or diverts funds from some other, then-existing disaster response."
"It is crazily short-sighted to do this," he adds.