What Does an Infamous Biohacker's Death Mean for the Future of DIY Science?
Aaron Traywick drew attention to the field with his over-the-top antics. His passing leaves biohacking at a crossroads.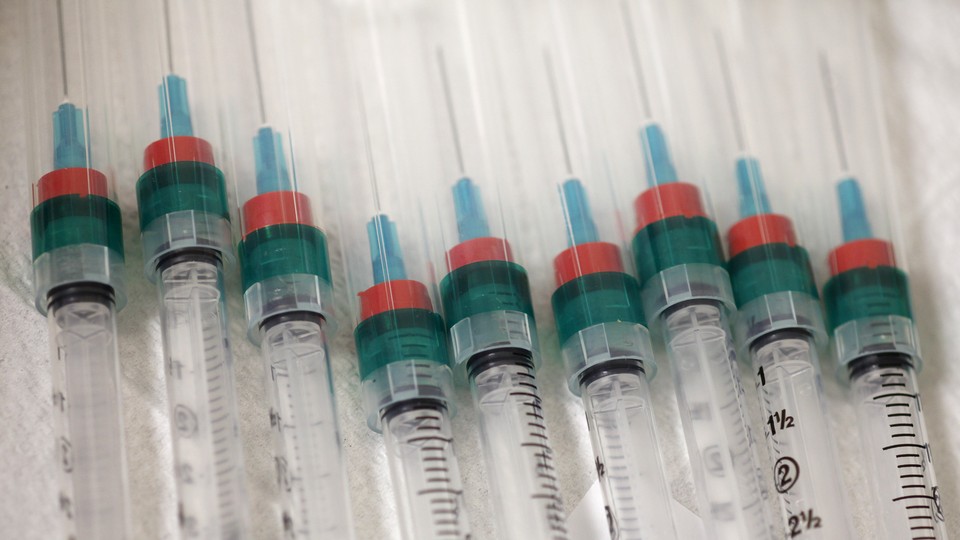 Aaron Traywick lived life as a spectacle with all cameras rolling, so for those who knew him, it wasn't surprising that his death was shrouded in spectacle and controversy, too.
At just 28, Traywick was among the most infamous figures in the world of biohacking—the grandiose CEO of a tiny company called Ascendance Biomedical whose goal was to develop and test new gene therapies without the expense and rigor of clinical trials or the oversight of the FDA. Traywick wanted to cure cancer, herpes, HIV, and even aging, and he wanted to do it without having to deal with the rules and safety precautions of regulators and industry standards.
"There are breakthroughs in the world that we can actually bring to market in a way that wouldn't require us to butt up against the FDA's walls, but instead walk around them," Traywick told me the first time I met him in person, during a biotech conference in San Francisco last January.
To "walk around" regulators, Ascendance and other biohackers typically rely on testing products on themselves. Self-experimentation, although strongly discouraged by agencies like the FDA, makes it difficult for regulators to intervene. The rules that govern drug development simply aren't written to oversee what an individual might do to themselves.
At another conference in February 2018, Traywick dropped trou on stage and injected into his bare left thigh an experimental herpes treatment developed by his company. With that motion, he thrust the clandestine world of biohackers into the spotlight, defining for the world an image of these DIY biologists as a group of madcap impresarios. Shortly after, his company imploded in a conflagration of Jerry Springer-esque drama, some of which was caught on camera by Vice. Most of his coterie of biohacker contractors either quit or were fired (depending on who you ask), leaving Traywick with therapies he'd promised to develop but no one to do the work. Still, Traywick seemed undeterred, recently launching a presale campaign in which people paid $35 to join a waiting list for Ascendance's unregulated therapies, even as it seemed highly unlikely that they would ever come to market.
Then on Sunday, this dream of low-cost, open-access gene therapy came crashing down, when at the end of a session in a sensory deprivation tank at a D.C. spa, Traywick was found dead. The immediate reaction was disbelief. By Monday morning, my Facebook inbox was flooded with messages from biohackers wondering if this was perhaps yet another one of Traywick's stunts. Rumors and conspiracy theories ran amok. His exact cause of death is still unknown; police say the autopsy results are not expected for several weeks.
While Traywick's life tested the limits of DIY science, his death symbolizes a crossroads for the movement. Will it continue to push the limits of self-experimentation or will it take steps to ensure safety?
"Before Aaron, no one cared about what biohackers did," said Josiah Zayner, Traywick's rival of sorts and a biohacker who pioneered the on-stage injection stunt, in August of last year when he injected himself with a gene to promote muscle growth. "Then we all realized maybe we should care more."
A year ago, Traywick bulldozed into the biohacker scene seemingly from nowhere. When I first encountered him, it was not through biohacking but while reporting on a company call Inovium he had started with a pair of doctors in Greece. The company claimed it had developed a novel fertility treatment using something called platelet-rich plasma to help women who had difficulty conceiving. At the time, the company was launching a clinical trial for the treatment at several fertility clinics in the United States, claiming that in addition to helping premenopausal women conceive, the treatment could also potentially reverse menopause altogether.
By a few months later, Ascendance had partnered with many of the most well-known figures in the biohacking sphere, offering funding, lab equipment, and the promise of profit-sharing to those willing to give their time and skills to Ascendance, developing extremely experimental therapies. Traywick's offer was attractive. Before Ascendance, most of them were self-funded, hackers tinkering in sheds and garages with lab equipment cobbled together from eBay. And the biohacking world offered Ascendance cheap labor that gave credence to its messaging of "decentralization" and openness.
"When I first met him, I thought his company was much bigger than it was," David Ishee, a biohacker who worked with Traywick, told me. "I thought they were really on to something."
The reality was that Ascendance was mostly just Traywick. No one knew where his money came from, though it quickly gained him cachet in his new world. (Even his mother told me she was unclear where her son's funding came from. Other biohackers often speculated to me that Traywick was crypto-rich. Another family member suggested to me after his death that his grandparents had helped out.)
Traywick was theatrical, a seemingly self-styled caricature, appearing frequently with unwashed hair and the same slightly oversized navy suit with a silk flower on the lapel. He was prone to exaggeration and misinformation, injecting nonsensical words like "nanorobotic delivery" into explanations of his company's science. The week before his on-stage demonstration, he began running Facebook ads claiming the company had developed both a "vaccine" and a "cure" for herpes, though there was no proof that it was either. He committed to impossible deadlines for completing therapies, which drove his biohacker contractors crazy. This is how he wound up testing a not-quite-completed herpes "cure" on himself on stage, when the original plan had been to test a "vaccine" on someone else. The vaccine wasn't ready, but Traywick had already committed to a live-demonstration as the final event of the conference. So Traywick announced to the world that he had herpes and took the stage himself.
By the end of his life, Traywick had become estranged from the biohacking world. For his co-conspirators, the infamous on-stage herpes injection was the last straw. Even for those seeking to push the limits of biology outside the realms of academia and industry, Traywick's tactics seemed irresponsible and dangerous. Most of his collaborators told me the last time they had spoken to him was the night he locked himself in the company's Florida lab space, putting his contractors' equipment out on the sidewalk. (I covered this event for Gizmodo, which prompted a lawsuit from Traywick against Gizmodo that was ultimately dismissed. Zayner was also named in the same suit for comments he made on the matter in The Atlantic.)
Traywick's death was covered in media outlets from Buzzfeed to The New York Post. In the aftermath of his death, many painted him as an eccentric visionary.
"...We consider it a deep shame that he will not have the opportunity to further develop his vision for open-access cures for diseases. The entire transhumanist and life-extensionist community is saddened and confounded by news of Aaron's death," the U.S. Transhumanist party wrote in an official statement on Traywick's death.
But some in the biohacking community feel put-off by this celebratory tone.
"I believe in remembering people for who they were. And Traywick was the used-car salesman of the biohack world," said the Australian biohacker Meow-Ludo Disco Gamma Meow-Meow. Traywick, Meow-Meow said, was dangerous, but in his death many have softened their stance. "I think a lot of people were like, 'Now he's dead let's just remember him for his mission rather than his actions.'"
Before Traywick, most of the world left biohackers alone to tinker in their garages and basement. Few people even knew the community existed. But Traywick's actions—grand public performances of DIY science to which he always invited the media—drew attention from press, regulators, and all manner of critics. Shortly after he live streamed on Facebook a live trial of a gene therapy intended to cure HIV, the FDA issued a stern warning to biohackers in America. Undertaking DIY gene therapy, the agency said, is ill-advised and risky, and selling the supplies to do it is blatantly against the law. A few months later, Eleonore Pauwels, a bioethicist at the Wilson Center, wrote in Scientific American that such extreme DIY demonstrations moving out of the shadows was a dangerous trend. Traywick's death was big news, in part, because he made biohacking big news.
"He got what he wanted," his mother, Rita Traywick, told me from her Alabama home the day before her son's funeral. "The notoriety. He made it."
As much as others may want to discount Traywick as nothing more than a well-spoken showman, Zayner told me, he forced a reckoning in the biohacking world around what should be permissible. For Zayner, more than any other perhaps, that reckoning was extreme. Zayner himself was highly criticized for his own public DIY experiments, though somewhat less than Traywick was. Zayner was once a NASA scientist and holds a Ph.D., while Traywick came from a background in marketing, public relations, and community engagement. But Zayner says Traywick's antics are the reason he gave up such public demonstrations, and began to advocate for more safety and caution in DIY lab spaces.
"Looking at my actions in the past, which unfortunately did include a public injection in a semi-ridiculous manner, I want to apologize, in that I could have inspired people to think I was doing things on a whim when I was not," Zayner wrote in a mea culpa of sorts after Traywick's big stunt.
Zayner told me that while Traywick looked up to scientists of the past who submitted themselves to experimentation, most of those scientists tested their experiments extensively before moving into people. And some of those scientists still died.
Traywick, Zayner said, highlighted the weaknesses of the DIY bio community.
"We need to figure out better ways to do this because you can't just keep injecting yourself with shit," he said.
Currently, Zayner's company, The Odin, which sells DIY bio supplies, is working on creating DIY experiment kits made for use with frogs, so that people can practice science more safely, and not move straight to experimenting on themselves.
The biggest shame, said Zayner, is that we'll never get the chance to see how Traywick might have matured once he'd been in the biohacking sphere a little longer.
Whatever their opinion of Traywick, everyone who knew him agreed that he was motivated by an extreme desire to make drugs more widely available for those who need them.
"Everything Aaron was doing, someone in our family had gone through that [illness]," his niece, Kristin Bennett, told me. Bennett was just two years younger than Traywick, and she told me their relationship was more like siblings. "Aaron's always been an out of the box person. He always had his own way of doing things."
For the biohacking community, the question now is how to move forward after the end of a life that demonstrated so clearly how easy it is for DIY experimentation to get out of hand.
For the time being, not much has changed. The biohackers who worked with Traywick are still developing highly experimental products, including the one to cure HIV—just not under the auspices of Ascendance. A new shadowy figure has even stepped in to fund such projects in Traywick's absence, a transhumanist offering some of Traywick's old collaborators money to fund his work. And one of Traywick's sometime partners in Europe is even attempting to take over the work of Ascendance and continue its mission. Ascendance was a "decentralized" company, with no clear hierarchy other than Traywick at the top, so in the aftermath, no one is quite sure what will happen. What is clear, is that in death, Traywick's impact may loom even larger than it did in life.
"[Traywick] brought us a vision of what to avoid, I guess," Meow-Meow told me. "He will leave a legacy, I'm just wondering what that will be, because it's looking to be a pretty powerful one, for better or worse."