Why My Grandmother Carried a Plastic Brain in Her Purse
She is donating her brain to science, so I visited the place where it will end up.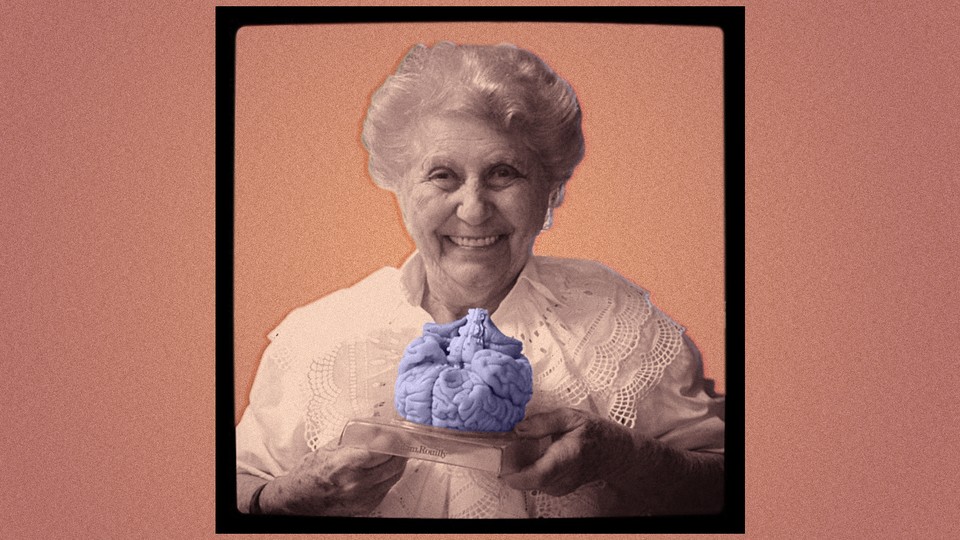 I remember the bag from my childhood. Transparent and oblong, just large enough to fit a handful of papers, a few essentials, and a plastic brain.
My 93-year-old grandmother, Marjorie Pearlson, once loved this bag, filling it with conversation starters. She was a woman who could talk to any stranger and pull an organ replica out of her purse with a straight face. Growing up, I would witness this scene at the supermarket, in a post office, out at dinner between salad and the main course. It was brilliant performance art. She was passionate about her decision to donate her brain to science, following in the footsteps of her mother, who survived multiple brain surgeries, and her older brother. She spoke about the decision—visual aid in tow—matter-of-factly to anyone.
At her 90th-birthday tea party, we sat around my grandparents' dining table with two of her childhood friends and my mother. My grandmother flipped through a handmade scrapbook of photographs, effortlessly recalling the first and last names of grade-school classmates, one of whom is my 92-year-old grandfather. Today, it's far rarer to see her smile, much less get a glimpse of her past or quirky personality. A shield of advanced dementia has limited her mobility and dissolved her memories.
There's an Indian death euphemism I've been dwelling on since the last time I saw my grandmother: "To be no more." But even after she dies, my grandmother's brain will, in a way, live on, joining the thousands of Americans who donate each year. After undergoing an autopsy, her brain's tissue will be stored and researched. It may travel to banks with specialized grants and niche experts. Someone will look at her under a microscope.
The more I thought about the trajectory of my grandmother's life, the more the line between brain and grandmother blurred. What will come of her after life? That question led me to the place where her brain will end up.
On a sunny morning in January, I arrived at the University of Miami's Brain Endowment Bank with the eagerness and anxiety of a new mother about to inspect a potential day-care facility. The bank is one of six brain and tissue biorepositories funded by the National Institutes of Health's NeuroBioBank, or NBB. These biorepositories use donated tissue to research neurological and psychiatric diseases. (Outside of the NIH's network, there are dozens of other banks worldwide.)
Each donated brain has a different journey. All brains undergo examination and are weighed; cell loss from Alzheimer's can shrink the brain. Some donors' bodies are returned to their families after autopsy; others donate all their organs and tissue. In either case, families receive a pathology report, and brains are stored at about negative 112 degrees Fahrenheit for research on site or at another lab. It costs banks roughly $10,000 per year to store a brain, according to Deborah Mash, the Brain Endowment Bank's founder and director.
One brain can provide hundreds of qualified scientists with tissue, Mash said. She cites an example of the bank's involvement in pioneering research on the link between a dietary neurotoxin and Alzheimer's disease. The NBB's website lists discoveries related to autism, depression, and epilepsy, among others, that were made thanks to the use of human-brain tissue.
When we met, Mash reminisced about launching the Brain Endowment Bank in 1987 with "$5,000 and a freezer." But its capacity and technology rapidly advanced: "More has been learned about the human brain in the past 20 years than throughout all of human history," she said. This progress is the result of both political and cultural shifts. In 2013, President Obama announced the $100 million BRAIN (Brain Research through Advancing Innovative Neurotechnologies) Initiative. The initiative, which is funded in part by private institutions and foundations, continues to get boosts from Congress. Curiosity about the brain has also permeated the arts world. The American Museum of Natural History's 2010 exhibition Brain: The Inside Story continues to travel the country.
Michelle Freund, the director of the NIH NeuroBioBank, says she has witnessed significant progress in postmortem brain research in the four years since the organization was established, such as the potential for groundbreaking studies with a relatively new technology known as CLARITY (Clear Lipid-exchanged Anatomically Rigid Imaging/immunostaining-compatible Tissue Hydrogel). CLARITY enables researchers to view neurons three-dimensionally, and could be instrumental in identifying neuronal circuits and specific cell types involved in a number of brain disorders.
Mash insisted that insights like this can't come fast enough. Despite growing public awareness of brain research and sophisticated research tools, there's still the matter of securing brain donations. Donation advocates have made some progress on this front, especially among athletes: Recently, several sports figures, including three female Olympians in February, pledged to donate their brains to the Concussion Legacy Foundation; the former professional footballer Nick Buoniconti also committed to donating after being diagnosed with dementia last year. But the need for viable specimens is still substantial, Mash said. Across all banks in the country, she estimated that there may be "only about 5,000 donors per year." My grandmother was the only brain donor I knew; other people I spoke to who are organ donors assumed they were brain donors, too.
In fact, the challenge of recruiting donors comes in part from the fact that organ donors are not automatically brain donors. "Donors need to specifically designate their brain for donation," explains Howard Rosen, a professor of neurology at the University of California at San Francisco, whose work focuses on the early diagnosis of dementia. In the early 1990s, Mash went to the Florida legislature in an attempt to add brain donation to driver's licenses alongside other organs and tissues, but failed. The separation between donations remains intact throughout the country.
Nina Silverberg, the director of the Alzheimer's Disease Centers program at the NIH's National Institute on Aging, says that a donation "is of much more value if we know about the person when they're living"—that is, if the person has participated in a longitudinal study of brain function. Silverberg explains that the Alzheimer's Disease Centers conducts annual tracking assessments that include cognitive, neurological, behavioral, and linguistic tests for observing the changes in brain function as people age.
Another major challenge, Silverberg says, is obtaining tissue from donors of varied backgrounds. "There's a stigma in some cultures around even talking about donating organs, or even death at all, but it's tremendously important that we get diverse populations to donate their brains," so that resulting treatments are broadly applicable, she says. She highlighted the efforts of the African American Network Against Alzheimer's.
Rosen adds that there is lingering skepticism toward medical research due to historic injustices such as the Henrietta Lacks case and Tuskegee experiments.
Walking the halls of Miami's Brain Endowment Bank, I was introduced to researchers and peered into a microscope at Alzheimer's tissue. I wondered what people and which spaces would encounter my grandmother's brain. I struggled—still—to reduce her to tissue on a slide. I wanted to ask the researchers if they can call tissue inanimate with conviction.
At one point, the bank's office manager plopped a thick folder on a desk in front of me. This was my grandmother's file—a collection of medical records as well as letters, photographs, and invitations that my grandmother shared with the bank to keep them informed about her life over the years. The office manager called the file impressive, wagging another thin manila folder, the norm for most donors.
As I walked through the halls, I was introduced as "Marge Pearlson's granddaughter" and most people shook my hand with what I sensed was recognition and gratitude. Mash called my grandmother a "living legacy" for understanding the importance of this research. I longed for the opportunity to share this knowledge with her. I knew just how she would smile. This is my process of accepting the absence of a loved one who is physically present.
Because of her dementia, I'll never have the opportunity to talk more with my grandmother about her decision to be a donor. So I can only glean her motivation from conversations with those who know her best, my mother and grandfather. But at a recent book talk related to neuroscience, I met someone who—upon hearing about my research—introduced me to a 61-year-old donor, GeorgeHenry Keen. In a lively discussion, Keen explained that he decided to donate to ensure he could make positive contributions during and after life, a sentiment that captured what I believe guided my grandmother's existence.