How Prehistoric Humans Spiced Up Their Dinner
Mustard has been popular for 6,000 years.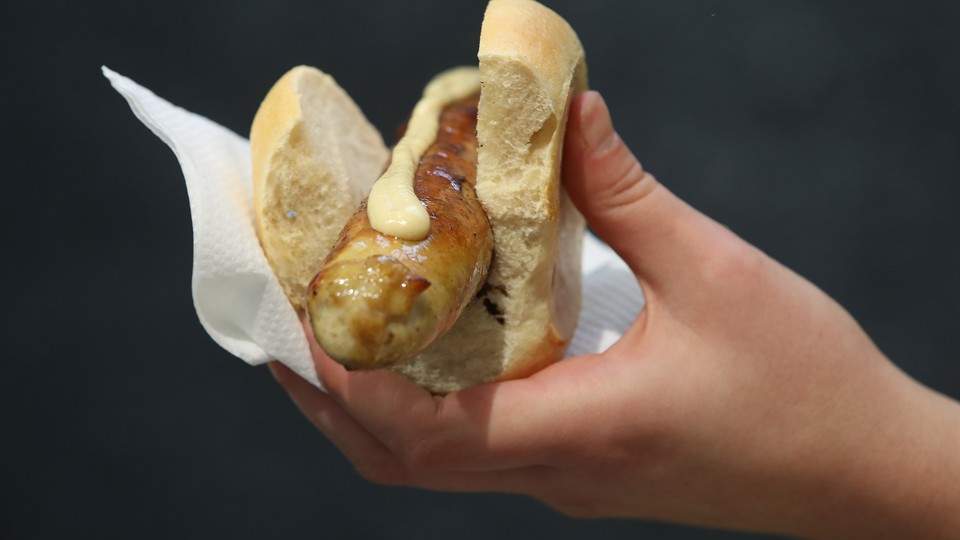 For some Americans, a trip to the ballpark isn't complete without the bright-yellow squiggle of French's mustard atop a hot dog. For the French, the slow burn of Dijon is a must-have complement to charcuterie. In the United Kingdom, Sunday's roast beef is nothing without the punch of Colman's. Yet few realize that this condiment has been equally essential—maybe more so—for the past 6,000 years. In fact, the first spice that we know prehistoric humans used to pep up their dinners is none other than mustard. But why is the sale of mustard oil for consumption banned in the United States, Europe, and Canada, despite the fact it's used by millions of people around the world nearly every day? Listen in now for the answer to that mustard mystery and dozens more, including how mustard got its heat, and why we have caterpillars to thank for its particular taste profile.
When the archaeologist Hayley Saul and her colleagues began investigating the food residues left behind in some particularly well-preserved cooking vessels from Mesolithic sites in present-day Denmark and Germany, she had no clue that the more-than-6,000-year-old pots would contain definitive evidence of the first culinary use of spice in human history. "I think there's been a kind of assumption in general that, in prehistory, people were driven by the need to get a certain amount of energy, and that there was nothing particularly artistic about food practices," Saul told Gastropod. But, based on her analysis, it seems as though these Mesolithic communities were deliberately seasoning their meat and fish stews with a plant that is still widespread across Europe and Asia today: garlic mustard. By crushing the plant's mustard-flavored seeds and also adding its more garlicky leaves to their dishes, these Mesolithic chefs were carefully extracting the maximum flavor out of a plant that was otherwise not contributing much in the way of essential nutrients or energy. This episode, Saul shares her experience recreating these ancient meals—with surprisingly delicious results!
But how did mustard seeds get their heat in the first place? To understand the plant's evolutionary history, we speak with Patrick Edger, an assistant professor of horticulture at Michigan State University, who describes an epic battle of chemical warfare between butterflies and brassica that took place over tens of millions of years and led to the popular condiment's potent sinus-clearing powers. Madhur Jaffrey, an actress and the author of what many consider the first popular cookbooks to introduce the West to Indian home cooking, explains why mustard is so beloved through the Indian subcontinent—and why current food-safety rules in Europe and North America make it illegal for Indian chefs to use mustard oil outside of their home country. Finally, we visit America's one and only mustard museum, in Middleton, Wisconsin, where the founder, Barry Levenson, helps us trace mustard's journey from ancient Egypt and Rome to the bright-yellow squeeze bottle, while exploring the basic chemistry that creates the different flavor profiles found in the mustard aisle today. All this, plus some unexpected mustard pairings: Dijon-dipped Oreos, anyone?
---
This post appears courtesy of Gastropod.