The Slow-Motion Catastrophe Threatening 350-Year-Old Farms
Sea-level rise might be causing salt to creep into the soil around America's lower eastern shore.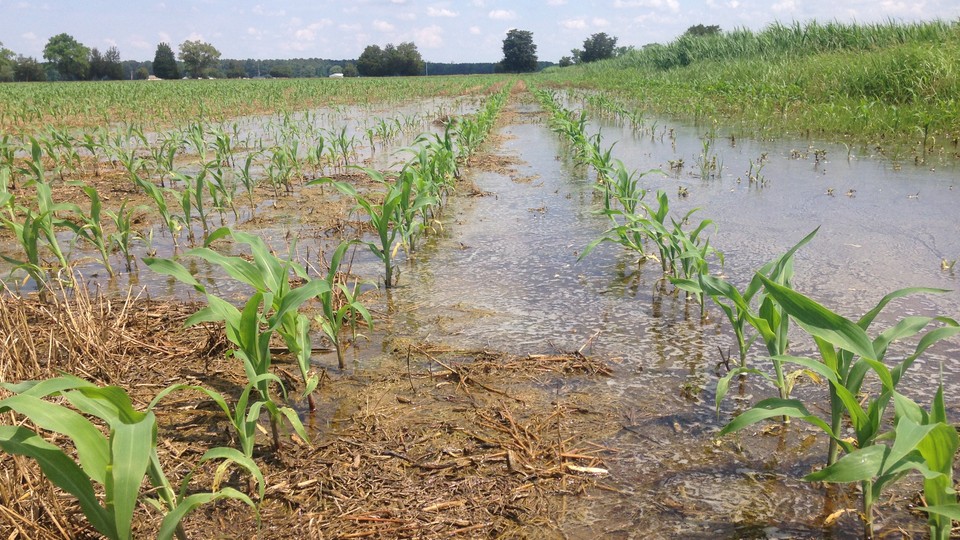 On the lower eastern shore of Maryland, the stately Almodington plantation overlooks the Manokin River as it drains into the Chesapeake Bay. First surveyed in 1663, the expansive farm sits a few miles from Princess Anne, a town named for the daughter of King George II.
For 350 years, this region's rich, sandy soils and warm, moist climate have been ideal for growing fruits and vegetable. Tomato production supported 300 canneries in the area at its peak in the early 1900s. Today, however, Somerset County is the country's sixth-largest poultry producer. The county's roughly 60 row-crop farmers now grow corn and soybeans for chicken feed.
While the farms have adapted to meet shifting demand, it is the unseen changes happening underfoot that may have a long-lasting impact. In the fields beyond the picturesque manor, six-foot-tall salt-tolerant weeds thrive. Nearby, a decaying corn cob lies in bare, bleached soil pocked with patches of blue-green algae. Last year's dismal corn yield was this field's last: The leasing farmer abandoned a 30-acre parcel. It's amazing corn plants grew at all. "The soil salt content is six to seven parts per thousand. Corn, typically, won't grow once salt is more than 0.8 parts per thousand," says Keryn Gedan, a wetland ecologist.
On a windy, overcast October day, Gedan, from George Washington University, and her colleague Kate Tully, an agroecologist from the University of Maryland, are checking salinity levels at several of their seven test sites in the region, farmlands only a few feet above sea level. "We knew this was an area where we were likely to see impacts," says Gedan.
Sea-level rise near the Chesapeake Bay, the largest estuary in the United States, is twice as high as the global average. It's not solely the result of atmospheric warming, melting ice, and expanding waters. The ground is also subsiding. This is happening for a variety of reasons, most notably aquifer withdrawals and the continued settling of land that had been pushed up by ice sheets to the north during the last Ice Age. "We are sinking and the water is rising," says Michael Scott, a geographer at Salisbury University in Maryland.
The result of this slow-motion catastrophe is that saltwater is threatening America's first colonial farms.
Salt is a notorious land degrader. On several occasions between 2,400 B.C. and 1,200 A.D., Mesopotamians fled once-productive agricultural regions when salt accumulated in the soil following excessive irrigation. Today, salt may be slithering onto the lower eastern shore's farmlands by any number of routes—chronic flooding from an increasing number of high tides, saltwater intrusion into aquifers, and even wicking upward through the soil from shallow water tables.
We don't know the true extent of the Chesapeake Bay area's salt problem because state and federal agencies have just put resources toward investigations. The Maryland Department of Natural Resources' most recent regional report on chloride levels in lower-eastern-shore aquifers was produced almost 30 years ago. The 1990 report predicted it would take 50 years for groundwater with a perceptibly salty taste to reach a future Princess Anne well—but this was based on projected pumping increases. Thirty years ago, climate change and sea-level rise were not on the radar. The area's chief concern has been preventing agricultural runoff into the bay—a problem that will likely be made worse by salt.
With little existing ability to predict where salt will move, it will be difficult to adapt, much less preserve, farmland and the cultural heritage that goes with it. Gedan and Tully cobbled together funding to document the salt damage in the area. New funding from the U.S. Department of Agriculture will help them expand their efforts. "The whole region is a window in the future," says Gedan.
"We are not treating this like the crisis that it is," Scott adds. "If we don't start operating as a collective effort soon, suddenly the problems will get much more expensive."
---
Not far from Almodington, Bob Fitzgerald farms land that has been in his family since 1666. His father, born in 1884, farmed this land with mules. Fitzgerald and his brother tromped through the nearby marsh as boys. Now, at 79, Fitzgerald says the marsh is rotten and the salt is seeping onto their soybean fields. The tide gate he installed helps, but high tides are getting higher and more frequent each year.
"It's not a new phenomenon," says Fitzgerald. "But it's accelerated immensely in the last 15 years." He has studied historical maps of the region extensively. He laments that he could write a book called The Lost Villages of Somerset County. Past the ghost forest of salt-affected trees, unoccupied homes dot the road from his house to nearby Deal Island, a community grappling with how to adapt to sea-level rise.
Fitzgerald's observations match existing data, according to Sarah Wilkins, the former site coordinator for the Chesapeake Bay Sentinel Site of the National Oceanic and Atmospheric Administration. Rates of sea-level rise have accelerated over time, she says, based on tide-gauge data that dates back more than 70 years in some areas of the bay.
Kevin Anderson, a fourth-generation farmer in Princess Anne, estimates he's lost roughly 50 acres to salt damage in the last 20 years. With an operation that spans 4,000 acres and a successful seed-conditioning business, Anderson says he is in the fortunate position to expand his operation by leasing other land. Others aren't so lucky. If he, like other farmers, were dependent solely on acreage he owns, he says salt damage would be one of his top concerns.
Anderson and Fitzgerald, like most residents in this area, are accustomed to dramatic environmental changes. And they are nothing if not resilient. More than 400 islands have disappeared into the Chesapeake Bay since the area was settled 400 years ago. Holland Island had more than 300 residents 150 years ago, says Fitzgerald. Now, it's gone. "When the people moved to nearby Deal Island or Crisfield, they moved the entire houses, bricks and all."
Anderson and Fitzgerald seem resigned to some losses. But those losses may exacerbate nutrient-pollution problems that have long plagued the bay. Many coastal farms are loaded with nitrogen and phosphorus, from a time when the enormous waste produced by chicken farms was often dumped in excess on agricultural fields. While that practice is no longer commonplace—and a new $1.4 million manure-to-energy plant now under construction will help dispose of the waste—saltwater intrusion could send those legacy nutrients into the bay.
"We expect large nutrient losses as coastal farms undergo saltwater intrusion," Tully said at the Ecological Society of America conference in Portland, Oregon, in August. "If you want to extract nitrogen or phosphorus from the soil, you add saltwater." And those legacy nutrients, she explains, will likely have an outsize effect on water quality because of their proximity to the bay.
Coastal farms are found on fingers of land that extend into the Chesapeake Bay. In between the fingers are a vast network of salty tidal rivers and creeks. The bay and its tidal tributaries boast 11,684 miles of shoreline. Yet, only 10 percent of the land drains well. Artificial drainage is widespread. At least two-thirds of the land area has been ditched, but the ditches are a mixed blessing, not only serving their intended purpose but also acting as a conduit for the saltwater to enter the fields.
"When you are only feet above sea level to begin with, it's a fine line between draining freshwater off your land and allowing saltwater on land," says Don Webster, a waterfowl-habitat specialist with the Maryland Department of Natural Resources in Cambridge. "So much of this farmland that has been influenced by salt is right on the front line of Chesapeake Bay—land that will be important to create buffers between the farm and the bay."
And it's not just the Chesapeake Bay area. "Sea-level rise is happening now and penetrating deep into the coastal interior of North Carolina," Emily Bernhardt, a biogeochemist at Duke University, told the Portland ESA meeting. About 30 percent of her study area is agricultural land. "Much of the land vulnerable to sea-level rise—5,900 square kilometers of North Carolina's coastal plain—is subject to saltwater intrusion." The degree of vulnerability depends to a great extent on whether people continue to maintain or abandon the pumping and water-control structures that were built to allow agriculture.
In Maryland's Somerset county, berms built decades ago to block tides from farmland have now failed in some areas. And landowners are taking steps to protect productive fields. Almodington's owner, Kevin Barr, an avid waterfowl hunter, plans to move many cubic tons of earth to turn a 25-acre salt-damaged parcel into freshwater wetlands. "I'm interested in finding the right balance between agriculture and wildlife," he says. "But I'm not dependent on the farm to pay my bills."
Freshwater wetlands will prevent runoff from the crop fields from reaching the bay, but marshes, which help control floods and are crucial wildlife habitat, need real estate as well, and it's unclear how well they will move upland. "When wetlands have nowhere to migrate, huge chunks of habitat will be lost as sea-level rise continues," says Scott. "We are at one of these threshold times where we still have capability to address this at a price point that isn't going to hurt a lot of people."
---
In 2010, the U.S. Environmental Protection Agency established a total maximum daily load for all pollution into the Chesapeake Bay. The clean-up regimen has had modest success, yet farmers bristle at the prospect of additional regulations.
Agriculture has survived over three centuries in this area, but the farmable area is being steadily chipped away. Somerset County, home to 211,200 acres, has roughly 28,500 cropped acres. Around 4,000 acres of now-saturated soils have been put into agricultural retirement programs in recent decades.
Facing regulations or loss of land or both, farmers are finding that they must embrace two things: trust and data. The former is key in crafting a plan to adapt to changing conditions, says Michael Paolisso, an anthropologist at the University of Maryland who leads a project to bolster resilience in this inundated coastal community. But it's also the most elusive. "In my experience, farmers aren't as leery of climate change as much as they are the socioeconomic or political changes that come with it," Paolisso says.
Scott Andres, a hydrogeologist at the Delaware Geological Survey, also feels that communication problems between the agricultural community and government agencies have been a hurdle. With property values in mind, many farmers opt not to share their concerns about salt with officials.
In the past couple of years, Michael Scott, of Salisbury University, has received calls from a handful of farmers in the region, asking for information on which land areas are likely to be impacted first by sea-level rise. They want any insights that can help them decide which lands to reasonably hold onto and which they'd be better off letting go. "I don't have a lot of good answers. Most of the ones I have are fairly unpalatable—but we're trying to help," says Scott, who grew up in the area. Still, he laments, "the culture of the region feels under threat."
Scientists might have better answers if they had better data to draw on, although Kevin Anderson, the Princess Anne farmer, cautions that how the data is used is equally important. "My grandfather taught agriculture and he told his students agriculture is as much an art as it is a science," he says.
Models of sea-level rise are quite good, but saltwater intrusion is harder to piece together. It's not just about the elevation of the land, it's about the hydrology of the groundwater. For saltwater intrusion, we can see it on the landscape and test for it if we know where to look, but we're not exactly sure how it all goes together, says Scott. "There's a lot going on down there."
To better understand the links between sea-level rise and the landward migration of saltwater, Andres recently received funding to track salinity shifts in both wells and streams. Kate Tully and Keryn Gedan plan to produce a map of salt levels in soils and hand-dug wells, soil types, hydrogeologic layers, and ditches—and then model where the salt will likely move.
Meanwhile, Jeff Allenby, the director of conservation technology at the Chesapeake Conservancy, a nonprofit based in Annapolis, Maryland, is piecing together one of the largest high-resolution land-cover data sets in the world. Updated as new satellite imagery becomes available, it will provide real-time ability to track sea-level rise, as well as identify areas of declining crop health and opportunities for marsh migration upland.
The key, Allenby stresses, will be to find a balance that keeps farmers farming while minimizing their impact on the environment. "The agricultural economy is critical to almost every county in the Chesapeake Bay watershed," he says. "Counties couldn't survive without it."
---
This article was produced in collaboration with the Food and Environment Reporting Network.