Maybe Blue States Won't Take Serious Action on Climate Change
An important carbon-tax proposal dies in the Washington statehouse.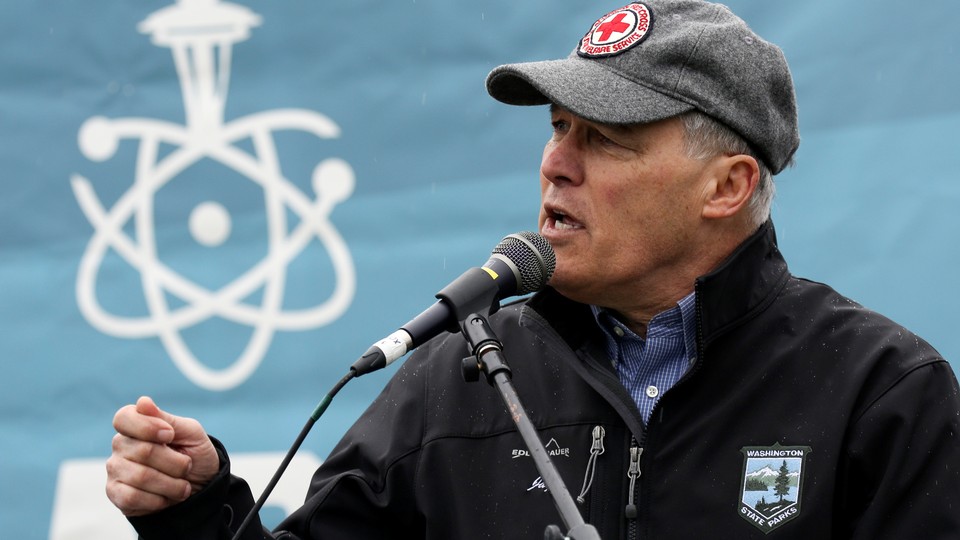 As President Trump has hacked his way through Obama-era climate policy over the past year, progressives have spread a comforting story.
"The United States has not gone dark on climate action," goes the tale. The federal government may have left the Paris Agreement, but dozens of U.S. companies and universities are still in. The president may repeal dozens of EPA regulations, but he's just spurring states and cities are to fight climate change themselves.
On Thursday evening, this optimistic narrative ran aground on reality, when an ambitious measure to introduce the country's first carbon tax failed in Washington state. The office of Governor Jay Inslee announced that Senate Democrats, despite forming a majority in the chamber, did not have enough votes to advance the bill.
West Coast climate hawks may soon have another chance for a win. Oregon legislators are considering a "cap and trade" bill that would limit carbon pollution statewide and create a market where companies could bid for the right to emit it. They could vote as soon as Friday.
But even if that measure succeeds, Oregon's bill is neither as ambitious nor as innovative as Washington's. What happened in the Evergreen State is startling: A Democratic governor, presiding over a Democratic legislature in a West Coast state, could not pass a substantial climate policy out of the statehouse.
The fate of the two bills is sure to echo beyond the Pacific Northwest, as activists, governors, and state legislators around the country will take their examples as either inspiration or warning. The bills will also define national climate policy to come: Just as Massachusetts's health-care reform in 2006 shaped the Affordable Care Act, state efforts to rein in climate change today will inform future national Democratic legislation.
The Washington statehouse has failed to affirm climate policies at least twice before. Inslee says he hasn't given up yet, and The New York Times has reported that he may try to put a carbon tax on the state ballot in November. But the bill that failed Thursday differed from any other state-level climate policy pursued in the United States.
"It's a carbon tax. That's unique," said Kristin Eberhard, a senior researcher at the Sightline Institute, a left-leaning think tank based in the Pacific Northwest. "Carbon taxes have not made it very far through any state legislature. There's no state-level carbon tax in the United States."
Most economists consider a carbon tax the most efficient way to address climate change. Instead of forcing every industry to follow a different set of climate-focused regulations, a carbon tax evenly accounts for the costs of climate change across the economy, they argue. Over time, the higher prices of fossil fuels will spur companies and consumers to opt for cleaner technology.
The proposed carbon tax in Washington would have imposed a $12 tax on every ton of carbon pollution. This is pretty cheap, as carbon taxes go: The Obama administration once estimated a U.S. carbon tax should run at about $40 per ton.
"It would not be very stringent globally," Eberhard told me. "But it would be groundbreaking just in being a state-level carbon tax in the United States."
The tax would cover the vast majority of greenhouse-gas emissions from Washington. Gas prices would rise at the pump, as would the cost of home-heating oil and natural gas. Factories would have to track and pay for their carbon-dioxide emissions, and consumers and companies would also see their electricity bills go up. Any power generated with fossil fuels out of state—by a coal-fired power plant in Idaho, for instance—would be affected by the tax.
The tax would not charge residents for the costs of so-called embedded carbon emissions in consumer or commercial goods, such as the crude-oil-derived products in paints and household cleaners.
The millions of dollars in new revenue from the carbon tax would have been invested in clean-energy projects, water and natural-resource preservation, and assistance for workers who were employed in the fossil-fuel industry.
Some climate policies—such as the Republican-friendly "Baker-Shultz" plan—have proposed sending any new revenue back to taxpayers in the form of a monthly check. But some climate hawks on the left believe this policy will have little effect on emissions. In 2016, Washington voters rejected a revenue-neutral carbon tax in a ballot referendum opposed by both the center-right and the left.
The Oregon plan has adopted a more time-tested strategy. The Beaver State proposes to "cap and trade" carbon: The bill would limit the amount of carbon that can be emitted in Oregon, then auction off the right to emit it to companies. Under the bill, the state would join California, Ontario, and Quebec in the North American Cap-and-Trade Program.
That program has historically imposed a price between $12 and $16 per ton of carbon pollution. If Oregon joins the program, some of the revenue would be reinvested in renewable energy and other state projects; the rest would be distributed to utilities, who could rebate it back to consumers in their electricity bill.
Oregon, like California, also has a number of smaller-scale climate laws in place. And nine states in the northeast—including New York, Maryland, and Massachusetts—run a regional cap-and-trade program, though that market only covers carbon pollution from the electricity sector. (Well before the Trump years began, climate change has been a site of especially exuberant liberal federalism.)
Do these programs work? "In the northeastern states, in Quebec, Ontario, even a very modest price can bring emissions down," Eberhard told me. "A modest price plus other policies—like we see in California—is more effective. And a more aggressive price with other policies would be very effective." But there is no state or province in North America with an "aggressive price" right now.
There is also no state with a working carbon tax. The closest model in North America is the Canadian province of British Columbia, just across the border from Washington. B.C. first imposed a carbon tax of $10 per metric ton in 2008, which has since risen to $30 per ton. But in the last decade the province has also seen a profitable fracking boom. "They've had this explosion in shale gas, so their emissions have been going up," said Eberhard.
National politicians have periodically expressed interest in a carbon tax. Earlier this week, 22 College Republican groups and a handful of College Democrat clubs endorsed just such a policy. But right now, there is no working U.S. carbon tax for an eager politician to study, copy, or improve.
Democrats, the party of climate change, will pay for this missed opportunity. Due to the necessity of long-term planning and state financial years, the failure of Washington's bill this week means that there will likely be no state-level carbon tax in the United States until at least July 2020, if Washington voters (or state legislators) approve the measure at their next opportunity. Therefore, there will likely be no American carbon tax on the books during the next Democratic presidential primary. And if a Democratic president takes office in January 2021 promising to pass a carbon tax—which is exactly what Bernie Sanders promised during his 2016 run—he or she will only have, at best, a six-month-old policy, in just one state, to adapt for the nation.