In Trump's First Year, the U.S. Lost Almost 10,000 Solar Jobs
But energy experts say the industry isn't suffering because of the president's policies—yet.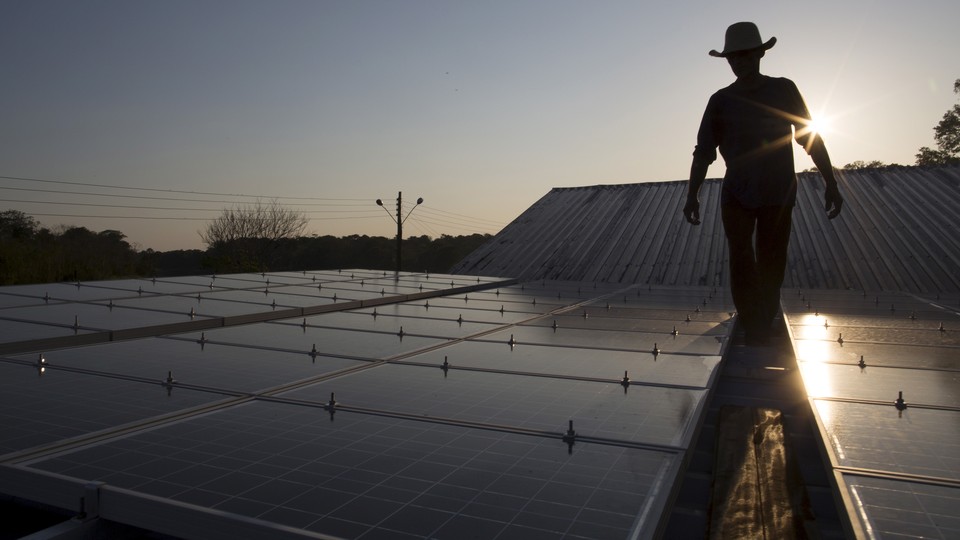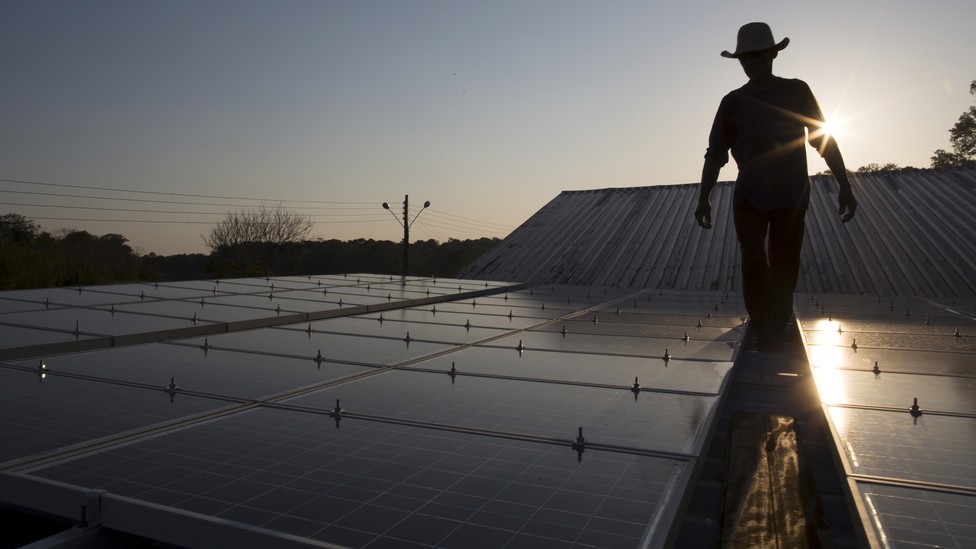 Since the end of the Great Recession, two things have been true of the American solar industry: It was growing like gangbusters, and basically everyone liked it.
From 2010 to 2016, the number of solar jobs in the United States nearly tripled, roaring from about 93,000 to more than 260,000. In 2016 alone, the solar industry grew 17 times faster than the U.S. economy. By the end of that year, there weren't only more solar workers than coal miners; there were more people working in the solar industry than were employed by every oil, gas, and coal-burning power plant put together.
What's more, Americans of all stripes thought the technology was pretty good. In 2016, almost 90 percent of Americans told the Pew Research Center that they supported building solar, more than endorsed any other energy source. These results even held in similar polls in deep-red Tennessee.
Well, that was nice while it lasted. In his State of the Union address last week, the only energy source that President Trump mentioned was "beautiful, clean coal," ending a 14-year streak of presidential lip service for renewables. And while there's no sign that public support for solar has eroded, the industry's run of unbroken, year-over-year growth has come to a close as well.
The U.S. solar industry lost about 9,800 jobs in 2017, ending a seven-year streak of nonstop growth and reducing its size to about 250,000 people, according to a new census from the nonpartisan Solar Foundation released Wednesday.
It's the first employment decline since the Solar Foundation began tracking jobs in 2010. The industry lost 3.8 percent of its jobs last year.
"It's definitely been a tough year for the solar industry for a number of reasons," says Avery Palmer, a spokesman for the Solar Foundation. The number of new solar installations also fell in 2017.
While the slowdown isn't unexpected, it comes at an ominous time, and it suggests that the United States will not be able to avert the worst of climate change without further changing its policies. While several gigawatts of solar power were added to the U.S. electrical grid in 2017, solar power still only hovers around 1 percent of the power mix.
It seems noteworthy that the solar industry lost a large number of jobs during President Trump's first year in office, given that his enthusiasm has been reserved for coal and coal alone. And the industry is concerned about what's in store for it under Trump: Some industry groups even predict that Trump's policies will kill tens of thousands of solar jobs.
But according to energy experts, it's not quite right to connect this dip with Trump.
"I'm honestly not sure how much of a Trump effect there was in 2017," said Varun Sivaram, who studies energy at the Council on Foreign Relations, a nonpartisan think tank. "But there will certainly be a Trump effect going forward—in 2018, 2019, and 2020."
Instead, blame for 2017's numbers lies with something far more mundane: the solar-investment tax credit. That policy, which lets taxpayers erase up to 30 percent of their tax liability by installing solar power, was originally supposed to expire at the end of 2016. As the deadline neared, companies and utilities rushed to take advantage of it, building as much solar power as possible in order to maximize their savings.
Ultimately, President Obama and a Republican-controlled Congress extended the tax credit and decided to phase it out in 2021. (The extension was left intact by last year's Republican tax bill.) But because people were anticipating an end to the credit in 2016, the production glut was already scheduled, so utilities spent less on solar installation in 2017.
Given that background, Sivaram said the decline "wasn't surprising at all."
"The annual installed solar capacity dropped substantially in 2017, and that was mostly because of the [solar tax credit] expiration," he told me. "It makes sense that jobs would have been lost, because installation jobs relate to how much is getting installed."
Indeed, the Solar Foundation found that about the majority of the job losses—about 7,500 of 9,800 total—were shed by installation companies. As fewer solar panels were getting installed, those companies also needed fewer people to build and advertise them.
Trevor Houser, an economics researcher and partner at the Rhodium Group, told me that this kind of policy-driven volatility wasn't new for renewable power. Since 2001, a tax credit to support wind energy has expired several times—which usually led to a huge crash in production. Congress always ultimately extended the tax credit.
---
Whenever a Tax Credit Expired, Wind Power Fell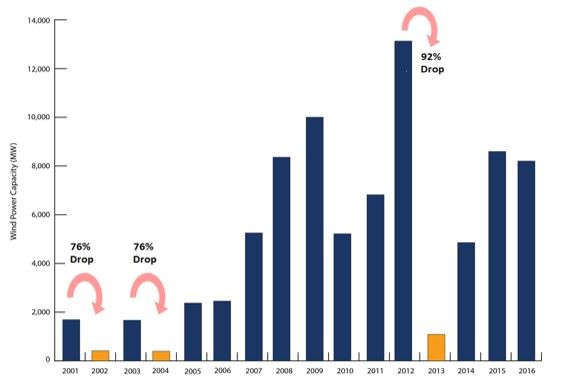 ---
And what about that Trump effect? It's coming.
In January, the Trump administration imposed an expensive new tariff on all solar panels imported into the United States that will last until 2022.
The Solar Foundation conducted its survey before the specifics of that tariff were announced, but it asked businesses during the fall if they were worried about how Trump would handle the trade case. "A majority of overall solar firms—and a majority of manufacturers—expected negative impacts" from the tariffs, says Palmer, the foundation's spokesman. "It's important to remember that U.S. solar manufacturers usually don't make panels or cells, but make some other kinds of solar equipment—like inverters, mounting, controls, or software."
The Solar Energy Industries Association, an advocacy group for the solar industry, predicts that the tariff will ultimately cost 23,000 jobs.
Josiah Neeley directs energy policy research at the R Street Institute, a center-right think tank. He told me that the projection of 23,000 lost jobs was "plausible" and "not a crazy number."
"The entire industry is going to shed a lot of jobs because of the higher panel prices," he said. "The solar trade case is typical of tariffs in that they are justified as a way to protect American jobs and industry, but they end up hurting jobs and industry. And in this case, since most of the [U.S. solar] jobs are in installation and marketing, making panels more expensive is going to hurt."
"Look, installations will fall on average 11 percent over the next four years," said Sivaram, citing an analysis from the research firm Wood Mackenzie. Even if the number of solar jobs goes back up next year, employment will still remain below where it could have been. "The policy should not have happened, it will hurt jobs, and it's terrible," he said.
While most economists oppose the tariffs, a small number of economics writers have praised them, arguing they will only raise the cost of solar panels slightly while giving "U.S. solar manufacturers a few years of breathing space." But the tariff isn't the only solar-damaging policy adopted by the Trump administration. Rick Perry, the Secretary of Energy, tried to force utilities to directly subsidize coal and nuclear power production last year. The Environmental Protection Agency revoked the Clean Power Plan, an expansive and controversial Obama-era climate policy that incentivized states to build solar and wind energy. And President Trump has proposed slashing the federal budget for renewable energy research by more than 70 percent.
"It's a big thing—what is the overall posture of the government going to be? The [Perry proposal] didn't go anywhere, but there are clearly political forces out there that want to prop up certain types of energy at the expense of others," Neeley said.
Despite the overall loss, not all the news was bad for the solar industry. Twenty-nine states, and the District of Columbia, saw their number of solar jobs increase. Some of these states—like Minnesota, Utah, and Arizona—represent new markets for solar power.
Even with the decline, Sivaram argued that the ongoing explosion of solar was still on track—that there wasn't so much of a 2017 decline as a 2016 glut. "If you draw a straight line from 2015 to 2017, it continues the trend from 2010 to 2015," he said. "2016 is a total outlier." And the field continues to be a jobs juggernaut as well. Even after the cuts, the solar industry employed nearly twice as many people as the coal industry—and nearly five times as many as the nuclear industry.