From the Origins of Spaghetti to the Shape-Shifting Pasta of Tomorrow
How will new technology change the Italian staple?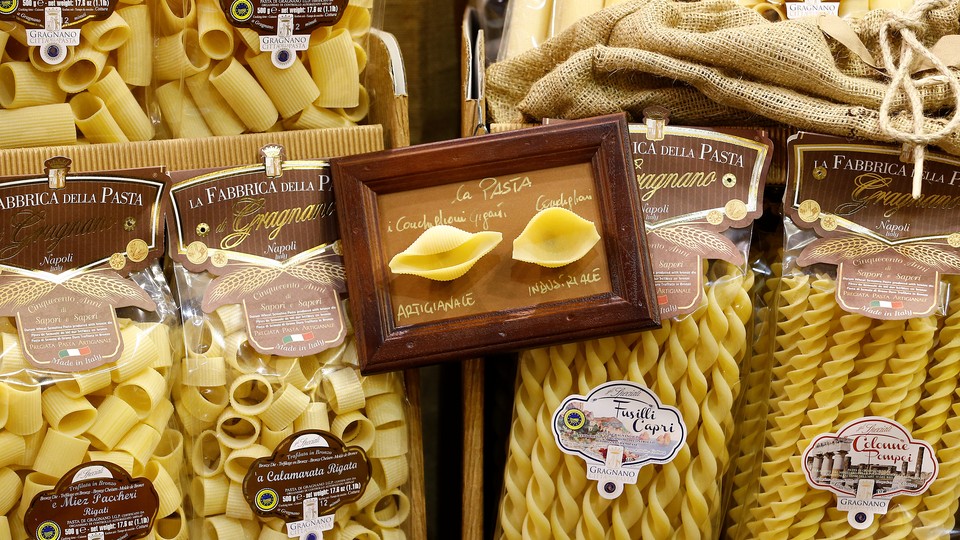 It's one of food's most beautiful relationships: pasta and sauce. But which came first—and how on Earth are you supposed to figure out which of those hundreds of shapes to serve with your pesto? With Valentine's Day around the corner, we bring you the saucy—and occasionally scientific—history of an Italian staple. Listen in now as we take you from the very first mention of "a food of flour and water" served "in the form of strings," to the cutting-edge, shape-shifting pasta of tomorrow.
"You would think such a national treasure as pasta would be very well-documented," says Maureen B. Fant, the translator of Oretta Zanini de Vita's Encyclopedia of Pasta and coauthor, with Zanini de Vita, of Sauces and Shapes: Pasta the Italian Way. But, in fact, before the Encyclopedia's publication in 2009, there was no catalog of Italy's hundreds of pasta shapes—not to mention the unique stories that lie behind each one. Zanini de Vita, a food historian, had investigated everything from papal foods to the peasant cuisine of the Italian countryside, but she turned her attention to pasta when she realized that Italian culinary heritage was disappearing before her eyes. With Fant's help, we trace Italian history—economic, colonial, industrial, religious, royal—through the invention of new pasta shapes and the development of pasta-making machinery, before ending up at Carnegie Mellon University to explore the science behind the flat-pack, self-assembling pasta of tomorrow.
Alongside the story of shapes comes the question of sauces. Such Anglo-American staples as spaghetti bolognese or macaroni and cheese would make any right-minded Italian shudder in horror—but why? Is there any real logic to the "correct" pairing of shapes and sauces? Jacob Kenedy, a chef and coauthor of The Geometry of Pasta, talks tradition, texture, and the all-important relationship between surface area and emulsification. Meanwhile, in Italy, we savor tortellini en brodo, or tortellini served in broth—the time-honored pairing—before trying the chef Massimo Ratti's strawberry-sauce-drenched version. (Ratti's own father reportedly cried over his son's delicious transgression—and they were not tears of joy.) This episode we explore the pairing dilemma: Have you been matching your sauce with your pasta all wrong?
---
This post appears courtesy of Gastropod.