Big-City Life on Very Little Water
In Cape Town, people are restricted to just a fraction of the typical amount of water. From showering in buckets to special pee spray, here's how they're coping.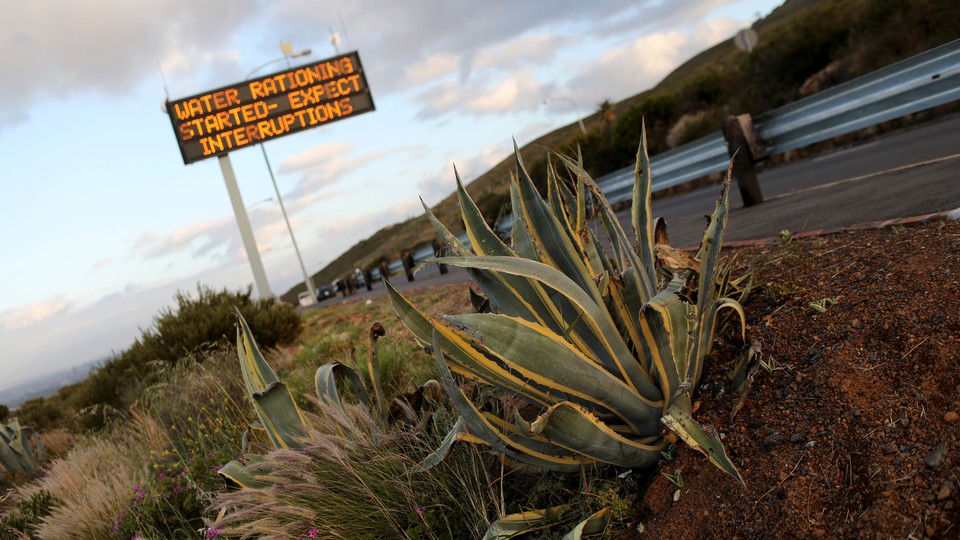 CAPE TOWN, South Africa—I was warned right away, at the airport: "We have a water crisis with severe restrictions in place," read a Buick-sized sign in the arrivals area.
So it was true. I had spent the past week in South Africa on a reporting trip and had decided to pass through Cape Town on my way back, in part out of curiosity about the water shortage. The news coverage sounded scary: Because of a historic drought, the city was nearly out of water. In June, taps are set to run dry—an event referred to, menacingly, as "Day Zero." If it comes, people will be forced to queue for a daily ration of water from guarded collection points around the city.
It seemed too nightmarish to be plausible. I spent a few months in Cape Town during the southern hemisphere's wintertime in 2010. I remembered the place as being both relatively well managed—the country hosted the World Cup while I was there—and, well, pretty rainy.
As I collected my bags, I wondered whether the laid-back, visually striking city I remembered had turned into some sort of apocalyptic hellscape out of Mad Max.
Not quite, I discovered. Or at least, not for tourists.
The road medians and public lawns had grown brown and crispy, and some gardens had shriveled, but the city looked more or less normal. My hotel greeted me with a posted "urgent notice" about the water, explaining that the steam room and jacuzzi were closed, and showers would be limited to two minutes or less. No baths allowed. Fair enough. Like The Atlantic's other health editors, I don't bathe much anyway.
Other hotels I checked with had similar restrictions, though like mine, their shower limits were based on the honor system, not automatic shutoffs. One still had a functioning heated pool. Tourism brings the province more than $3 billion a year, and it seems they can't risk losing it.
That night at dinner, a restaurant's menu declared that to "mitigate the impact our industry has on the available water supply," it would be offering bottled water to its customers, rather than a customary glass of tap. I ordered a carafe of local wine for 30 rand, or about $2.50, thinking it would help save water. It was not, it turns out, an environmentally friendly choice: It takes 34 gallons of water to produce 5 ounces of wine. The area's agricultural sector, which is already expecting its smallest wine harvest in a decade, was recently ordered to reduce its water use by 60 percent.
The next day, I decided to go see what's happening at the place that's practically an ode to water: the Kirstenbosch National Botanical Garden, a 1,300-acre, indigenous-plant-filled park that rambles up the side of Table Mountain. Here, yet another a sign admitted the garden was running its sprinklers less often and offered some general water-saving tips, including the apparently internationally understood dictum "If it's yellow, let it mellow." Some of the plants had wilted under the bright sun. But the native fynbos flowers, perhaps accustomed to climactic deprivations, looked bright and perky as ever. In the bathroom, a little girl delicately dispensed a few drops from the faucet onto her hands as her mother, watching, whispered, "We must save water."
It didn't really hit me until I visited the local supermarket, Checkers, where I was confronted by an empty shelf where the bottled water should be. Yet another sign said water purchases would be limited to 20 liters per person.
In interviewing a half-dozen people outside the market, I got a sense of who Day Zero would really devastate: the locals, especially those who can't afford to get away.
People said that for months, they have been showering into a bucket, then using that water for their gardens. They've drilled boreholes. Water left over from washing clothes is collected and used to flush the toilet—and then, only when it's, uh, brown. They're allowed 50 liters per person per day—less than a bathtub's worth—and risk fines if they exceed the limit. The average American, by contrast, uses 370 liters a day.
Sarka Svoboda said she wears clothes till they're visibly dirty. It rained a little recently, and she regretted forgetting to set buckets out to catch the water.
She fished a spray bottle out of her blue Checkers bag. It's a substance meant for spritzing on pee to make it smell less while it's "mellowing" in the toilet bowl. She's already bought the 25-liter bucket she will use to collect her water ration if Day Zero comes, along with the 5-liter garden sprayer she will use to shower.
A woman named Margi Capelouto said she showers thusly: Turn on the water, wet the washcloth, turn it off, scrub yourself, and rinse quickly. She follows what she calls "the Greek way"—throwing toilet paper in the trash. If Day Zero comes, she plans to abscond to her brother's farm in Heidelberg, near Johannesburg.
Still, she worries about the city's many, many poor people. "I can get in a car and go," she said, "but they can't."
Away from the wealthier parts of Cape Town, water and infrastructure problems are chronic, and their consequences more severe. In the country's rural areas, it's not uncommon to see people collecting water from old-fashioned pumps, either to supplement, or stand in for, municipal running water. Earlier that week, I contracted diarrhea from eating at a place, far out in the bush, where a waitress responded simply "no water" when I asked if I could use the bathroom. One of my Uber drivers, who lives in Cape Town's Khayelitsha township, said people who live in the informal settlement's shacks haven't noticed the shortages—they're going to water pumps "just like before." If the townships' sanitation systems stop functioning after Day Zero, these jam-packed communities could see outbreaks of typhoid and cholera.
In Cape Town, people I spoke with strained to find a silver lining to the crisis. Some said it's made them appreciate the importance of water. Others have rallied together, forming Facebook groups to swap tips on getting the most out of 50 liters a day. Almost everyone I talked to said they don't think Day Zero will come, though they're preparing as though it will.
It's hard to see how people who have been manually flushing their poop for months could be so optimistic. The precedent is only that South Africa has always remained one step ahead of the apocalypse. It's been ostracized during apartheid, built a democracy from scratch, and weathered a terrifying AIDS epidemic. Like its hardy fynbos, the country always seems to find a way.
"South Africans are resilient," said one of the people I met, Debbie Taylor. "We always stick together."