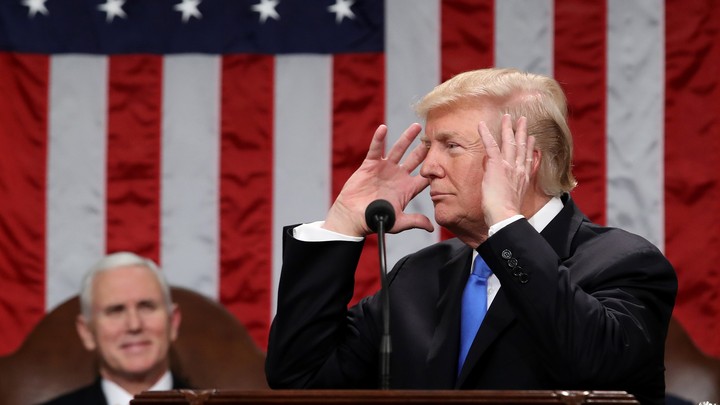 Does it make sense to harangue the president for the omission? I ask myself: If Trump hailed from a Republican party that had not largely disavowed the scientific fact of climate change, would he have mentioned the phenomenon?
I think he would. Indeed, the president came about as close as possible to mentioning climate change—without saying the magic words. "We have endured floods, and fires, and storms," he said early in his speech. "We saw the volunteers of the Cajun Navy racing with their fishing boats to save people from the aftermath of a totally devastating hurricane." Later, he praised Americans' ability to "push the bounds of science and discovery."
Those passages would have been sharper, more accurate, and more befitting the scale of the problem if the president recognized the single issue uniting them. But saying the name of that problem is now verboten—a sacrifice to a particularly Republican form of political correctness. And so the country winds into another year, with a federal government that can utter the name of any number of threats to Americans—except the one that is already inundating its shores, scorching its homes, and shaping the lives of its children.
We want to hear what you think about this article. Submit a letter to the editor or write to letters@theatlantic.com.
Robinson Meyer
is a staff writer at
The Atlantic.
He is the author of the newsletter
The Weekly Planet
, and a co-founder of the COVID Tracking Project at
The Atlantic
.