Can Trump Open Nearly the Entire U.S. Coastline to Oil Drilling?
Here's what's next for the proposal to line the Atlantic and Pacific coasts with offshore oil rigs.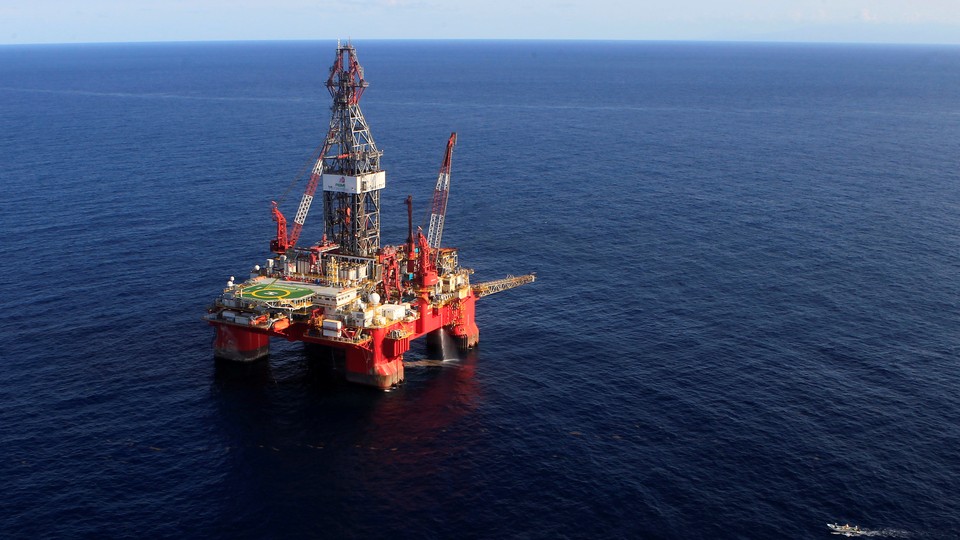 Five years from now, there could be a handful of operating oil rigs within a hundred miles of Miami or the Florida Keys. Dozens more could sit from the coast of Georgia to the Outer Banks and Delmarva peninsula. Still more might rise from the sea between Cape May Lighthouse, at the southern tip of New Jersey, and West Quoddy Head Light, at the easternmost tip of Maine.
At the same time, oil production would expand across California. Dozens of new oil wells would add to the 43 already in production in the state's south. They'd be joined by new wells near Monterey Bay and San Francisco; and more new wells in the state's north, near the chain of coastal redwood parks. More new wells would open off the coast of Washington or Oregon.
That's how the coastline of the continental United States could change, according to a new plan released Thursday by the Trump administration. The U.S. Department of the Interior announced that it may conduct 16 auctions to open new oil and gas wells along the Atlantic and Pacific continental shelves. It will also sell 31 new leases near Alaska and in the Gulf of Mexico.
If adopted in full, the plan would change long-standing U.S. energy policy and possibly generate a windfall for the oil and gas industry. Billions of acres would open up for oil drilling on the U.S. Atlantic continental shelf, which has never had a producing oil well. And for the first time in 30 years, energy companies could expand production along the Pacific coast and open wells outside of the southern California coast.
"Today we're embarking on a new path for energy dominance in America," Secretary of the Interior Ryan Zinke said during the announcement. The Interior Department would no longer "take a back seat" to energy policy, he said, as it did during the Obama administration.
President Donald Trump first promised "energy dominance" during a speech last June. The United States exported oil and gas at a record pace in 2017, but that seems less the result of Trump's presidency than the ongoing fracking boom and the bipartisan lifting of the U.S. oil-export ban signed by President Barack Obama in 2015.
Last summer, 155 U.S. House members and senators sent letters to Zinke, asking him to open up new areas for oil and gas drilling. Many Republicans celebrated the offshore-drilling proposal as environmental groups promised to defeat it.
But opposition to the plan does not fall entirely along party lines. Rick Scott, the Republican governor of Florida, said that he opposed the proposal in a statement and that he had "asked to immediately meet" with Zinke. "My top priority is to ensure that Florida's natural resources are protected," he said.
The state's U.S. senators—Marco Rubio, a Republican, and Bill Nelson, a Democrat—joined Scott in promising to defeat the plan. So did Republican Congressmen Carlos Curbelo, whose district includes the Florida Keys, and Matt Gaetz, who once proposed shuttering the U.S. Environmental Protection Agency.
Republicans outside of Florida oppose the plan as well. "It's not the time to reopen California's shoreline to new drilling," says Darrell Issa, a GOP congressman from San Diego County. "Californians have made themselves clear: They do not want new drilling off our coasts."
Anticipating their concerns, Zinke said that the proposed plan only "lays out the options that are on the table."
"Just like with mining, not all areas are appropriate for offshore drilling, and we will take that into consideration in the coming weeks. The important thing is we strike the right balance to protect our coasts and people while still powering America and achieving American energy dominance," he said.
But what areas are appropriate for drilling? For oil companies, conservation groups, local businesses, tourists—and, above all, for the people who live along the coast—that's the most important question of all. The effort to shape which areas may get drilled for oil begins this month. Here's what could happen next.
The plan unveiled this week is merely a first draft. If adopted, it would replace an older Obama-administration policy that closed off the Pacific and Atlantic coasts. It would also reverse a "permanent ban" on drilling in the Atlantic continental shelf, which Obama issued in the final days of 2016.
"We're at least a year away from a final plan being released," says Sierra Weaver, a senior attorney at the Southern Environmental Law Center. Between now and then, Interior Department officials will hold public meetings in states bordering the continental shelf. Weaver said she was concerned that these meetings would be held in inland state capitals and not in the coastal towns and cities that would be most affected by a resumption of drilling.
In about a year, the Department of the Interior will issue a final plan describing which auctions it will hold. Each of these lease sales will then get its own listening tour. Congress will also get 60 days to review any new lease plan.
"But what we know is the further this process goes along, the harder it is to take an area out. That's why it's so important for folks to weigh in and speak up now," said Weaver.
The Deepwater Horizon spill in 2010, the most costly offshore-drilling disaster in U.S. history, actually occurred at a well that was still in its exploratory phase. The lease for that well site was sold during a lease auction in 2008.
Simultaneously, the Trump administration is considering whether to allow seismic testing in offshore waters along the Atlantic and Pacific coasts. Seismic testing is an exceptionally noisy procedure, loud enough to drown out whale songs, that geologists use to search for oil beneath the surface. The Obama administration had prohibited seismic testing in most continental waters; the Trump administration is expected to reverse that ban in the coming weeks.
If the final plan adopted by the Trump administration includes any new area along the East or West Coast, then it's almost certain that lawsuits would follow. Companies, residents, and environmental groups have all already said they will try to defeat local drilling in court.
The government is required to carefully consider eight factors before it can make a decision about new oil wells. These include local geology and ecology, national energy needs, local use of the ocean, and the interests of oil and gas companies. In the 1980s, California was able to prevent new drilling off its coast after a lengthy battle with the Reagan administration by proving the government did not consider the eight factors enough.
Weaver said that, from the environmentalist perspective, much of that future case would turn on the Obama administration's decision that offshore oil drilling would bring more harms than benefits. "U.S. production of oil is relatively high, and the price of oil is relatively low," she told me. "I think the big question will be how does the Trump administration justify shifting gears so radically without a change in circumstances."
If a final proposal is unveiled—and if it survives court challenges—then the first offshore oil leases could go on sale in 2020.
The Trump administration's plan is the most ambitious proposal to expand offshore drilling policy since that Reagan administration policy. In 1990, President George H.W. Bush said that new offshore drilling could only occur in some parts of the Gulf Coast and Alaska. President Clinton extended that ban through 2012.
But in 2008, citing record-high oil prices, President George W. Bush withdrew the presidential ban on new offshore drilling. The Obama administration examined opening up new sites along the Atlantic coast, but as oil prices plummeted in the early 2010s—and as climate change became an increasingly important issue to Obama—it retired the idea.
According to Gallup, about 61 percent of Americans say the federal government should emphasize natural-resource and energy conservation over the production of new oil, gas, and coal reserves. Support for conservation has steadily risen since the end of the Great Recession.